I can't determine who first said it, but flying has been described as "hours of boredom punctuated by moments of sheer terror". The phrase may have been adapted from a description of trench warfare published in Guy's Hospital Gazette during the first world war. Anyway, as an aerobat, the first bit leaves me scratching my head. Flying? Boring? I don't get it.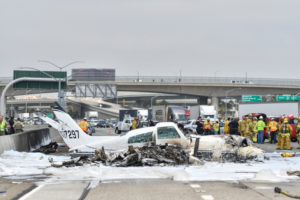 The part about sheer terror can occasionally ring true, however. That was my first thought upon hearing that a Cessna 310R had crashed on the southbound lanes of the 405 freeway just feet from the airport boundary at Orange County's John Wayne Airport a few weeks ago. From takeoff to engine failure to pancaking onto the highway took but a couple of minutes.
Thankfully the pilot avoided a stall/spin situation and landed the aircraft more or less in one piece. As a result, both occupants survived. If you want to see what it looks like when the pilot doesn't manage an engine failure as well, I wrote a post about it several years ago entitled "VMC Rollover". (Warning: it includes a graphic video of a Beech Queen Air crash.)
Despite the SNA incident, I've often noted how NTSB statistics teach us that most mishaps occur on the ground rather than in the air. That has been my experience as well. This crash represents the first major accident I can remember at SNA – my home field — in many years. The airport has nearly 300,000 operations annually, so that's really saying something.
One thing airborne and ground-based accidents have in common, however, is that when things go sideways, they tend to do so in an awful hurry. One such example occurred to my airplane recently. I returned from a trip and left the plane in the (normally) capable hands of the line staff at Signature. The next day I received a phone call informing me that one of their fuel trucks had backed into the trailing edge of the right wing.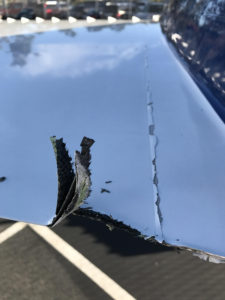 The damage was not catastrophic, but it set off a long chain of insurance claims, inspections, temporary repairs, ferry flights, downtime, aircraft rentals, missed trips, etc. which continue to this day. I spent a few hours at the airport, documenting the damage and interviewing anyone who was there or had information which might be relevant.
One person I did not have the opportunity to talk to was the driver of the fuel truck. He had been sent home and, I later learned, terminated. That seems to be typical these days, but I sort of wish it wasn't. In Bob Hoover's autobiography, Forever Flying, he relates the story of his Shrike Commander being misfueled with Jet-A instead of 100LL at a San Diego airshow in the 1980s. After a dual engine failure and off-airport landing, Hoover says he told the offending fueler, "There isn't a man alive who hasn't made a mistake. But I'm positive you'll never make this mistake again. That's why I want to make sure that you're the only one to refuel my plane tomorrow. I won't let anyone else on the field touch it."
I'm fairly certain the fuel truck driver who backed into my aircraft would never have made that mistake again. Alas, the risk averse nature of modern business ensures he'll never have the opportunity to become a better, safer employee.
If I could have spoken to the driver, I would've remind him that damaging a wing was not the end of the world. First of all, that's why we have insurance. Second – and more importantly – is that things could have been a lot worse. A few years ago I saw a ramp worker walk into a turning King Air propeller on the same field. Believe it or not, he wasn't killed or permanently maimed. At least, not that I know of. The pilot had already pulled the condition levers to "cutoff" and the prop levers to feather, so the ramper was whacked by the flat blade of a slowing prop and knocked out. It was bad enough that they took him away in an ambulance, but at least he was alive. The FBO terminated his employment.
A friend who flies a Stearman once related the story of hand propping the plane and having one of the blades nick the side of his leg as the engine fired. Cut and a little bloodied, but not permanently injured, he too escaped what could have been a disastrous accident.
I could go on all day with stories like that. An experienced and conscientious ramp worker I knew at Van Nuys was working the graveyard shift on a poorly lit area of the tarmac one night, preparing to tow a Gulfstream toward the hangar. Suddenly, to his horror, the airplane began rolling away. Can you imagine the disbelief with which he must have watched the slow speed crash as the jet collided with another Gulfstream parked nearby? A critical pin had not been securely fastened to the tow bar and once the chocks were removed, gravity took over. As with the others, the employee lost his job.
Though we're not always cognizant of it, everything we do in life involves risk. But the nature of flying and the cost of aircraft make aviation particularly unforgiving of carelessness or error… so let's all be careful out there, even when – or perhaps I should say especially when – you're on the ground.