Non-pilots are usually surprised to learn that the most involved and challenging part of flying sometimes takes place on the ground rather than in the air. Preflighting the aircraft, making weather decisions, filing flight plans, programming avionics, navigating the taxiways at a complex airfield, ensuring regulatory compliance, and so on. This is probably as true for the airline pilot as it is for the light GA aircraft owner.
In the world of corporate and charter flying, things are a little different. Based on my experience, the time suck award goes to the fuel purchasing process. Surprised? I don't blame you. It's counterintuitive to think that buying gas would involve any challenge whatsoever, especially when you've got a large team of dispatchers at your disposal. How hard could it be? Just see where the fuel is cheapest and buy there, right?
I wish.
For better or worse, the FBO's advertised cost of fuel is rarely the price we pay. If we're at a large chain like Signature Flight Support or Atlantic Aviation, the sheer volume of jet fuel we buy in a year gives us the power to negotiate for lower costs. A Gulfstream IV burns about 500 gallons per hour and our fleet has more than 50 aircraft flying an average of perhaps 500 hours annually. Do the math and you'll see why the major chains are willing to discount significantly to earn a piece of that business.
Our flight releases provide the negotiated rate, so that part of the process is simple. But sometimes – typically at the smaller chains and independent FBOs — we'll be using contract fuel through UVair, World Fuel, or other such entity.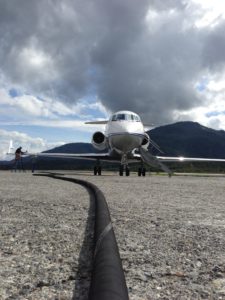 The irony of fuel contracts is that the people who are pumping the gas can't tell you what it costs. Ask the employee at the front desk how much a gallon of fuel will cost with that Avfuel release and they'll just shrug. The price varies depending on the specifics of each operator's agreement with Avfuel. It reminds me of our medical system, where the physician who's performing a procedure or check-up would be unable to tell you how much it'll set you back – even after the treatment is over. Could be a hundred dollars, could be a thousand. Maybe it's ten thousand.
Again, I can determine our contract fuel price by inquiring with my company's dispatch staff. The next question is whether to buy fuel or tanker it. This computation is a bit more complex. Carrying extra fuel makes the aircraft heavier, so while it might save you from having to purchase more expensive gas at your destination, you'll also burn more fuel enroute in order to do it. Some pilots rely on smartphone apps or spreadsheets, others have rules of thumb for their specific aircraft which dictate the conditions under which it makes sense to tanker. A heavier airplane can't cruise as high, either, so if thunderstorms, turbulence, and/or adverse winds are part of the mix, the decision-making process goes even deeper. Beyond the safety and comfort aspects, is saving the money worth potentially having to circumnavigate weather at FL390 instead of going over it at FL450?
Another part of the fuel purchasing decision process involves the seemingly arbitrary costs imposed by FBOs. There are landing fees, ramp fees, handling charges, infrastructure costs, and more. Some of them are dictated by the airport itself, others are left to the discretion of the FBO. Certain costs be waived, others cannot. At my home airport, the instant our G-IV hits the ramp, a $700 handling cost is assessed. This is pretty typical.
Some FBOs charge less… but then, I've also paid more than twice that at places like San Francisco International. Oh, they'll be happy to waive it, but you have to purchase hundreds of gallons of fuel (SFO is currently charging $7.60/gal for Jet-A; if you're using avgas it's $8.00). Internationally, the highest handling fee I've seen was well over $3,000.
The type of trip will help dictate whether I try to offset the handling fees. If it's a non-revenue (Part 91) flight for the owner, I'll include the handling fees in my math since they come out of his pocket. If it's a charter trip, the cost is paid by the customer, so I'll usually ignore the handling charge and make the decision based solely on obtaining the lowest possible fuel price.
Every now and then I'll run into a fee I've not seen before. I was at Dallas Fort-Worth Airport recently and noticed that their fuel price was something like $1.90. I later discovered that they added a $0.40/gallon "fuel surcharge" to the base cost. This fee is fairly common abroad, but I'd not seen it before in the U.S. At least, not that I recall. This surcharge boosted the price by 21% and shifted the cost/benefit analysis considerably.
Speaking of which, sometimes despite our best efforts, we end up buying the most expensive fuel through no fault of our own. There are several ways this can happen. For example, my home airport recently got a new FBO, and despite being based there, they charged us the non-tenant rate for fuel because of a technicality regarding a lease agreement. Lesson learned.
Sometimes a fuel release won't be honored. I've had that happen in Africa, where a discrepancy between the company name on the fuel release (we use a DBA) and the one on our other paperwork caused the fueler to refuse it. Try explaining the intricacies of a corporate DBA to an African fuel truck driver who speaks no English at 3:00 a.m. during a tech stop. It's quite comical.
The most common way we get hosed on fuel pricing is when we purchase or tanker gas in anticipation of a specific itinerary only to have the airports and FBOs change after the fact. Changes are part of the nature of charter flying — there's not much we can do about that — but it still stings to know we could have saved a ton of money if only we'd known an hour earlier that we'd be going to Airport "B" instead of Airport "A".
Fuelish decision making is a critical part of corporate and charter aviation. Next to safety-related considerations, it might even be the most important, especially for the large cabin/long range airplanes. It's certainly one of the most variable. Fueling up in the wrong place can turn a profitable trip into a four-figure loss, and that's something nobody wants.
There's another motivation at play, too – a personal one: I want to reward the FBOs which provide low prices and encourage the less competitive ones to consider why they aren't getting my business.