Over the years, I've willfully shimmied down the rabbit hole of aviation product liability here at The House of Rapp on a few occasions, noting the incredible damage our lawsuit-happy society does to what is virtually the only bastion of high-wage, high-skill industrial jobs still dominated by American business. In fact, it was almost exactly a year ago that I most recently touched on it, writing:
Liability concerns are a major expense and motivator for many industries. That's why Superman costumes come with warnings that "the cape does not enable the wearer to fly", Zippo cautions users not to ignite the lighter in your face, and irons are sold with tags advising against ironing clothes while they're being worn. But for general aviation, this sort of thing is dragging the lot of us down as surely as a cement block tossed into the murky waters of the East River.
At that time, conventional wisdom held that the E-AB (Experimental/Amateur-Built) sector was relatively immune from this insanity since, from a legal standpoint, the builder was considered the manufacturer of the airplane. Individual homebuilders don't have anywhere near the assets or insurance protection of a corporate entity like Textron or Cirrus, and therefore make a less appealing target.
Sadly, that seems to be changing. A few weeks ago, a $35 million lawsuit was filed against Van's Aircraft, the firm which brought kit building to the masses and whose designs are almost single-handedly keeping light GA manufacturing alive in the United States. There are nearly 10,000 of them flying, and these days, the Van's army of builders crank out about as many completed airplanes each year as Cessna, Piper, Mooney, Cirrus, and Diamond — combined.
And just today, a fellow pilot on the SoCal Van's RV list shared a video of an RV-8 builder dismantling and destroying his carefully crafted airplane. The reason? Liability concerns. This video made me sick to my stomach:
This is almost sadder than seeing the airplane destroyed in an accident. At least an accident is, you know, an accident, not an intentional, premeditated act which obliterates something so precious that the very same person once spent years of spare time and tens of thousands of dollars crafting it. How much effort went into this airplane? And how bad must the liability risk have been to lead him to crush it like a stale cigarette? Talk to a homebuilder about their aircraft and you'll hear them speak the way parents do about a child.
Don't get me wrong; I don't feel bad for the owner. It was his airplane, and therefore his to do with as he pleased. I suppose "experimental" would rightfully include the full life of the aircraft, right down to the method of disposal, whether sold or scrapped or parted out. This guy is not the first one to choose The Road Less Traveled for his former pride-and-joy.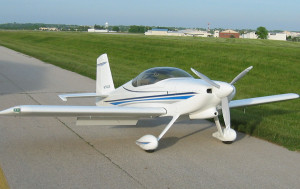 No, the ones I really feel sorry for are the kids. You know, the youngins who could have learned about aircraft construction from an up-close-and-personal encounter with this bird? The ones who benefit from the kindness of people who want to give back to an industry which has been so good to them. Or the A&P students who could have worked on it while learning their craft at a local college. I feel for the museum which missed out on adding a fine airplane to their collection. I feel for the builder who could have used the parts from that RV-8 to get/keep their own dream in the air. I feel for the EAA chapter which could have adopted that RV-8 and introduced thousands of fresh-faced Americans to the miracle of flying via the Young Eagles program. That's who I'm thinking about.
The builder could probably have garnered $80,000 or more from selling that plane on the open market. Clearly he didn't need the money. The fact that he destroyed it indicates that his own net worth was sufficient to worry about bloodsucking, ambulance-chasing attorneys. But it's safe to assume he would rather have seen it used to advance and preserve the art, science and lifestyle we call "general aviation". It could have made all the difference to so many deserving and desiring individuals among the up-and-coming generation of pilots!
Instead, our legal system ensured that it was reduced to $16.90 worth of Coke cans. That's the real tragedy.