"Those who can, do. Those who can't, teach."
Since Man and Superman was written the same year the Wright brothers made that first powered flight, I'm fairly certain George Bernard Shaw wasn't referring to aviators. But given the poor instructional services of many CFIs, he might as well have been.
From non-existent lesson prep to showing up late (or not at all!) to crazy ideas about limiting bank angle to prevent spins, irrational fear of tailwheels and aerobatics, and a bedside manner which, shall we say, leaves much to be desired, I've always found that sort of thing perplexing because of the rigorous way CFI candidates are handled. Initial CFI checkrides are notoriously long and thorough, often conducted directly by the FAA rather than designated examiners.
Clearly the general aviation community understands the importance of instructors and treats their cultivation with the requisite gravity. Why, then, are so many students dissatisfied with their instructors? Why is it so difficult for them to find a good one? As a student pilot in Oregon put it:
… my instructor is afraid to let go of the plane and its costing me time and money. I am at about 10 flight hours now and I have an instructor that won't let me taxi, takeoff, land or get on the radio for even a second. It's pretty frustrating considering with other pilots and other instructors I have done all of these things before.

Our lessons are simple, she takes me up, I put on foggles and do very basic maneuvers or simply go up and down, left and right without foggles, and then she lands the plane, taxis it back to a parking spot and the lesson is over. I thought I was getting somewhere because I have begun filling out the flight manifest and doing the preflight by myself. It has been brought to my attention I am mistaken. At this rate I'll never solo.

Our next ground lesson is on the four forces of flight. Oh goody. The one after that is on aircraft systems. I am bored out of my mind and have already done all of these lessons before on my own time.

When I enrolled I was told my five logged flight hours and other not-so-logged flight hours would be taken into consideration. In reality, I'm barely flying the plane during any of my lessons and I'm paying dearly at a fancy flight school to review ground lessons I already know.

How do I feel about flying these days? Frustrated. Bored. Depressed. Angry. Ready to give up and quit.

It doesn't help that it's so ridiculously expensive. I feel like I am throwing hundred dollar bills in the trash. And I feel incredibly guilty because this is money that could be going to other ambitions my husband and I have. We work so hard lately and barely see each other. We're trying to save up for a house and to send my husband back to school. Every time I shell out hundreds of dollars for one lesson and don't actually learn anything new I feel like I'm failing my family. I feel like I am letting a bad instructor take advantage of us. I ask lots of questions and I study everything she tells me to but I still feel like I'm spinning my wheels and the guilt of how much I'm spending to get nowhere is crushing.
I can't tell you how many times I've heard, read, or been directly told almost the exact same story. It's like an aviation groundhog day.
Several people — myself included — advised her to seek out another instructor. The flight school tried to assign a new one to her based purely on an even distribution of students among the CFI staff rather than any consideration for who might actually be a good fit from a stylistic and personality standpoint. Ridiculous. My advice to her:
Don't give up on flying. Just get a new instructor. And ask the school to refund your money! There's a lot of really bad flight instruction out there. Your greatest odds of success will come with the right instructor, and it's pretty clear you have the exact opposite right now. Before starting with someone else be sure to interview them thoroughly, see if they're a good fit. That's free. Talk to their current and former students. Doesn't cost anything to do that. Ask to fly along with the CFI on a lesson; just ride in the back seat with a headset on and see how the instructor works. Cost? $0.00 I don't understand why students allow themselves to be "assigned" a CFI. You are the customer!
I once helped a student finish an aerobatic course when his instructor started flaking out on scheduled lessons without any advance notice. The student lived just north of the Mexican border and drove through several hours of the world's worst traffic — each way! — just to train. He was clearly serious about reaching his goal. The CFI? Not so much. He soloed in two or three lessons, and finished the course with flying colors.
I see the CFI situation getting worse in the future thanks to the U.S. Congress, which responded to one tragedy, the Colgan 3407 accident, by creating another: Public Law 111-216, better known as "the 1,500 hour rule". Much like our tax code, the law creates and reinforces perverse incentives for pilots which are bad for the entire industry. In this case, it literally forces young professional pilots with no interest in teaching to become teachers.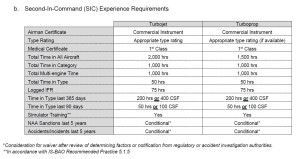 If you're not familiar with the law, it mandates 1,500 hours of logged flight time and an Airline Transport Certificate before an airline can even consider you for a job. The charter business has its own equivalent, which comes from third-party certification providers like ARG/US and Wyvern. They place such high standards on operators that when it comes to your career, you can't get there from here. Wyvern, for example, requires 2,000 hours total time to even act as a second-in-command in a jet, and they also demand 50 hours in type. If you don't have the 50 hours in type, you don't qualify to fly as SIC. And if you can't to fly as the SIC, where is the 50 hours supposed to come from?
Anyway, back to the crux of the problem: a person wanting to fly professionally has to accumulate 1,500 hours to qualify for most jobs. Renting and owning are cost prohibitive, so the natural go-to gig is that of a flight instructor. On the surface it looks brilliant: you build hours and get paid for it. The problem is, with no real interest in teaching, their only motivation is to log the hours as quickly as possible and get the hell out of there. What kind of instructor does such a person make?
I'm sure there are those who are conscientious enough to make excellent teachers. In fact, my primary instructor was just such a person. His goal was an airline career, but that never got in the way of putting major effort and exacting craftsmanship into his teaching. I didn't realize how rare that sort of thing was until I started meeting, working with, and hearing about other CFIs.
One of my readers put it this way:
So why do we make people teach aviation to have a career flying? I teach flying because I like to teach, and I like flying. The FAA's current CFI curriculum is heavy on the how-to-teach, and with good reason. A bad teacher is at best a waste of time, in the worst case scenario he or she makes learning harder and confuses the student.

I am a part-time CFI, my full time career is as an Emergency Physician. I teach every day when I discharge a patient and teach them about their diagnosis. Short curriculum? Yes, but I have to adapt it to the individual patient and their individual illness. I also teach my nurses every day. I have taught advanced cardiac life support to paramedics, nurses and physicians. I have taught EMTs and paramedics their trade. I have taught social studies to 7th graders (no, that doesn't get you out of the FOI test). I teach karate to kids and adults. I teach because I like it.

Yet, even with the FAA's focus on how-to-teach, we are constantly funneling people into teaching who want an airline career, rather than want to teach. Especially in the post-Colgan-two-ATP-world no one can afford to become a professional pilot if they don't teach. How is that good for students?

I guess this is a little bit of a hijack of your thread, but it is the same issue: the economics of flying drives pilots who don't want to teach into the CFI ranks. I don't have a good answer for this problem either, but if we could solve it I think we would be seeing higher primary student completion rates in less total hours and with better airmanship results.
I agree with his assessment. This issue affects the entire industry, because general aviation represents the "base" of the flying world's pyramid. Without a healthy GA sector, the rot will permeate every corner of aviation. Eventually it hollows out the pilot population to the point where ab initio programs become the only way airlines can staff their flights. As I noted last year, this system eliminates the seasoning which turns good pilots into great ones. Even if we stipulate that CFIs who are only instructing to build time will be as conscientious and hard working as any other, the 1500 hour rule will still hurt GA by creating a community of instructors who rarely get beyond a thousand or so hours of dual given. By the time they're becoming good at what they do, they're out the door.
I don't have a good answer for this problem, but as they saying goes, when you find yourself in a hole, the first order of business is to stop digging. It seems logical that a cadre of reluctant instructors cannot be expected to lead us to the promised land. In that regard, we're flying in the wrong direction.