I've been seeing more and more opinions from aviation writers about how aircraft owners should be equipping their ships for ADS-B sooner rather than later. The reasoning goes like this: the market for ADS-B compliant products is mature and competitive, so prices aren't likely to decline much further. And if you wait until closer to 2020, you'll be caught in a mad rush of owners trying to comply with the mandate and find it virtually impossible to get an appointment with the avionics shop.
Call me skeptical. Oh, not about the slow process at the shop — that part I can very much believe. But we're talking about a piece of computer technology here. Five years is an eternity for electronics in general, and computer components in particular. Look how far glass panel avionics have come in the last half-decade. You get twice the product at one-third the price today.
Compare the $50,000 price of the ubiquitous G1000 with the new Garmin G3X Touch, for example. These products get cheaper while they add ever more features. It's not one or the other — you get both at the same time. If I had told you in 2009 that a G3X Touchscreen system with synthetic vision, video input, a built-in WAAS GPS receiver, ADAHRS, magnetometer, OAT probe, and engine sensor interface would be available in just a few years for $6,000, you'd probably have said I was crazy. Most of today's ADS-B-compliant offerings cost more than that all by themselves. But here we are, and I can't help but wonder what will be available in five more years. I'm betting it's going to be more powerful and reliable while costing less than existing boxes.
Another reason to delay: the Rule That Will Not Change may very well (wait for it) change. The FAA has been taking a hard line on that, claiming it will not under any circumstances consider a delay in the mandate's effective date. But even the Department of Transportation's Inspector General has been witheringly critical. And let's face it, the FAA is not known for completing their projects on time. "But this time will be different!", the Administrator proclaims. We'll see.
The Feds are also under pressure from EAA, AOPA, and others who are making a pretty air-tight case about the damage this will do to the GA rank-and-file.
[AOPA's] letter noted that the minimum investment of $5,000 to $6,000 to install ADS-B Out equipment is "far too high" for many GA operators, especially given that the general aviation fleet includes at least 81,564 certified, piston-powered, fixed-wing aircraft that are valued at $40,000 or less and GA owners have no way to recoup their costs. The actual number of GA aircraft valued at or below $40,000 could be much higher if experimental aircraft are also taken into account. Pushing ahead with the mandate as written will ground thousands of general aviation aircraft at a time when the industry is just beginning to recover from the recession.
It's also worth noting that today's ADS-B solutions are not always an appropriate fit for today's aircraft. A good example of that would be a Pitts biplane. Where are you supposed to put all that equipment? If you're choking down the bill for ADS-B Out, wouldn't you want the "free" traffic and weather data that come with the expenditure? Take a look at this Pitts instrument panel and think about where you'd put a display — portable or otherwise. And keep in mind, there's nothing extraneous there. Just about everything you see there is required by Part 91 for day VFR flying.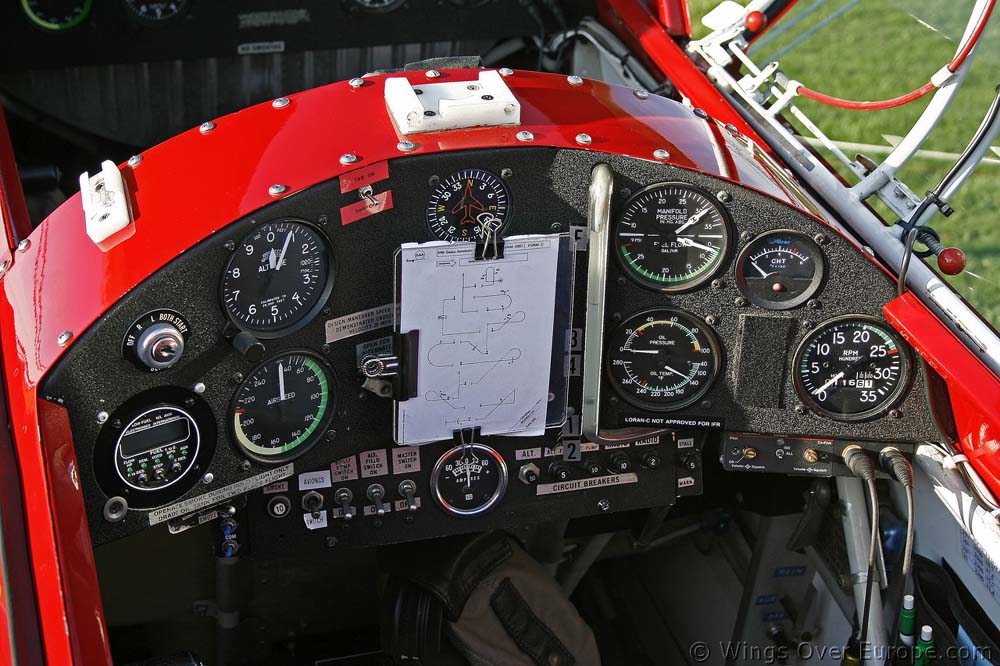 Many airplanes are going to have this problem. It's not limited to piston powered airplanes, either. I know several Gulfstream IV operators who aren't exactly falling all over themselves to spend $1 million equipping their $3 million airplane (yes, that's what some older G-IVs are worth these days) for ADS-B. They have other mandates on the horizon as well, including ADS-Contract and CPDLC, and must comply with the minimum equipment requirements for all the places they fly. To call it complicated would be an understatement. In fact, this is just as big a problem for the legacy jet fleet as it is for the light GA piston fleet. I've said it before and I'll said it again: aviation's fortunes are inexorably linked, whether you're operating a bizjet, trainer, airliner, or ultralight. What affects one of us affects all of us.
Here's something else to think about: even if the deadline slips a bit, the technical ADS-B requirements are not likely to change, so building a product that complies with the minimum ADS-B "Out" specifications should not only get cheaper as time goes on, but also come to market at a faster rate than we've seen with other avionics. Just a few days ago, for example, Garmin announced a (relatively) low-cost ADS-B solution that doesn't required a multi-function display at all.
Most avionics upgrades are optional. This one is mandatory, so there's a captive market out there and it's logical to assume every OEM wants a piece of it. Technological progress aside, competition tends to drive prices down, not up. Is it crazy to think ADS-B solutions will be selling for half the GDL-84's announced $4,000 price by the time 2020 rolls around?
Even if the price doesn't go down a penny, inflation alone will shave off another ten percent of the effective cost between now and then, and give aircraft owners more time to save up. Flying is certainly not getting any cheaper, but if there's one area where your money goes further than ever, it's avionics — especially if you're blessed with an "Experimental" placard.
I'm not suggesting you shouldn't schedule a date with your avionics shop for compliance, but if it was me, I'd be waiting until a lot closer to the deadline before pulling the trigger on equipment choices. Nobody can predict the future, but when it comes to avionics, you can feel pretty confident that the choices in 2020 are going to be less expensive and more capable than anything available today.