A headline detailing the decline of general aviation (GA) activity would not come as a shock anyone who works (or plays) around GA or reads one of the industry publications. The news has been bad for years, and it's left many of us simply holding on, waiting for things to rebound or stabilize. Alas, the latest statistics are revealing an even deeper depression in activity around Southern California than anyone could have dreamed.
The latest hit comes from Long Beach, where activity has declined 24% year-over-year and a staggering 47% over the past five years.
The airport statistics show that, as of June 2012, there were 106,452 GA operations, which was down from 140,820 operations during the same time period in 2011 and down from 185,563 during the same time in 2007. Other statistics show that, from 2000, when operations were at their peak, to 2011, general aviation and air taxi traffic declined by about 34 percent.

Some FBO operators at Long Beach Airport said declining general aviation traffic is not the only factor impacting the aviation business market. According to John Tary, general manager of Toyota AirFlite, recent struggles include rising general aviation fuel prices, vacancies and increased competition in a slow market.

He said today there are four main FBOs at the airport that sell gas, in addition to a few others, as opposed to only two in years past, ultimately creating an environment where there's "less fuel to go around." Also, while the cost to sell aviation fuel has increased, FBOs are still making the same profit margins from customers, Tary said.

"As a percentage we're making less money and there's a lot of factors that go into the ability to be profitable," he said. Tary added that decades ago there were upwards of 1,200 private aircraft based at the airport and now there are less than 400. In addition, he said there also used to be five-year waiting lists to get a hangar and now he has five vacancies.
As a commenter on that article noted, with the numbers that bad, why would there be a need for Class C airspace at LGB? The one good thing we might expect out of a slowly declining airport might be less controlled airspace, but it's doubtful the FAA will see it that way.
At Ontario, once the bright shining hope for a new international airport in Southern California, the news is not much better. Though it's mainly an airline and cargo destination these days, passenger counts are continuing their long-term slide.
Traffic at Ontario International Airport dropped again in June by 4.36 percent. A total of 373,652 travelers flew into or out of Ontario airport last month, according to the latest statistics from Los Angeles World Airports, which owns and operates Ontario, Van Nuys and Los Angeles International airports.

In the first six months of the year, the airport's traffic has dropped by 6.39 percent compared to a year ago.

Passenger traffic at the airport started to slide in 2007 and the drop doesn't appear to be done.
Speaking of Van Nuys Airport, the venerable GA airport might be the ultimate example of what's happening around the Los Angeles basin. At one time, it was the busiest general aviation airport on Earth. In 1999, the airport had about 607,000 takeoffs and landings. By 2010 it had declined to 339,000 — the lowest traffic count since 1963.
On the eve of the recession in late 2007, an economic study credited Van Nuys Airport for contributing $1.3 billion to the local economy, while generating more than 12,300 jobs.

But as the study heralded the 730-acre airport as No. 1 in the nation for propeller-driven and corporate jet traffic, it had already been surpassed by Deer Valley Airport outside Phoenix.

Two years later, employment at 15 top employers at Van Nuys Airport dropped by 41.2 percent, for a loss of 400 jobs, according to a 2009 survey by the Valley Industry & Commerce Association.

That has meant less business for surrounding hotels, bars, restaurants and airport service facilities.

At the Airtel Plaza Hotel near the airport's storied One-Six-Right runway, occupancy rates are down "substantially," said its owner, Jim Dunn.

"A healthy airport is a healthy hotel," Dunn said. "If Los Angeles promotes its business airport, there will be more traffic here."

Hangars across the runway have record vacancy rates, as high as 20 percent, while rental rates to smaller tenants have plunged, lease holders say.

On the tarmac outside, vacancies of propeller plane tie-downs are much higher.

Airplane fuel sales, whose city fees were nearly tripled two years ago, have fallen by 30 percent.
Orange County's John Wayne Airport recently posted the numbers for June, 2012. Compared with the same period last year, GA activity declined 7.1%. The current avgas price at SNA is now $7.52 a gallon. Could that have something to do with it?
Meanwhile, in the past two years, Superior Air Parts, Cirrus Aircraft, Glasair Aircraft, Hawker Beechcraft, and other U.S. aviation assets have been sold to China. The Chinese are building general aviation airports as fast as they can. We, on the other hand, shut down an average of one airport a week in the United States.
Here in Southern California, Rialto Airport is slated for closure. Santa Monica residents are trying to close one of the world's oldest and most historic airports. You get the picture.
If there's a bright side to the current economic picture, it's the "Experimental-Amateur-Built" (also referred to as "homebuilt" aircraft) category. These are aircraft which ordinary people build in their garages. If that sounds crazy, let me state for the record that the finest quality and craftsmanship I've seen in the aviation world comes from this segment of the aviation world.
The experimental aircraft industry is growing by leaps and bounds. Total piston aircraft shipments by professional airplane manufacturing companies was 860 units in 2011. That's for the entire industry, mind you. By contrast, Van's Aircraft estimates that about 420 of their experimental aircraft kits were completed the same year. That's just one company, albeit the largest one in the industry.
Why is Van's doing so well? As Deep Throat famously said, "follow the money". Whether it's airports, airplanes, or aviators, the level of activity will directly follow the money. The more it costs, the less activity you'll find in that area. That's why pilot training and airport usage is down. It costs too much. On the other hand, experimental aircraft give twice the performance of a comparable factory-built airplane at about 1/4 the cost. The result? More economic activity.
As this chart from EAA's 2012 Report to Homebuilders shows, the number of registered Experimental-Amateur-Built aircraft has doubled in about 15 years.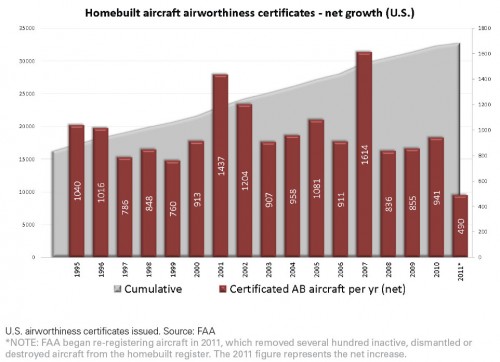 Compare that with the factory-built general aviation fleet, which the FAA estimates will shrink for the foreseeable future:
The FAA predicts piston aircraft will drop from the 2010 total of 159,007 to 151,685 through 2023, with declines in both single and multi-engine fixed wing aircraft. The number of active piston aircraft is expected to increase beyond 2023, but only growing to 155,395 by 2032.
Sadly, the NTSB and FAA are zeroing in on the Experimental world in an attempt to make it safer. As I noted previously, GA safety must originate in the cockpit, not the Federal Register. If history is any guide, their efforts will result in a massive increase in cost which will do to the E-AB sector exactly what it did to the rest of general aviation.
Remember the joke which asks if a tree falling in the forest makes a sound if there's no one there to hear it? I can only hope we won't find the answer to that question at your local airport. It's getting awfully quiet out there, my friends.