You probably remember that tongue-in-cheek scene from Top Gun where Tom Cruise scans a briefing room full of hot-shot pilots during his first day at the famous Naval Fighter Weapons School and wonders "who the best is". Top Gun was a fictional tale, of course… but I know the real-life answer to Maverick's question. I've met the best aviation has to offer, and their names most certainly do not occupy a plaque in the ladies room.
They're called "volunteers", and our community is filled with them. Pilots may comprise only 0.12% of America's 319 million citizens, but they have a big impact not only on that population, but the rest of the planet as well. This list of aviation charities should give you an idea of just how thoroughly the spirit of volunteerism is ingrained in the world of general aviation:
Air Care Alliance
Air Charity Network
Challenge Air for Kids & Friends
Children's Flight of Hope
Civil Air Patrol
Corporate Angel Network
Emergency Volunteer Air Corps
Flying Samaritans
LifeLine Pilots
LIGA International
LightHawk
The Flying Doctors
Mercy Medical Airlift
Miracle Flights for Kids
Northwoods AirLifeLine
Orbis
Pilots-n-Paws
SouthWings
Volunteer Pilots Association
Veterans Airlift Command
Wings of Hope
Wings of Mercy
Young Eagles
This isn't a complete listing by any stretch of the imagination. You'll find tens of thousands of volunteers laboring at non-profit groups dedicated to preserving and flying old aircraft, restoring historic airplanes, promoting aviation, funding flight training, and more. Even the organizations that don't fall under the "charity" umbrella were often founded by and run on the effort of unpaid volunteers who do their thing out of sheer love. One such example would be the International Aerobatic Club. Aerobatic contests would be impossible without the selfless donation of time and effort by volunteers to man the entire contest staff (which is sometimes as large as the competitor list itself).
I've noticed that the giving goes beyond aviation. Most of the folks I know from the flying world donate their time and money to charitable causes that have no connection to it. I probably do less than most people, but my wife and I donate to the Hoag Foundation. Don't let the funny name fool you — they were incredibly helpful when she had needed emergency surgery at a time when we were both a bit low on the income scale. Our insurance didn't cover much because of a huge deductible and Hoag simply waived the rest of the bill. Amazing.
Hoag is also the best hospital I've ever seen both in terms of the physical plant and the care provided by the staff. I remember the surgeon coming in on his day off just to check on her and ensure we had his personal cell number in case any questions or concerns arose, regardless of the time of day. The hospital has valet parking, and a cafeteria that feels more like an upscale restaurant.
On the flying front, I logged quite a few hours for Angel Flight when I had a four-place airplane. Nowadays I'm more into the aerobatic & experimental world, which they don't have much use for. If I had an appropriate airplane I'd be back in a heartbeat, though. It's so rewarding!
As much as I dump on the airlines for the difficult lifestyle so many of it's pilots must endure, the majors are quite generous with Angel Flight. A tremendous number of in-need passengers travel on airlines, and that only happens because of the company's kindness. I don't know if this is still true, but at one time the majority of Angel Flight's beneficiaries got from point A to point B on an airliner.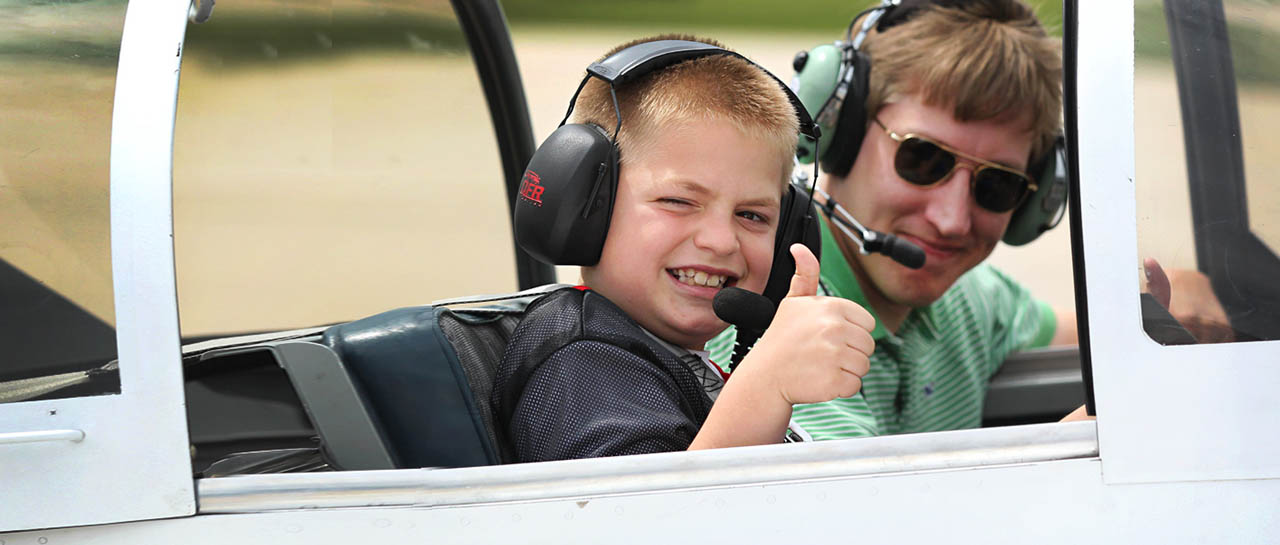 Each of us gives in our own way. I still instruct, and plan to continue doing that. It's important. Experienced instructors are vital, and it's getting hard to find local CFIs who meet specific needs. Instrument instruction in a tailwheel, for example. Experimental transition training. Or formation flying. I also try to mentor upcoming pilots as they work their way through the morass of certificates and ratings. It's tough out there today with the high cost of flying and questionable career prospects for the next generation of professional pilots. They need all the help they can get.
One final way I give back is by not charging other CFIs for my time. When I got started as an instructor, I was at a flight school where they had a dozen different types of airplanes, and I had to get checked out on my own dime in each of them. Almost all the instructors comped their time, and that's something I've always remembered and tried to pass on as both a professional courtesy and an acknowledgement that while instructing doesn't pay very well, their services are critically important to a healthy GA community.
So how do you give back? That's the topic for the Blogging in Formation group this month. And true to form, I notice that our ensemble has a high ratio of volunteers. I'm sure the team would agree that it's one of the most rewarding parts of what's already been a very blessed career. Doesn't helping others leave you feeling like you get far more than you've given? Aviation is like that — and so is the heart of a volunteer.