Is there anything as classic as the Mid-Century Modern ethos? From architecture to graphic design, there's a sleek, organic elegance to it, with classically simple lines which avoid the period styling, superfluous components, and useless ornamentation often found in other trends. It flows logically, and centers on astute use of individual elements.
Best of all, Mid-Century is an inseparable component of my beloved Southern California. Perhaps that's why I feel such an affinity for it. Oh, it may have incubated at the Staatliches Bauhaus, but SoCal is where the connection between Modern design and Mother Nature bloomed. You'll find examples of Mid-Century design all over SoCal, from homes to restaurants to signage to furniture and even urban planning.
Modernism is also about the intangibles: casual lifestyle, the quality of light and shadow, and the easygoing nature of people in the West. Modernism is the perfect style for Southern California living because it is compatible with our way of life. Its horizontality and openness promote harmony between shelter and nature, while its aesthetic offers an environment that is at once relaxed and sophisticated. It is a style and it is a lifestyle. And like Southern California, modern is relaxed, it is dramatic, and it is beautiful.
The mid-century era was a seminal time for general aviation as well. By the end of World War II, the Army Air Forces Training Command had graduated 250,000 pilots from its schools. With war in the rear-view mirror, these highly experienced and well-trained military pilots were back in the civilian sector with the world at their feet. For those who were not yet aviators, scores of surplus aircraft were left over from the war and the G.I. Bill provided funding for flight training.
The future looked bright, indeed. Unfortunately, it was at this moment that Something Bad happened when Cessna's marketing department got the brilliant idea to equate flying with driving.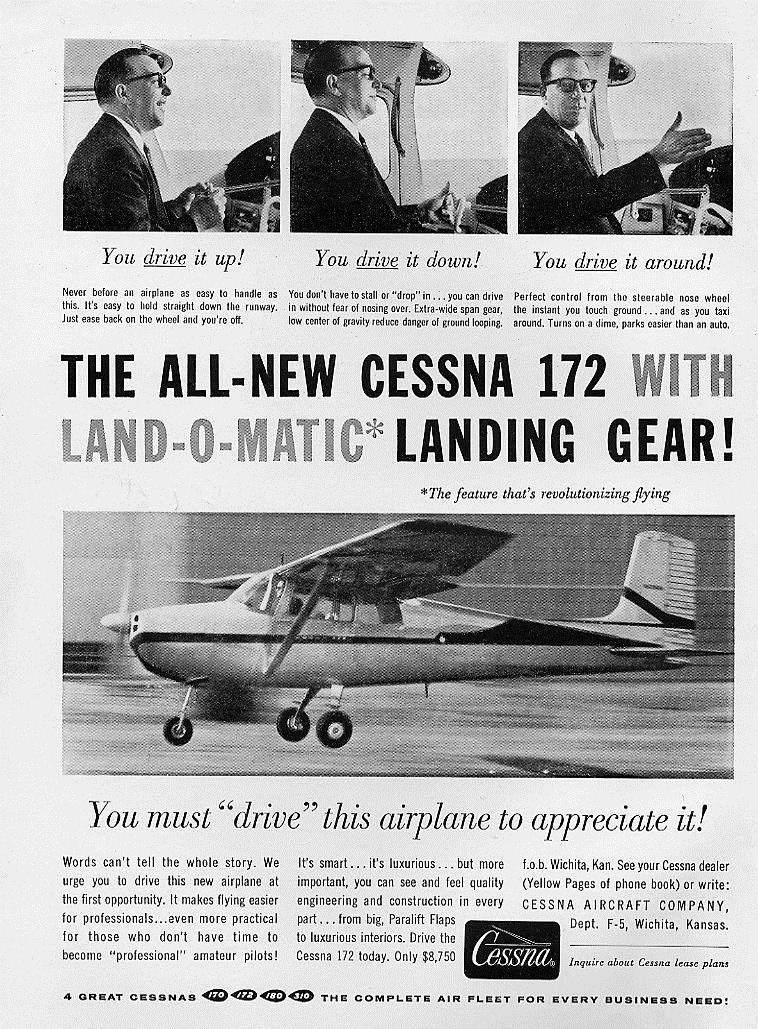 Airscape's David Foxx sent this to me after reading my Year of the Tailwheel post, calling the advertisement "about as heretical as anything a hands-and-feet aviator could ever read. You may want to wash your eyes after!". Amen, brother.
It's bad enough that they took a beautiful airplane and put a nosewheel on it; to this day, a Skyhawk still looks to me like a tailwheel C-170 that's been converted. It may not be in the league of that "flying milk stool", the Piper Tri-Pacer, but it's more than enough to make me pine for the days when happiness was a point-and-go airplane and a lung-full of wholesome, unfiltered cigarette smoke.
This mid-50's advertisement wasn't a one-time effort; Cessna continued using the "land-o-matic" schtick well into the 1970s. You can find ads for the Cardinal — which ironically was designed as a replacement for the 172 — peddling the same dreck.
There are all sorts of annoying things about the ad. First of all, it claims the 172 will "turn on a dime". False. The tailwheel can pull that trick, but not the nosewheel. As anyone who's flown them will attest, a Skyhawk requires three times the turning radius of its predecessor. Then there's the $8,700 price tag ($72,125 in 2013 dollars) for a factory-new airplane. And last but not least, the "drive it like a car" pronouncement. I've seen more than one person try to fly the way that ad says it can be done, only to end up with a bent firewall, broken nosewheel, and mangled propeller.
It is funny to look at though, isn't it? I suppose in the heyday, anything seemed possible–at least, in advertising. Compared to landing the 170 and 180, the Skyhawk can feel like a cakewalk if the winds are calm. But that's part of the problem: it's not. But it convinces pilots they needn't apply the same care, attention, or skill to their flying that they otherwise would have applied were the plane equipped with "conventional" landing gear. Proper control inputs during taxi? Gone. Slow taxi speeds? See ya! Precise energy and flightpath management? Sayonara. Solving a crosswind? Don't even get me started.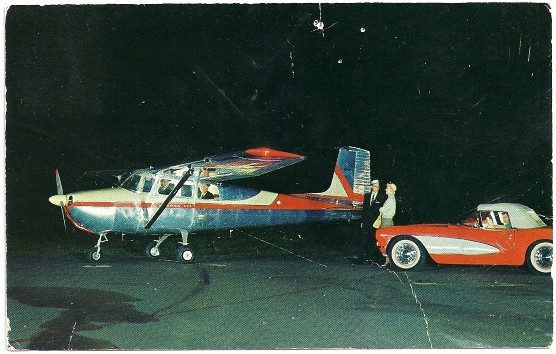 Even worse, instructors easily fall into the same trap, allowing students in Land-O-Matics to get away with performance they never would have accepted if the third wheel was where God intended. This only reinforces the lesson in the minds of many a pilot, spreading the "new normal" until we arrive in the 21st century, where tailwheel aircraft are often eyed with a wary suspicion by those who don't understand them or the many benefits they offer.
Some unintended consequences flow from those "so easy a caveman could do it" ads. Somewhere along the way, conventional wisdom seems to have begun opining that tailwheel aircraft require some magical, specialized landing technique. Nothing could be further from the truth.
My experience has been that if a person knows how to land a nosewheel airplane properly and does so on a consistent basis, the move into a tailwheel will be quick and smooth. If not… well, let's just say the majority of my time with transitioning pilots is spent building the rudimentary skills they never learned as a primary student.
The only significant difference between the two is this: the conventional landing gear absolutely requires proper technique, whereas the nosegear may not. Having said that, questionable flying skill can lead to problems no matter what kind of landing gear you've got.
Flying is not driving. Never has been, never will be. So remember, just because you can get away with low-quality takeoff and landing skills doesn't mean you should.