Though many of my favorite flying activities — aerobatics, pattern work, sightseeing — are local in nature, there's no denying that airplanes are made for going places. Even the pokiest of 'em makes travel faster and more interesting than driving a car. One of my most memorable trips was flying a clipped-wing Cub up the California coast at 60 mph. Between fuel stops and detours, it took the better part of a day to cover the 145 nautical mile straight-line distance from Orange County to Lompoc. But boy was it fun!
Over the past two decades I've traveled all over the country. All over the world, in fact, and my list of favored locations is long indeed. It's hard to beat sitting on the beach next to the Sunset Bar & Grill in St. Maarten. I could spend a month in London taking in shows at the Globe, ENO or the West End. And who could say a cross word about any of the Hawaiian islands?
But if I had to choose just one place to call my all-time favorite, it wouldn't even be a contest: it starts and ends with Santa Catalina, one of eight isles in the Channel Islands archipelago which sit just off the Southern California coast.
Catalina seems to be a place where all aerial roads meet, especially if you're from this area. It's the place everyone wants to go as soon as they learn how to fly or come into town for a visit. The pilot I made my last trip with in the Gulfstream used to fly for Catalina Flying Boats, a company which transports cargo to and from the island in DC-3s and (at the time) Beech 18s.
Catalina is where I took my first passenger after I earned my private pilot certificate. It's also where we took his mother on her last flight before she passed away from pancreatic cancer.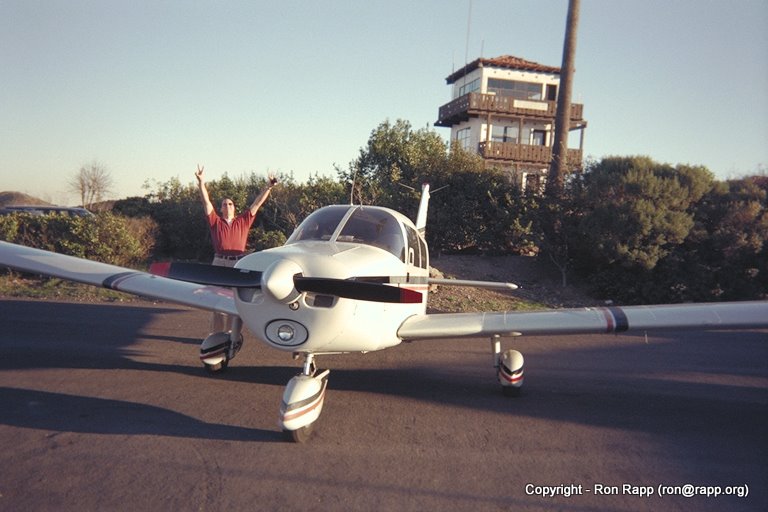 It's where my wife and I went on our first flight together. It's where we shot our engagement photos. It's the only destination I'm aware of that has a classic warbird (the Consolidated PBY Catalina) named after it. It hosts an annual airshow, herds of bison, unique plants that don't exist anywhere else on Earth, and miles of spectacular coastline, hiking trails, and hidden coves. Catalina has been a film location, a swing dancing mecca, a scuba diving destination, a nature preserve, and a hundred other things.
My aunt used to regale me with stories of the huge dances which took place in the legendary Casino ballroom in the 1930s and 40s. She'd work a 9-to-5 job during the day, then take a ferry (which had it's own band and dance floor aboard) to Catalina in order to dance the night away with thousands of other people in front of a big band. CBS Radio would broadcast live from the ballroom. After the music ended sometime in the wee hours, she'd hop on the last ferry and again dance all the way back to the mainland.
The airport itself is reason enough to visit the island. Built by chewing gum titan William Wrigley in the late 1930's, it was specifically designed to handle the Douglas DC-3 which would bring his Chicago Cubs out to the island for spring training. But Catalina's aviation history goes back a lot further than that. Glenn Martin built an airplane in Santa Ana and set a record for the world's longest over-water flight in 1912 by piloting it to Catalina Island. To this day, the airport terminal retains its original art deco style.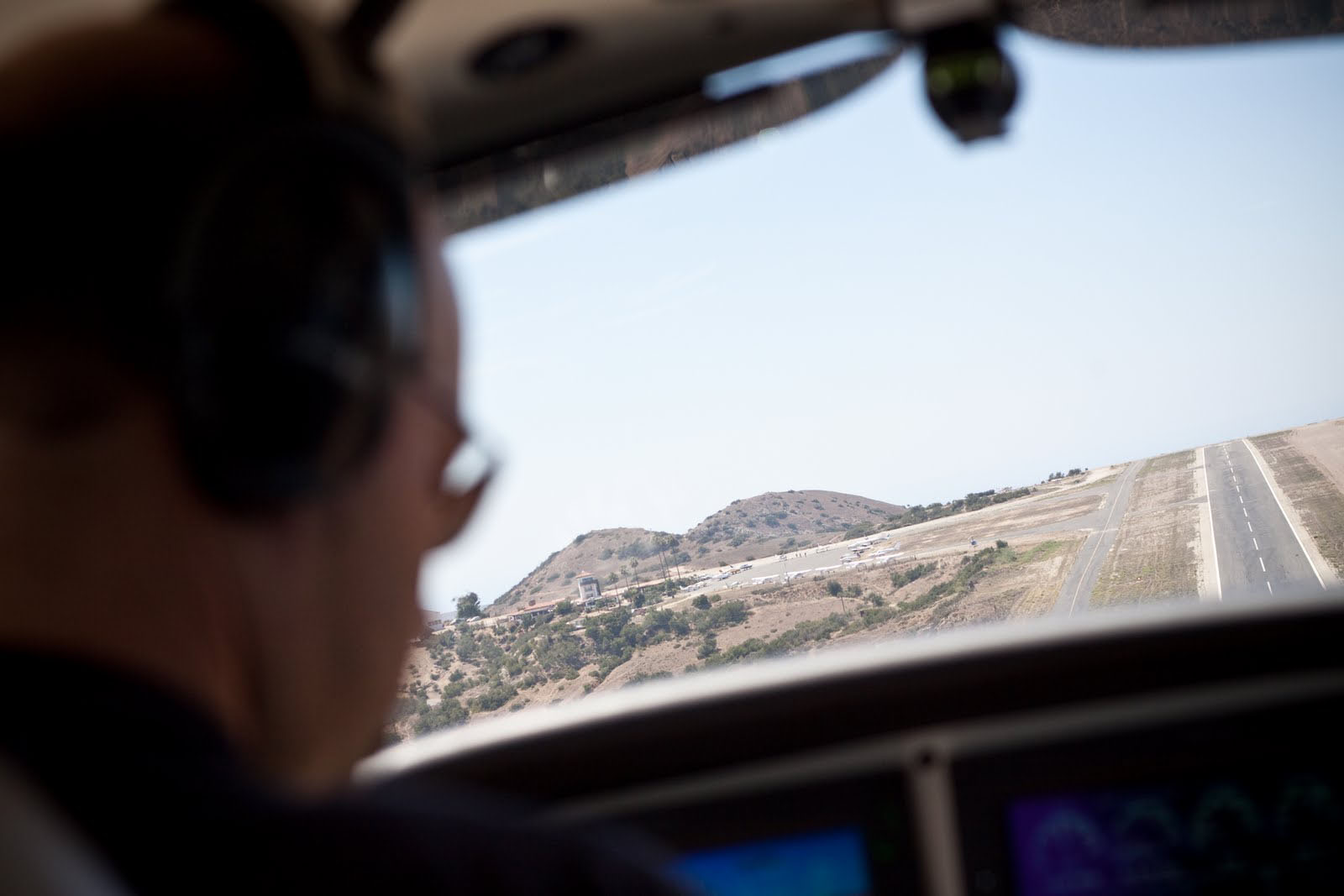 Speaking of which, the airport itself features a restaurant, camping area, a nature center showing the natural history of the island, a gift shop, and occasional barbeques on the airport's huge rotisserie grill. The terminal also contains a gallery of photos covering Catalina's aviation history, starting with the earliest flying boats to visit the island. You'll see pictures of the airport's construction, and of the World War II era when the nearly-completed airfield was barricaded with barbed wire and other obstacles in anticipation of a Japanese invasion.
For some reason, people get bent out of shape about flying to Catalina. It's really not that hard. The airport does sit on a bluff 1,600 feet above the ocean, but the pavement is plenty long and wide. There are just a few things to remember about the field. First, when you're at pattern altitude (2,600′ MSL), you may be 1,000 feet above the airport elevation, but at times that will put you 2,600 feet above the surface, especially on base leg when you're over water. Also, there's a crown in the middle of the runway, so the first half of the landing roll is uphill and the second half downhill. It's not terribly drastic, but it can create the visual illusion of coming up on the end of the runway when you've still got plenty left in front of you. Finally, you'll sometimes encounter up and down drafts due to the mountainous terrain when the wind blows. Like all approaches, if you don't like it, go around. No big deal.
Today, about 90% of the island is owned by a non-profit organization dedicated to preserving Catalina. They do a wonderful job balancing the conservancy needs of the island with it's status as a tourist destination. Over a million people each year visit Catalina, but you'd never know it from how pristine most it looks. I can only imagine how difficult it must be to bring materials and equipment out to the airport (which sits alone in the middle of the island) to work on the runway. It's one of the reasons I don't mind the $25 landing fee too much. It's expensive, but at least it's going to a non-profit conservancy which is protecting both the island and the airport.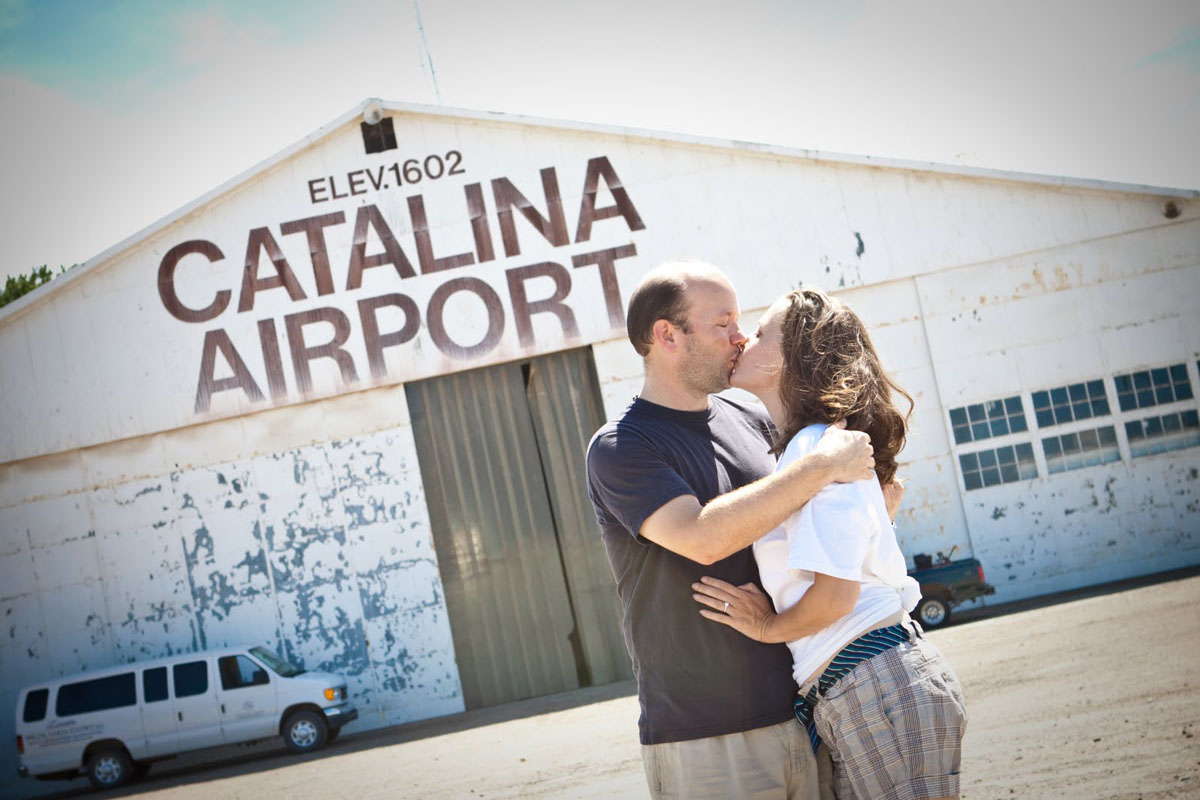 Though I haven't been to AVX on a regular basis in several years, I used to make a habit of occasionally flying over to the island for a leisurely day off. Sometimes I'd hike, other days I'd take the bus into Avalon or Two Harbors. Occasionally I'd just hang out on the back patio at the airport, reading a book, memorizing an opera, or talking with other pilots. One day I ran into Harrison Ford; another time it was Lorenzo Lamas. You never know who you'll come across when you're at the Airport-in-the-Sky. Sometimes they're not even people! I once witnessed a bison stampede from the airport terminal's patio. Another time I encountered a Native American who was searching for some kind of mystic white buffalo. You can't make stuff like this up.
Santa Catalina always beckons when I take to the sky. On a clear day, one can see it from the mainland even from ground level, hovering in the distance like a desert mirage. If you haven't experienced the Catalina magic, put it on your bucket list — you won't regret it.
---
This entry is part of an ongoing collaborative writing project entitled "Blogging in Formation".