There's a school of thought out there which tells us that the Non-Directional Beacon and it's cockpit counterpart, the ADF, are things of the past with nothing to offer today's pilot. With all due respect, this is demonstrably false.
I still teach instrument flying and find that while NDBs are becoming rare, the bearing pointer skills used to fly them are extraordinarily useful, both as a mental exercise and in practical 21st century IFR operation. Too many instructors, seeing NDBs largely decommissioned in the United States, have stopped teaching the associated bearing pointer lessons — a big mistake in my opinion.
I've even gone so far as to design NDB-like approaches off of little-used VORs just to provide a way for students to master them. Whether the navigation source is an NDB, VOR, or GPS waypoint is unimportant. It's the skillset which matters.
While it's true that the number of operational non-directional beacons is declining domestically, there are plenty of places around the world where they're alive and well. With GPS overlays, there's often little reason to keep the ADF equipment around. But remember, modern glass airplanes have only a single HSI in front of the pilot, and the avionics industry has replaced what was, in the analog panel days, a second CDI with… the bearing pointer.
The navigation source may be different (usually GPS or VOR), but the aptitude required to track a bearing pointer in or out-bound are still the same as they were with the NDB. I've seen what happens when that competence is never developed. It ain't pretty.
Between satellites, inertial reference systems, VORs, and ATC radar, you'd think there would be no need for tracking any kind of pointer these days, but every now and then I do get clearances which cannot be properly flown without the use of a bearing pointer. They typically contain instructions to fly to a fix and then outbound on such-and-such a radial and then intercept some airway. When that radial is not overlaid by a published course, how do you fly it while still maintaining an awareness of the airway you're to intercept next?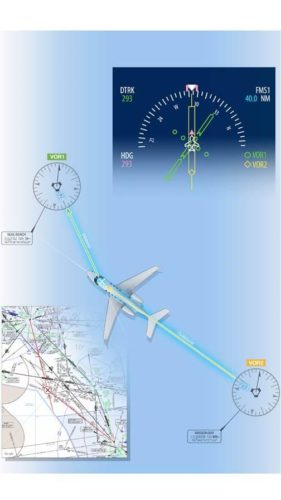 I received just such a clearance the other day, actually: the Tower Enroute Control (TEC) routing from San Diego Lindbergh to Van Nuys. It calls for flying the Mission Bay VOR 293 degree radial outbound to intercept the Seal Beach 148 degree radial inbound. Since neither of those is a published airway, it will not appear in a navigation database.
I've seen long time professionals with thousands of hours of jet time flummoxed by this problem. They'll try to set up a place-bearing-distance waypoint, but without plotting (when's the last time you did that?), how would you know where the two radials meet? Other solutions I've seen used include some kind of lat/long user waypoint, or just flying a heading off one VOR until intercepting the inbound course from the other one. As an approximation it might suffice, but it's way more work and far less accurate than simply using the tools your avionics suite already provides for that purpose, especially when the course line is long and/or there's significant wind aloft.
Even if your FMS or GPS has the functionality to make this easy, it's possible for these wonderful gizmos to malfunction. When a major part of any pilot's job is to always be able to answer the question "what if….", then the bearing pointer's value becomes clear.
The bearing pointer is capable of providing a wide variety of information, and it's so simple (note: I didn't say "easy"!) once you know how to use it. When it's not needed for anything else, I often set it to point at the airport. This provides added situational awareness so I needn't divert my attention away from the primary flight instrument area in order to consult a separate map display. And while I'm as much a fan of moving maps as anyone, declutter and zoom settings can dramatically affect what a pilot does — and does not — see.
We've all heard of professionals and amateurs alike landing at the wrong airport — most often out of a visual approach gone wrong due to fixation on the first piece of pavement which seems to fit the bill. I always find myself wondering if referencing a properly set bearing pointer might not have alerted them that they were off base. Sure, some modern panels can overlay a map on the HSI, but that can clutter the display quite badly, especially when traffic and other data are placed there as well.
The NDB may be fading into history, at least here in the US, but the aptitude to use one? That's still very much a part of instrument flying, and from the way glass panels have standardized their presentation, I don't see that changing anytime soon. If it's been a while since you last flew the bearing pointer, perhaps a refresher during your next recurrent training event would be in order.
---
This article first appeared in the November, 2018 edition of AOPA Pilot Turbine Edition