I've met so many people on my journey in aviation. Some of them were ridiculously happy, thankful every day for the ability to go to work as a pilot. Others were jaded and surly, giving the distinct impression that they'd rather be scratching their fingernails along a never-ending chalkboard than be anywhere near an airplane or airport. Sometimes those two people were even the same age, doing the same job at the same company and making the same money. It's perplexing.
Sure, we all have our good days and our bad ones. But how could their outlooks on life in aviation be so divergent? Is it just a matter of perspective? I'm sure sometimes that's part of it. But as the years have passed, I've come to wonder if perhaps one of them is simply in the right place and the other one is not. A square peg in a round hole, if you will.
It brings to mind my salad days, which were spent in concert halls and theaters. Most of my formal training is in the arts, and that kind of career involves a lot of auditioning. Even when you've got a job, the need for another one is never far behind. Much like a student pilot waiting on the weather to improve sufficiently for a solo cross country, it can wear on you after a while.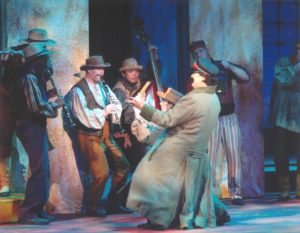 Say what you will about life as a pilot, at least we're not interviewing for a gig a hundred times a year!
Anyway, one of the best pieces of advice I ever received from my years in the performing arts field came from a well-known casting director. She said it was important to "know thyself". In other words, the odds of success were much higher if we went after the jobs which best fit our skills, background, and natural talents. Beating the odds meant ensuring your time and energy were directed at the right gigs.
If this sounds self-evident, keep in mind others don't always see us the way we see ourselves. Sometimes we think we're heeding this advice, only to learn much later that we were not. I recall doing a lot of navel gazing after that pep talk. But in the long run, it was great advice and helped me tremendously.
The same is true for a professional pilot. There are as many different flying jobs as there are stars in the sky. Setting aside the irony of being asked if I ever want to be a commercial pilot when I'm already earning six figures doing just that, most people equate "commercial pilot" only one thing: a white shirt with epaulets and bunch of people in the back going to grandma's house for the holidays. But the flying bus only scratches the surface of what's out there. Just because an airline job is many people's idea of the brass ring doesn't mean you have to make it yours.
I've met more than one person who was completely dissatisfied with a $200,000+ job flying top-of-the-line business jets to exotic locations. I knew a guy who had probably 20 days off each month on top of it all. And he still didn't like it. Eventually he quit and went off to sell insurance. Or maybe it was real estate. I was too dumbfounded by the whole situation to focus on that part. Either way, the point is that he worked harder and made less money at the new job — and yet he was markedly happier.
Perhaps some of these folks would be better served by teaching, crop dusting (don't laugh—those guys can make great money), flying for a scheduled airline, or owning their own business instead of working for someone else. Maybe they belong in the bush. Or on the side of a glacier. Or giving helicopter tours of the Grand Canyon. Flying airshows. Ferrying airplanes. Zipping around the San Juan Islands in a floatplane. Working for law enforcement. Or doing any one of a hundred different things in a thousand different places around the globe that are only available to those of us who fly.
"Shiny jet syndrome" isn't just a cute phrase. Sometimes the equipment, lifestyle, paycheck, and/or Instagram feed can lead us down the wrong path. There are only 24 hours in a day, and we spend a third of that sleeping. The remaining hours are largely spent at work. Obviously we all have to pay the bills, but life's too short to do something you hate all day, even if it comes with golden handcuffs.
There are a lot of flying jobs out there, and today an up-and-coming aviator has something rare: choices. From 22 year old 777 pilots to $455,000 bonuses for Air Force pilots, this is not the aviation sector of the 1990s/2000s. The game has changed, and the advantage is now in your court. So before leaping into a particular segment of aviation, take the time to look inward and really figure out what makes you tick.
You'll thank yourself for it.