I had lunch with a fellow pilot recently, an old friend from a previous job who, like me, is now flying for a California-based charter company. The difference between us is that he's flying scheduled 135 service, which is relatively rare. Most Part 135 companies fly "on-demand", while 121 airlines typically operate on a fixed schedule. It's a pretty sweet gig, actually. He's able to be home almost every night.
Anyway, my friend — let's call him William — recently returned to his old company after a short stint at United Airlines. To say he didn't care for UAL would be an understatement. William related the story of his time there and how he ended up rejecting what many see as the Holy Grail of aviation: a flying job at a major airline.
Let me start off by saying that William is an excellent pilot and human being. He's experienced and conscientious, friendly and fun, yet mature and forthright. He's flown abroad, lived on other continents for extended periods, been a CEO, and is an older pilot — not your typical 28 year old moving over from a regional airline. I'm not sure he'd ever upgrade to the left seat at a major simply due to the forced retirement at age 65. Then again, I don't think upgrading is his goal. William's just a guy who loves to fly.
So, the story. United called out of the blue one day based on an application William had filed with the company in the distant past. They asked him to come in for an interview. He was subsequently offered employment and assigned to the 737. Partway through training, William called me, wondering if he'd made a mistake going to United. He said training on the 737 consisted almost entirely of computer-based material, many of the instructors were surly ex-Continental pilots, and William had discovered that the Seven Three training program had a notoriously bad reputation within the company.
Worse yet, hand-flying the aircraft at all was heavily discouraged. The autopilot was expected to be turned on at the first legal opportunity and left on until the published limitations called for it to be disengaged. "Yeah, that sounds like airline flying," I said.
William asked for my thoughts, and all I could say was that if he was happier flying for his former employer, not to let the fact that United Airlines was a "major airline" stand in the way of doing what he thought was best. At the end of the day, life's too short to be doing something you hate. UAL is probably not interested in employing a pilot who doesn't want to be there anyway.
Or so I thought. It turns out United is kind of like the mafia: nobody leaves.
Oh, William did resign, and the airline accepted his resignation. He took the time to write a long letter to the chief pilot explaining his reasoning. The hope was that the airline might benefit from his experience in some way, or at least understand his perspective.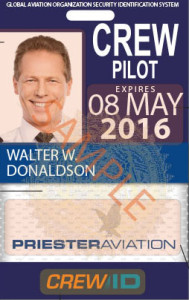 A couple of months goes by, and William hears nothing from the airline. Meanwhile, he's back with his previous employer and had pretty much forgotten about United…. until the phone rings one day. It's United Airlines crew scheduling. They're calling to assign him a trip. William patiently explains that as much as he'd like to accept, he no longer works for UAL. Oh, and he's still got his uniform, company ID, CASS badge, iPad, manuals, and other material. Crew scheduling doesn't sound surprised by this, and says someone will get in touch with him.
Of course, nobody does. Now if you're not familiar with an airline ID badge, it's more than just a rectangular piece of plastic with your photo on it. Crew ID badges will get you past airport security. And the CASS badge will actually get you into the cockpit of just about any airliner so you can ride on the jumpseat. Do you think this might be a security problem? Sure, William quit; but what if he had been fired and held a grudge against his former employer?
But wait — it gets better. A few weeks later, William gets another phone call from United Airlines crew scheduling. They're assigning him another trip. He once again explains that he stopped working for UAL months prior, and reminds them once again that he's still in possession of important credentials that a non-employee probably shouldn't have. They don't seen concerned.
A couple of days thereafter, he receives a phone call from the chief pilot's office at United. "Finally", he thinks, "they've sorted all this out." Nope. The chief pilot is demanding to know why he hasn't been accepting trips. Sigh. "Because I. Don't. Work. For. You." That seems pretty cut and dried to me, but to this day United Airlines is still under the impression that William is one of their active 737 pilots. In fact, he's still getting company-related emails and phone calls.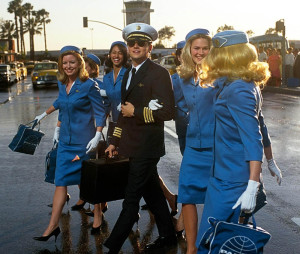 You can't make this stuff up. It's like a 21st century version of Catch Me If You Can. Over lunch, William joked that he was half-tempted to accept the trip, put on the uniform, and see if he could B.S. his way through a 737 flight in the right seat. Before you know it, he'd probably be working at a hospital or prosecuting cases as a district attorney. He'd definitely have to start printing his own money.
Eh, too much work.
In all seriousness, though, my lunch with William was eye-opening. He's told the story to other pilots who fly for UAL and they've been as amazed as I was. It seems that entities like United Airlines are really two companies in one: there's the airline a well-established pilot with good seniority experiences, and there's the one a new hire pilot like William has to deal with.
I understand how the economics of the airline industry dictate that only a bare minimum be spent on pilot training, but isn't this getting a little ridiculous? When a company doesn't even know who works for them — even after being repeatedly told — you've got to wonder what else is falling between the cracks.