Despite wars — both hot and cold — abroad and social upheaval at home, the 1960s must have been an incredible time for those in and around the aerospace industry.
Over the course of a single decade, the United States went from being unable to reliably launch a rocket (nearly half of the twenty-nine attempts in 1960 were failures) to putting men on the moon and bringing them back to Earth in one piece. In the realm of atmospheric flight, the 1960s saw the development and construction of the first supersonic passenger aircraft, the stratospheric cruising and futuristic-looking Concorde.
That was a half-century ago. I wonder, who could have predicted that the year 2014 would see the U.S. unable to launch a man into space on its own? Or that Concorde would be a dusty museum piece replaced by aircraft which lack the speed, altitude, and glamor of that legendary delta-winged craft? Anyone prescient enough to make that call would have been laughed out of the room. By 2014 we were going to be colonizing Mars!
While the march of computer technology has certainly eclipsed anything we could have dreamed of in the 60s, aerospace has, in many ways, stagnated. Visit any airport this side of Mojave and tell me I'm wrong.
Business Aviation Leads the Way
The space program has some promising "green shoots" with the Orion/SLS program and the emergence of third-party spaceships from companies like SpaceX and Sierra Nevada's Dream Chaser. When it comes to atmospheric flight, the most exciting developments are no longer taking place at Boeing or Airbus. Over the past couple of decades, competition and market demand for ever more capable business aircraft has revolutionized that segment of general aviation. The VLJ sector has brought small, quiet, efficient business jets to market, while on the ultra-large cabin side, today's airplanes fly higher, faster, and further than ever before.
But we're pressing up against the limits of what's possible through the continuing evolution of current designs. It begs the question: what comes next? I believe we're headed back to the future. I'm talking about the return of supersonic aircraft to general aviation. Well, perhaps "return" isn't the proper word, because GA has never had them. More like the return of supersonic passenger aircraft. There's nothing on the horizon in that department from the airlines, but for the corporate/charter folks, there is plenty of research and development taking place.
Spike Aerospace has designs on one, and Gulfstream worked with NASA on a project called Quiet Spike in 2006 and 2007 where they retrofitted an F-15 with a 24 foot-long retractable nose spike to experiment with reductions in the sonic boom footprint. The goal was to find ways to make transonic flight possible over the continental U.S.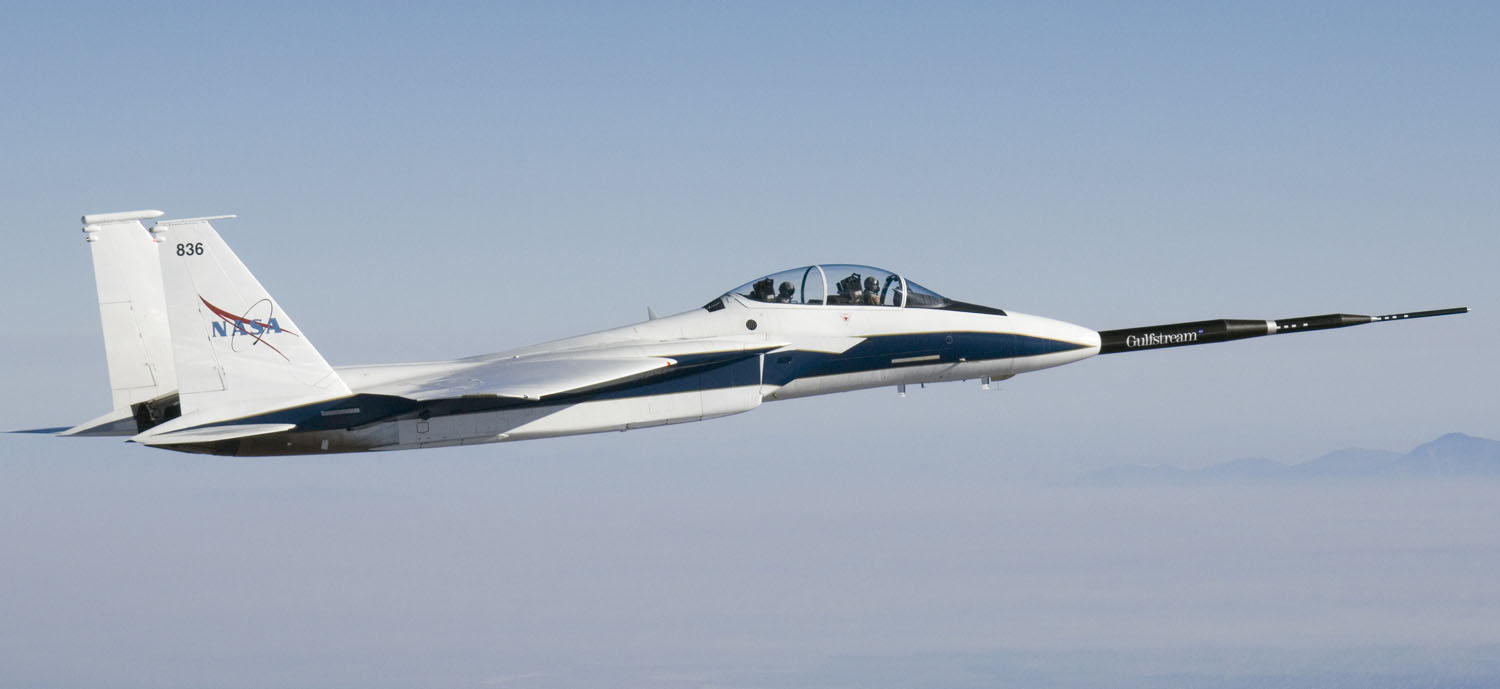 The Quiet Spike project has/had an offshoot called the Gulfstream X-54, which could very well be in development at this very moment. The X-54 is rumored to be an experimental stab at overcoming the challenges of domestic supersonic passenger flight.
Sukhoi also partnered with Gulfstream on a potential Mach 2+ business jet called the S-21 in the early 90s. They determined that there wasn't enough of a market to proceed. But that was twenty years ago.
The Marketplace Is Ready
So what has changed to make supersonic flight a potential reality for passengers? After all, we've had supersonic aircraft since the late 1940s, and airliners capable of the feat for half a century now. A level of skepticism is understandable, especially in an industry known for physical vaporware, but I believe the elements are now in place to make this a reality.
For one thing, Gulfstream is now owned by General Dynamics, a conglomerate with deep pockets and significant experience with supersonic flight. If you were going to partner a bizjet manufacturer with organizations that could help it overcome the technical hurdles of a Mach 2 passenger aircraft, could there be any better synergy than Gulfstream, General Dynamics, and NASA?
Then there's Gulfstream itself, which has become one of General Dynamics's primary revenue sources. As always, just follow the money. In years past, the idea of a $120+ million corporate aircraft wold have been laughable. Airliners didn't even cost that much. But today, Gulfstream is building $75 million business aircraft and buyers are lined up around the block to purchase them. Boeing manufactures corporate versions of the 747 and 787. Airbus has the ACJ. Clearly, price is not a show-stopper. With that in mind, maybe there is a market for a supersonic airplane.
From a technical standpoint, you can't go much faster without exceeding the speed of sound. We are already flying around at Mach 0.9 and the G650 was dive tested to Mach 0.995, where plenty of transonic airflow must have already been present.
Profit and Loss
The primary reason I'm bullish on supersonic passenger flight now is because it makes far more sense for the corporate/charter market than the airlines. An airliner needs to make money for the owner. That's their business, and the only reason those aircraft exist. If the jets don't turn a profit, the airline goes bankrupt. As glamorous and enchanting as Concorde may have been, it was a money loser. And with fuel prices headed skyward faster than a ballistic fighter jet, the economics only got worse as time went on.
Corporate airplanes don't have to make money. They aren't profit centers in and of themselves, but rather a means to an end: a way to get more business done. Supersonic speeds would allow the transcontinental traveler to quite literally put more than 24 hours into a day. Imagine being able to hold a lunch meeting in Europe and have another one in North America on the same afternoon. Take a look at a map of the sheer number of aircraft crossing the Atlantic on a given day. It's dramatic.
There's another reason supersonic bizjets could work when an an airline version would not. Airliners carry hundreds of people and tons of cargo, catering, baggage, etc. A typical business aircraft might have 4-5 passengers on board, so there's far less need for a big cabin or massive payload capability. The one thing every Mach 2 design has in common is the general shape: long and very slender. A space that would be cramped for 100 airline guests would feel far more luxurious if it was only occupied by a half-dozen businessmen. The needs of the corporate/charter market are simply a far better match for a supersonic design.
In conclusion, all the elements necessary for a successful supersonic business aircraft are in place. Now someone just has to build it. Between their Sukhoi partnership, the NASA Quiet Spike research, and the X-54, Gulfstream is obviously serious about taking the next step. They have General Dynamics' resources, large market share, and deep-pocketed clientele.
My prediction: Gulfstream Aerospace will deliver a supersonic bizjet within the decade.