Sunrise Aviation recently announced an annual aerobatic scholarship in memory of Reinaldo Beyer. This program is close to my heart for several reasons that I'll touch on momentarily, and I think it might be of interest given that my previous post on aviation scholarships has proven to be one of the most popular on the site (currently holding the number three position on the list).
The Details
The total amount of the award will be at least $1,250, to be used at Sunrise Aviation toward aerobatic instruction at their location at John Wayne Airport in Orange County, CA. The award could be more, depending on how much is available for the scholarship. For 2014, there is $4,350 in the fund, however that could be split among multiple pilots.
If you're interested in applying, the deadline is January 31, 2014 and the application form is available here.
That $1,250 could go a long way. At about $250 per hour, it represents five hours of flying. If the winner was able to spring for an equivalent amount (not required, of course), that 10 hours might be sufficient to get through a full Sunrise primary aerobatic program covering spins, loops, aileron rolls, Cubans, split "s", barrel roll, and a tailwheel endorsment. I went through that course myself after completing my private pilot certificate at Sunrise in 1998. Of all the flying I've logged in the ensuing fifteen years, nothing has done more to increase my skill level, safety, and confidence in the air. This is an excellent program and I can say from personal experience that it will make you a better pilot.
Unlike many of the scholarships I've encountered, this one does not come with any age, gender, or geographic restrictions. Nor are there any associations that one must be a member of before applying. The qualifications are simple: 1) hold at least a U.S. private pilot certificate, and 2) have some previous flight experience which includes professional spin and upset recovery instruction.
The purpose of the spin and upset recovery requirement is to "evaluate basic suitability for aerobatics". I'd like to help them find the best candidate for this scholarship, so I asked Sunrise who the ideal candidate would be. In other words, what will the committee be looking for?
The ideal candidate is the pilot(s) who look most promising for long-term aerobatic interest, given a healthy boost. Previous competition is a factor, but not more heavily weighted than others: enthusiasm, prior general aviation experience, character, etc.

If I could choose Reinaldo's clone, that would be perfect.
If you're not familiar with the name Reinaldo Beyer, let me tell you a bit about him.
A Man of High Standards
This scholarship is named after one of the most hard-working and talented pilots I've come across in my flying career. "Accomplished" doesn't even begin to describe Reinaldo's life either in the air or on the ground. To start with, his work as an interventional cardiologist literally saved the lives of a few pilots I know, and countless more individuals we'll never hear about. He was a tremendous resource for pilots who had health concerns and never hesitated to offer his services in that regard. True aviators are like that.
Beyer was also a very successful aerobatic competitor and member of the U.S. National Advanced Team as well as a National-level judge. Reinaldo was one of those people who demanded excellence from himself and others, and just watching him fly made me a better pilot because it confirmed that such quality and exactitude was possible. I never saw him do anything sloppy; it just wasn't in his character to allow it. Even the simple act of standing in the desert and looking up at the sky somehow had a precision to it. I can't tell you how refreshing it was to see that kind of ethic at work in the world — and I was far from the only one who noticed it.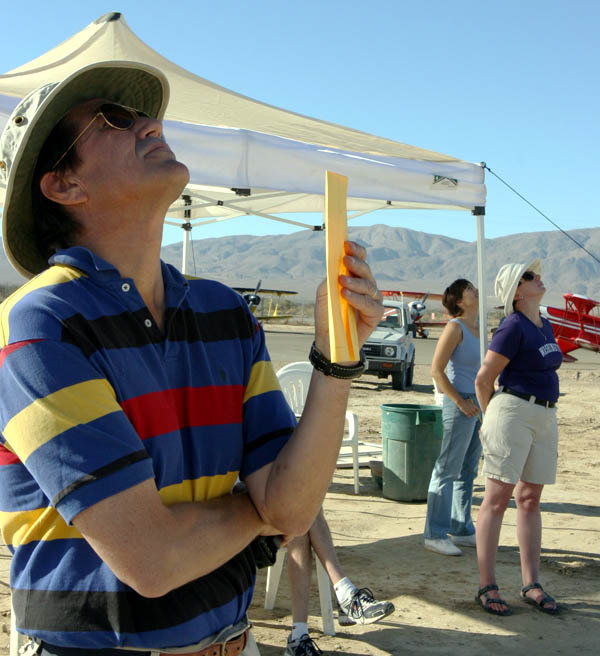 He used to open his Advanced freestyle with a common figure called a humpty-bump. He'd begin with this incredibly long upline (perfectly vertical of course) and then a downline with four half-rolls of such crispness that you'd swear they were some sort of computer generated imagery. Reinaldo's flying was a reflection of his personality: it was about precision, not flash.
Reinaldo's scoring of my flights used to drive me up the wall because he always seemed to zero my snap rolls and grade my sequences more harshly than any other judge. I eventually realized that he held everyone to that standard — including himself — and was in actuality the most accurate and consistent of judges.
True story: a few years ago, a relatively new competitor at the Borrego Acrofest sought me out to ask why I zeroed his snap rolls. I was about to explain the technical reason (no pitch before the autorotation) when Reinaldo stepped out of a port-a-potty about 50 feet away. I jerked my thumb in his direction and said, "Blame that guy." It was supposed to be a joke, but by the time I turned back to give a serious answer, the competitor was gone, already trotting after Reinaldo to get an answer.
Hopefully this scholarship will help ensure Reinaldo's legacy lives on for many years to come and bring more people into the wonderful world of aerobatics. I think he'd like that.