As I've noted on many occasions — as if it even has to be said! — flying is expensive. Ruinously expensive.
And it'll only get worse in the future — just ask anyone who started in the 60's 70's, or 80's. They'll regale you with stories about flying for a few paltry dollars per hour. Of course, they'll also tell you that it seemed like an enormous amount of cash at the time. I've no doubt that the current generation of aviators will be spinning identical yarns to equally wide-eyed and disbelieving pilots in the decades to come.
It's certainly possible for an individual today to chop thousands of dollars off the cost of a rating or certificate through the shrewd use of a few simple tips (see my list). But even with the best planning and decision-making, flying will never be free.
Or will it?
I've noticed an increasing number of aviation scholarships popping up in e-mails, newsletters, and web sites. You'd think that the prospect of flying for free would generate a stampede of applications for these generous programs. They're worth thousands (sometimes tens of thousands) of dollars each! But it ain't necessarily so. In fact, I've known more than one of these scholarships to go unclaimed for lack of applicants.
So, in an effort to help get more of my fellow pilots on the road to the airport, I'd like to highlight a series of grants and scholarships that have come across my desk in recent weeks. Keep in mind that this list is by no means exhaustive. There are countless opportunities if you're willing to dig deep enough, so ensure you're following the newsletters and other publications put out by AOPA, EAA, IAC, local flight schools, regional pilot and airport associations, and anyone else you can think of.
1. The Vicki Cruse Memorial Scholarship
This one is offered by CP Aviation in Santa Paula, California in memory of Vicki Cruse, who was a top-level Unlimited aerobatic competitor and member of the U.S. National Aerobatic Team, National-level judge, president of the International Aerobatic Club, and Reno Air Race competitor.
CP is providing an emergency maneuvering training scholarship valued at $3,100. This scholarship aims to promote aviation safety through unusual attitude and aerobatic training. The scholarship includes three modules of the EMT course which includes stall/spin awareness, in-flight emergencies, and basic aerobatics.
This year's scholarship includes transportation and lodging of up to $2,000 due to a donation made in memory of Danny Franscioni. I knew Dan; he was a talented pilot, tough competitor, and generous friend. His family also makes some fantastic wines. The Franscioni donation brings the value of the scholarship to $5,100.
All applications received by July 15 will be considered for this year's award. Visit the IAC website for more information, or contact Judy Phelps at judy@cpaviation.com.
2. Greg Koontz Aerobatic Instructor Scholarship
Greg Koontz Aerobatics at Sky Country Lodge, Ashville, Alabama, will provide a full scholarship to promote aerobatic instruction. The scholarship consists of an eight-flight training program. All required ground school is included as well as four nights stay at Sky Country Lodge with its all-inclusive accommodations. The recipient would only be responsible for travel to and from the school.
The program is not an initial aerobatic course. For that reason the scholarship is targeted at those certificated flight instructors who have some tangible experience in aerobatics and have demonstrated by their activities that they are interested in becoming involved in aerobatic instruction.
To be eligible, one must have a current instructor certificate, be age 25 or younger, and have a demonstrated need for the financial support provided by this program.
3. The Douglas Youst Memorial Aerobatic Scholarship
The purpose of this scholarship is to promote aviation safety through aerobatics training. The recipient will receive a cash payment of $2,000, in the form of a check made payable to the aerobatic school where the recipient will be training. Training must be conducted at a facility approved by the Chapter 78 Scholarship committee and training must be completed within a 12 month period from receiving the grant. A list of approved facilities can be provided to the successful applicant.
The successful scholarship applicant must be well-rounded, involved in school and community activities as well as in aviation. The applicant's academic record should demonstrate that they could successfully complete the educational portion of aerobatic training. Flight instructor comment reports or letters of recommendation must indicate that the successful applicant has the basic flying skills and potential to benefit from this type of training.
Qualifications: Applicants are preferred to be a certified flight instructor (CFI) or be receiving flight instruction with the intention of becoming a CFI. However, this is not a mandatory requirement. The applicant can be attending College or other post-secondary school or have recently completed College. The successful applicant will have demonstrated that he or she has the basic flying skills and potential to benefit from and to pass on lessons learned from this type of training. 

4. Amelia Earhart Memorial Scholarships
The Ninety-Nines offer an annual series of scholarships for women. These range from initial pilot training all the way up to turbojet type ratings. The only hard-and-fast requirement is that the applicant be a member of the organization, something that's quick and easy to do.
NBAA's scholarship program offers nearly $100,000 annually in cash awards as tuition reimbursement for enrolled students, and nearly the same amount in monetary and training awards for working professionals in business aviation, including pilots, maintenance professionals, schedulers, dispatchers, flight attendants and flight technicians.
6. AOPA Flight Training Scholarships
The Aircraft Owners's and Pilots Association administers this program. ASA, Jeppesen, and the Richard J. Santori Memorial Scholarship each award $5,000 to a student pilot pursuing an FAA sport, recreational, or private pilot certificate. The recipients are chosen based on merit, including previous accomplishments, ability to set goals, and demonstrated commitment to flight training.
7. EAA Flight Training Scholarships
The Experimental Aircraft Association offers dozens of scholarship programs, and while many of them are aimed at young people, there are also grants for professional pilots (I recommend the Clay Lacy Professional Pilot Scholarship, which provides up to $12,500 of support per year per award) and other adults.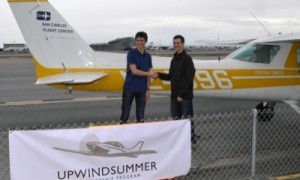 The San Carlos Flight Center in Northern California offers this regional program to allow high school students to earn their pilot certificates over the summer.
9. The Aero Club of New England
An east coast version of the previously mentioned Upwind Scholarship, ACONE offers nine scholarships totaling more than $25,000 annually for pilot training. These are regional awards limited to those who live in the New England area.
10. Southern California Aviation Association
I've saved what I consider to be one of the best scholarship programs for last. SCAA is not a name I was familiar with until recently. The organization started off in San Diego County and has recently expanded to include the greater SoCal area. SCAA is growing rapidly and I've been impressed by the size and scope of their offerings, which include Citation CJ type-ratings at both Simuflite and ProFlight. They've also provided a series of general flight training awards and offer scholarships for aviation mechanics.
As I said at the top, this is not a complete list. There are hundreds of scholarships, grants, and awards available for pilot training. Imagine what you could dig up if you really put your (proverbial) back into it!
If you're a member of the "flying poor" (or aspire to join that august club), you might have more time than money. Searching out and applying for these scholarships can make all the difference in the world for both you and an aviation community that needs fresh faces if it has any hope of thriving in the future. And if you're a veteran who's already got his or her ratings, or simply doesn't need the money, they're equally valuable because we want to ensure the next generation of pilots is as large, well-trained, and successful as we have been.