Just to show that it is possible to write about things other than aviation (I'm not addicted, really — I can quit any time I want), an old college friend of mine recently invited me on a trip to Santa Ynez to do some research on a winery.
Rich has been working as a food critic for quite a while, always regaling me with the latest culinary goings on in Orange County. I've had the pleasure of dining with him at Paul Martin's, Mozambique, the Crow Bar, and other trendy joints. It's always first-class experience. Appetizers, deserts, and executive chefs seem to appear at our table out of thin air. "Did we order this?", I'd ask. I'm living on a pilot's salary, remember. "Don't worry about it", is always the reply. "I know a guy here". If The Sopranos revolved around charcuterie rather than murder, this is what it would have looked like.
Anyway, this was to be a visit to the Sunstone Winery to research an article he's writing for an online magazine called O.C. Executive. I've loved Santa Ynez for years. Not only does it have a fantastic little airport, but it's also where I got my first education about wine. Just a couple hours north of Los Angeles, yet infinitely less affected by overcrowding than Napa or Temecula, I find the central California coast region to be ideal when it comes to the quality of the wine and the overall experience.
My wife and I belong to and/or frequent a number of wineries, and they're all in the central coast region (roughly defined as Paso Robles/San Luis Obispo/Santa Ynez). Sunstone had thus far escaped me, however, so it was with great pleasure that Rich and I made the short drive to Chumash country to begin our adventure.
We first met with the winery's private events director, Annamarie Kostura, who wasted no time setting up our first tasting. Though never a big Merlot drinker, I found Sunstone's '07 Merlot Reserve a very mouth-filling and luscious, yet appropriately smooth in texture. I'd recommend it with some kind of food, however. Sunstone had a Chocolate Balsamic Vinegar and French bread nearby and it really brought out the best in that tasting.
My favorite of the current crop has to be the Rapsodie du Soleil, however. This 2007 blend is a full estate wine, and like everything on their property, the grapes are organically grown. My previous experience with organic wines has left me wanting, but this one was different. The Soleil is a Syrah base combined with 12% Mourvedre and 2% Viognier. I loved the nose on this thing so much that Rich had gone on to the next sample before I'd even contemplated tasting it. Blessed with an expansive middle palate of blackberry and just a hint of vanilla, I would pair this with a glazed pork tenderloin or perhaps an eggplant dish of some kind.
After our tasting, we met with Sunstone's president, Bion Rice, who told us a bit about the history of the estate, their philosophy of wine as food, and the importance of building relationships rather than just making wine. Bion is a guy who always takes the long view when it comes to the sustainability of things. As both a business and an entity, he's looking for Sunstone to be more than just the vintages they turn out. It's an old-world view, but one that's easy to admire. In addition to the wines, Sunstone brings music performances to the estate and has plans for a culinary institute on the premises.
That culinary institute will eventually be based at the winery's Tuscan-style villa, an 8,500 square foot work of art which sits on a plateau overlooking the vineyards and winery. Originally built as a family home, many of the materials used it it's construction were brought over from reclamation yards in France. Massive wood beams came from Queen Victoria's lavender factory. The door to the wine cellar once kept Napoleon's prisoners in their cell. The roof tiles still have French moss growing on them. Rich and I spent the evening at the villa, exploring the grounds and delving further into Sunstone's wines.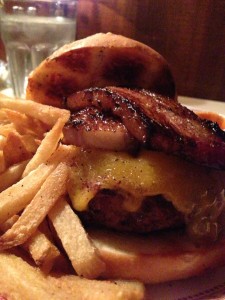 In fact, we left the estate only long enough to grab a bite at a local restaurant called The Hitching Post. I'd never heard of the place, but true to form, Rich always knows where to eat! Apparently The Hitching Post is famous for it's Oak Grilled Burger. It's not on the menu. You can only order it the bar area, and even then only on Mondays, Tuesdays, or Wednesdays. At one time those were the slow days of the week, so the burger was developed to help bring in some business. I can only say "mission accomplished"! It had two slices of the thickest, juiciest bacon I've ever encountered. The patty was like eating a stick of butter, a perfectly cooked medium-rare slice of heaven. This is not your typical ground chuck burger. The Hitching Post is a steak house, so they use premium cuts of filet mignon and rib eye which are baptized with a spice mixture they refer to as "magic dust". From the mango ketchup to the bun, everything is made in-house.
After gorging ourselves on Americana and making the obligatory donation at the nearly Chumash casino, we retired to The Villa. True to form, there are virtually no artificial lights on the property at all, so we literally stumbled back into the house to discover Annamarie heading up the hill to check on us. The next thing you know, two hours have gone by and we're chatting away in the villa's living room over glasses of wine like old friends.
It was about this time that it hit me: a boutique winery is as much about personality as wine-making, and the folks at Sunstone have it spades. They've managed to create an experience, and though it's centered around wine, without the vision and personality of the individuals running the joint, it could never reach full potential. As I commented to Annamarie, the smaller wineries of the central coast region are so exemplary because when you walk in the door, often the wine is being poured by either the vineyard's owner or the winemaker himself. And if not that, it's typically someone who's there simply for love of it all. There's always a great story, you just have to ask for it.
One example I often recall is a Paso Robles winery where the owner told me that he once hired a helicopter to show him the area so he could see the various parcels that were for sale. The helicopter developed a mechanical problem and made a forced landing in a long canyon. The guy figured it was a sign that this was "his" land, and he promptly bought it.
Anyway, Sunstone is a gem, and I expect to continued good things from them in the years to come. If you find yourself in the central coast region, don't miss it.