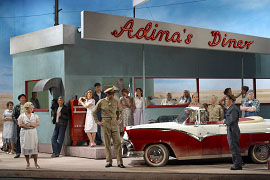 Opera Pacific's production of Donizetti's Elixir of Love opened last night.
Or should I say, will open tomorrow. Last night was technically a preview, but to me the preview performance always seems like opening night since it's the first time we run the full show in front of a live audience.
The production was looking a bit dodgy a week ago, but we're running on all cylinders now and Elixir was very well received by the audience on Monday. I do believe this is the most interesting production we've done this season.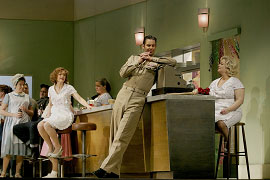 Sadly, it does not seems to be selling very well, which is a shame because the concept is fresh and accessible. Rather than being set in a rural village, the production takes place in a west Texas diner in the 1950s. Nemorino is a mechanic, Adina owns the diner, Belcore is a sergeant in the U.S. Army, and Dr. Dulcamara rides into town in a '56 Ford Fairlane.
Me? I'm the fry cook in Adina's diner, doling out the greasy food and keeping the hungry masses fed.
It's a living.
If this Elixir is half as much fun to watch as it is to perform, the notices should be excellent. Speaking of which, the Orange County Register has an interview with our director.
"It begs a question to a certain extent," Parry says, "why do a relocation, why update, why change these things from originals? I think that it's sort of like when you present something on the wall of the Louvre. If you present something as a museum piece, it's beautiful and it has a lot of value, but it's something that an audience, a spectator, can leave at arm's length. You know, it's on the wall, it's something of a different time, of a different place, of somewhere other than what we know. So we as an audience become a little bit uninvolved, we're appreciating as spectators.

"Whereas if we bring it into the 1950s, that is something that the audience has either lived through or has some cultural references about – and into America, again where an audience is familiar with a lot of the signs and signals. It becomes a piece that we can interact with, that we can involve ourselves with in a more personal way. And so we're no longer spectators."

The diner itself is a bit of a grungy place, as you'd expect, and features a pair of counters with stools and a cash register. The set revolves to reveal a porch with a couch, newspaper stand, a Coke machine and gas pumps around the side. Around the back another scene is set in front of a public restroom, with a payphone nearby.

"It's not just decor," Parry says, "… but in a sense they are things that we have a cultural resonance with." The idea is to make the characters and situations more immediate for a modern audience.
Read the rest of the interview here.