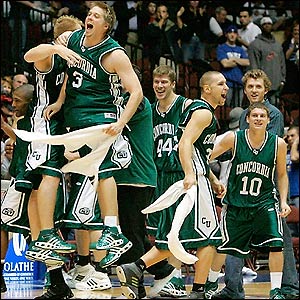 My alma mater, Concordia University, won an amazing basketball game in quadruple overtime last night to advance to the NAIA national championship game. Go Eagles!
Levi Luster scored the go-ahead bucket with a minute left in the fourth overtime, and Concordia ousted top-seeded and previously unbeaten Robert Morris 124-119 on Monday night in the semifinals of the NAIA tournament.

Keith Lawrence, whose off-balance 3-pointer at the buzzer forced the fourth overtime, made a pair of free throws with 19 seconds left that gave Concordia a 122-119 lead in the second-longest game in the 70-year history of this small-college championship.
CUI has been on a tear the past few years. We won the national championship in 2003 and made it to the finals in '04. Not exactly the NCAA, but it's exciting nonetheless.