Oh yeah, I have a web site.
Sort of forgot about that for the past few weeks.
It's understandable. I've either been out at the airport trying to keep my students from wreaking havoc on the runway, or in rehearsals for Samson et Delilah at Opera Pacific. Typically I'm flying from 9 am to 5 pm and then in rehearsal from 7 pm to 10 pm. Thankfully, the show will be over by the end of February and I'll be able to return to some semblance of normalcy.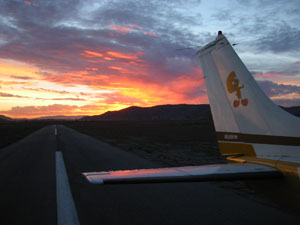 The flying has been interesting. It's been so long since I was a student pilot that I forgot how every little thing needs to be taught and explained. Over time, so much of what goes on in the cockpit becomes second nature, and like driving a car with a manual transmission, you perform relatively complex tasks without even thinking about them. The other thing that takes a lot of getting used to is the fact that I don't really fly much. I'm up there instructing, but the student is the one on the controls. It's one of the less appealing aspects of working as a CFI.
I've got about ten students right now. Some are primary students learning how to fly for the first time. A couple are "refreshers" for pilots are certificated but haven't flown in a while. One is a commercial applicant, and another is just finishing his instrument rating.
When not occupied with students, I've been getting checked out to instruct in as many of Sunrise's airplanes as possible. The fleet is pretty diverse:
C152
C172P
C172R/S
C1172RG
Citabria
Decathlon
DA-20 Eclipse
DA-40 Diamond Star
Cirrus SR-20
Cirrus SR-22
Pitts S-2B
Extra 300L
Each aircraft requires in depth study of the POH, completion of a detailed aircraft checkout form, and at least one flight with a check pilot for that model. I'm also completing the standardization process for teaching instrument, commercial, and aerobatic courses. That's a whole other ordeal, complete with DVDs to watch, forms to fill out, questions to answer, etc.
My goal is to be able to teach anyone who comes in the door in any airplane on the line. The problem is that these checkout flights are not free — I have to pay for them, and the aircraft rental rates vary between $100 and $300 per hour. So far I've been working full time at Sunrise for a month and have yet to receive a dollar. The next few paychecks are probably going to be for zero dollars, too, as the money goes to reimburse Sunrise.
And you thought "pay for training" was dead. Ah, aviation…
Speaking of flight instructing, I encountered my old instrument instructor the other day. He's now flying for West Coast Charters, and stopped in at Sunrise to say hello. I bought him lunch and we got caught up. It made me feel great to see him moving up the ladder, because he was one of the guys caught in the post-9/11 slowdown and spent a long time working a very un-glamourous job as a line guy to make ends meet. I recall going in to Sunrise one day shortly after 9/11 and seeing everyone just sitting around, doing nothing. I asked my instructor how bad things were and he said he'd earned nothing for more than a week. Lord willing, we'll never have to go through that again.
Anyway, enough about flying. The opera scene is a bit more conventional. Samson is going to be a great show! Opera Pacific has a ballet company on site training for the opera, and the music is exhilerating, if somewhat tough to memorize. Staging rehearsals start tomorrow, by which time we're technically supposed to have this show memorized. It ain't gonna happen, but somehow we always squeak by in staging while scrambling to get the libretto stored in (very) short term memory.
Over the years I've developed a way of doing this while being able to release the information once the show is over. Some operas I'll never forget — Carmen, Aida, Rigoletto, Hoffman, Carmina Burana — either because we had enough rehearsal, or have done them multiple times. Others, like the Mozart shows, are completely forgettable.
So that's the a brief update on things here at the House of Rapp. Once the standardization is done at Sunrise and the opera is over, I hope to have more time to write. And ironically, maybe do a bit of flying myself. I do miss those times when I'd just head out to the airport on a lark and take my plane up for an hour or so to watch the sunset. No students to teach, no clock to watch, no practice area traffic to deal with. Just me and my plane up there in the sky for no particular reason at all.