I've been back from Mexico for a bit, but haven't had the time to really post anything about the trip until now. Since a picture is worth a thousand words, you can get the gist of things by checking out the photos.
The trip started with an easy non-stop flight from LAX to La Paz. Normally I wouldn't take note of the flight, but this was a pleasant change from last year's fiasco in which all our dive gear was lost when we changed planes in Phoenix. America West eventually found the gear and got it to us in San Carlos, but since they only have one flight per day into Guaymas, we had to do our first day of diving with equipment we cobbled together from spare parts floating around the house and boat. We dove in two shifts, which worked well until the computers started going berserk because they thought the same diver was doing back-to-back dives without a surface interval. They locked up (by design), meaning we did most of our dives sans computers.

Anyway, back to this year. With ten divers in our group, we managed to score our own boat every day except one, and even then we only shared it with two other divers, a British couple who used to run a live-aboard on the Red Sea. That piqued our interest, as the Red Sea is under consideration for a 2006 trip. Apparently it's some of the best diving in the world. Of course, you have to survive the geopolitical situation first.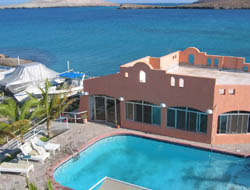 KR and a few of the others have done live-aboards where you'd log as many as five dives per day, but the three per day schedule in La Paz was a new high for me. Club Cantamar runs a very professional operation, and despite the fact that the resort is about 20 minutes outside La Paz, we really didn't lack for anything. Cantamar has a restaurant, bar, swimming pool, billiards, foosball, a dedicated marina, and modern rooms with phones, TV, air conditioning, and — get this — wireless internet access throughout the entire compound. If I had made a list of the top ten things I never expected to see down there, wireless high speed internet access would probably top the list. I told Arnie that Mexico seemed more like the U.S. ever time we visited (a compliment). Sadly, I also noted that Los Angeles seems more like Mexico every time I return (not necessarily a compliment). Cantamar also provided spacious lockers for our gear right on the dock, so there was to schlepping equipment around. After returning from a dive, we'd simply rinse the gear, lock it and go.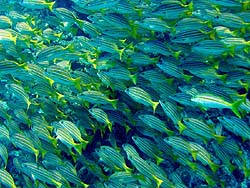 When diving La Paz, be prepared for a long boat ride to the sites — as long as two and a half hours each way. There are a few wrecks, nothing to write home about. The real story is the sea life. Not that there's anything in La Paz you won't find in San Carlos or Cozumel, but the sheer quantity of fish is staggering. It was quite common to find yourself literally enveloped in a school of yellow tails. I don't know if it's the size of the school that makes these fish so fearless, but they seemed to just swim through you like a breeze blowing around a kite. Talk about a cool effect!
You'll also find a lot of puffer fish out there. I mention this because I've become a big fan these animals. Maybe it's because they're slow enough that I can catch them. Or perhaps it's because they're so funny looking when they puff up. Whatever the reason, I never passed up an opportunity to chase one down. But I developed some rules, like: only make one attempt to catch a puffer. If it gets away, it "wins" and I don't pursue it. Another rule: take care not to harm them. At a trinket shop in La Paz, we found dozens of lacquered, "stuffed" puffer fish for sale. Very sad.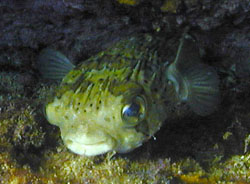 I also learned a lot about puffer fish by examining them so closely. First of all, their eyes are set so that they can see directly behind them. No matter where you are in relation to a puffer, they can see you. Also, very young puffer fish seemingly cannot puff themselves up. Finally, I figured out a way to make them de-puff: if you pet the spikes rearward (taking care not to cut yourself, of course) on top of their head, they eventually calm down and will return to normal size even if you're holding one.
One of the most amazing things about the puffer is that it's incredibly resilient; the tough outer body of this fish has been known to remain undamaged after being stood on by a grown man! Not that I tested this theory, of course.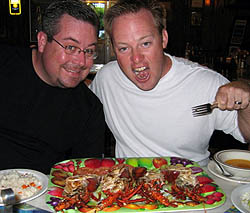 The town of La Paz provided us with some excellent dining. I can recommend the Bismark II (try the lobster) and the Bistrot Francais (recommend the salmon in bearnaise sauce). Tourism seems to be a relatively small part of the economy in La Paz, at least compared to a place like Cozumel, Mazatlan, Rosarito, or Tijuana. So there were few of the annoying trinket shops that rob these towns of their character. La Paz has a vibrant night life along the boardwalk and in various bars and restaurants that seem to fill up as the evening wears on. There are plenty of Americans present, but they seem to be the type that are well assimilated to South of the Border living, rather than the "just got off the cruise ship" folks who are more of an embarassment.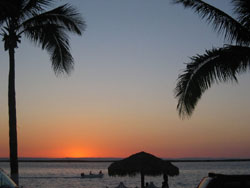 All in all, I'd rank this as perhaps the best dive trip yet and would not hesitate to visit La Paz or dive with Cantamar again. In fact my rommate on the trip, Arnie, is going back there next week with another group of divers. Happy trails, Arnie! Remember: never let 'em find your body.