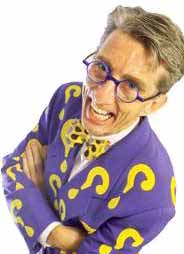 I'm officially ready to cast my vote for the world's most annoying person.
It's Matthew Lesko.
No one else even comes close. He is living proof that you can get rich by annoying people. (If you ask, he'd probably tell you there's a government grant available for it, too). His voice is annoying. That idiot suit with all the question marks all over it is annoying. His mannerisms, his products, even his web site is annoying.
As far as I'm concerned, Janet Jackson can do whatever she wants on TV. Just get rid of Matthew Lesko. I'd rather watch a marathon of Britney Spears videos and Homeboys in Outer Space reruns than be subjected to one of his infomercials. Ugh.