My ninth opera season is officially over. I'm sitting here doing a mental comparison between the 1999 production of Pagliacci & Carmina Burana and the one we just finished.
This one certainly seemed like a lot more work, which is odd because I already knew the music. I think part of it was the running around. Pushing that truck around, unloading it while singing, and so on. Paul said it best: you finish Pagliacci around 9:30 pm and physically feel like you should be going home, not starting another opera.
Part of the difference was also Enrique Diemecke's unconventional conducting style. But no matter — audiences loved the production as much if not more than they did in '99. They always 'give it up' for the ensemble shows, but I can't recall ever hearing such an ovation night after night. Perhaps it had the same "raw" feeling out in the house that it did on stage. Did Maestro DeMain actually make a brilliant yet misunderstood move in tapping Diemecke to conduct? I don't know. But I can say with absolute certaintly that I've never been so glued to a monitor before. (side note: here's an interesting 1998 interview with DeMain).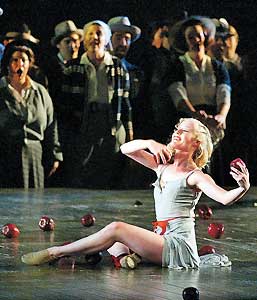 Speaking of being glued to things, major props to the BodyVox dancers. They were outstanding. I've come to realize that Carmina Burana just cannot reach it's full potential without the dance troupe. Many ballets are concertized, but Carmina just doesn't work as well in sedentary form. As far as I know, every company that's taken on Pagliacci / Carmina has used BodyVox. And for good reason. When they're that good, why reinvent the wheel?
Every time I would find myself getting tired on stage, I'd remember how hard the dancers work and realize I had it easy. They also performed with an effervescent smile. On Thursday I saw this dancer dropped flat on her face by accident, yet she never stopped smiling. Last time I saw anything like that was when John Osborne tripped during Daughter of the Regiment and fell flat on his back without missing a note of his aria.
Someday I'd like to perform the two companion pieces for Carmina Burana: Catulli Carmina and Trionfo di Afrodite. I've never even heard them, let alone seen them performed. But if they're half as much fun as Carmina Burana, it would be well worth the effort.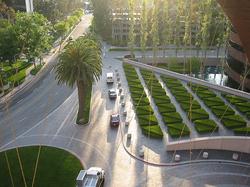 Opera Pacific threw a pleasant end-of-season party for the cast on the third tier lobby at OCPAC after Sunday's closing performance. I love it up there. The lobby is surrounded by high glass ceilings and a dominated by a soaring marble archway that forms the top of the famous OCPAC facade. The Center is an amazing facility. Lesley and I discussed how the more theatres we visit, the more we appreciate how clean, modern, and beautiful OCPAC is for patron and performer. Yeah, it's expensive. But it's worth it. As cast members, we reap the rewards while Opera Pacific gets stuck with the bill.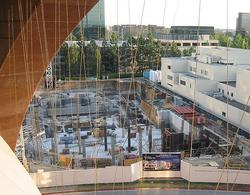 The third tier outdoor balcony also gives a good view of the concert hall construction progress. This thing is going to be sweet. Just as sweet will be Opera Pacific's ability to expand the opera season once the concertized music moves to the new building. Once it's completed, this will be a seven theatre complex: three stages at South Coast Repertory, two at OCPAC, and two more at the new concert hall.
All in all, not a bad way to finish the season.
(note: I just posted some backstage and rehearsal photos from the show)