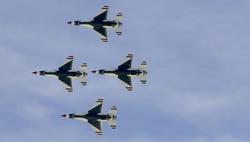 San Diego's MCAS Mirimar has long been known as "Fightertown USA". But with all due respect to the Navy and Marine Corps, I've always considered Nellis Air Force Base in Las Vegas to be the true Fightertown.
For one thing, Nellis home of the both the Thunderbirds and the USAF Weapons school. In addition, it hosts a seemingly unending series of large scale multi-service and multi-national training exercises under the Red Flag and Green Flag monikers. These exercises cover huge expanses of the Nevada desert and frequently include participation by our allies. To the best of my knowledge, the operation at Nellis is far larger than anything going on at Miramar.

When I lived in Las Vegas, I'd often go up to the auxillary field at Indian Springs and watch the Thunderbirds practice. It must be exciting to live up there. You'd have a recurring free airshow with no crowds.
Anyway, fellow pilot and professional photographer Dean Siracusa (who runs the Transtock.net photo agency and also directs a lot of automotive commercials) was in Las Vegas for the fourth annual International Symposium of Aviation Photographers and spent some time shooting pictures at Nellis AFB. He's graciously allowed me to post them for your enjoyment:
If you'd like to see the full collection of 22 photos, it's available here.