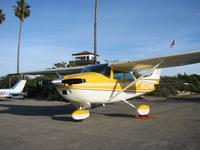 After much consideration, I have decided to put my aircraft up for sale.
Not because I have to get rid of it (though aircraft are certainly not cheap to own!), but because I have put more than eight hundred hours on her and I'm ready for a new adventure. I'd like to pursue CFI, -II, and MEI certificates. Learn to fly rotorcraft. Maybe get in on an aerobatic aircraft. Perhaps even fly commercially. And yes, probably build a plane at some point in the future.
94M and I have traveled the length and breadth of the country together. Visiting family. Exploring the West. Flying sick people to medical treatment. And every moment has been a pleasure.
Even so, it's tough to let an airplane go, especially a good one. And Tweety has been a flawless bird through and through. Low IFR approaches, short fields, gross weight departures from high density altitude fields in the middle of summer… and she flies on without a single complaint.
I'm sure I will shed a tear when 94M goes flying off into the sunset with another pilot at the controls. No one else has flown that plane for more than four years. But I think the time has come for a change.
Anyway, if you know of anyone who's looking for a solid, well maintained aircraft, point them in this direction: