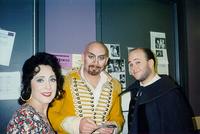 A pleasant surprise awaited me at the Orange County Performing Arts Center when I arrived for yesterday's performance of Pagliacci & Carmina Burana: one of the tenors in the chorus had put a couple of old photos on my dressing table as a gift. One of them was from Carmen (1996), and another was from Rigoletto (1997). It's such a trip to look back on those shows now; so much has changed in my life since then. I look at the pictures and wonder who that guy is, the one who looks so much like me.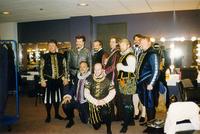 I'm really starting to get interested in photographs. Taking them. Getting 'em. Storing, organizing, scanning, and showing them. Most people are shutter bugs, but I've been contrarian in that respect for quite a long time. I never wanted to be one of those people who missed out on enjoying a moment because I was too busy trying to record it with a camera. Life is supposed to be lived, not "captured".
I recall one college professor who epitomized this behavior perfectly. He was a professor at Concordia University's music department. Whenever we were performing locally or on tour, he would invariably be trying to get everything on tape. He was into videography in a big way, and though he always seemed to do it out of enjoyment, I felt as though he had to be missing out on experiencing a good portion of what was in front of us. After all, anyone can see Europe or the Rockies on a screen, right? But that's how I'll always remember him. I think he remembers me as the guy who always had a can of soda in his hand.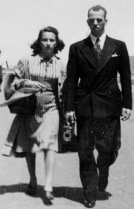 Recently, my attitude about photography has begun to change somewhat. It started when my grandmother and sister-in-law gave me a number of photographs of my parents and other family members. Some of these were taken as recently as the 1970's, and others as far back as the 1930's. My parents have been deceased since I was a little kid, so those photos are a priceless memory for me. Or rather, a replacement for ones I never had. Secondly, I'm finally realizing that unless I take some pictures and make sure they survive, no one is going to have any idea what I did with myself for all these years. The shows, the flying, the traveling, the friends I've made and lost. I've worked hard to build a life. If I ever have kids, I'd like them to be able to see what I'm doing today, just as I can look at the photos of my dad when he lived in Burbank 60 years ago.
Organizing all these photos is a lot of work. I'm trying to build up a library of electronic images as well, since they're so convenient for e-mailing and posting on the web. I'm thinking of trying the Kodak CD method, where the photo lab automatically puts scans of your photos onto a compact disc when they're developed and printed. It's a little more expensive, but at least it would be done right.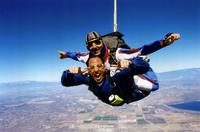 I really have some great pictures in my collection. Some are from shows; in fact, I have two great ones from Flying Dutchman which I'll post in the near future. One of my favorite photos of late was e-mailed to me by a friend who went skydiving for the first time. As you can see, he's having a lot of fun. Either that, or he's trying to sign-language his last will and testament before he hits the ground at 130 m.p.h. I'm no expert in signing, of course, but I think what he's indicating in this photo is that everything, including the Playboy collection, is supposed to go to me.