Whew, I'm beat. A bunch of us working on Pick Up Ax just pulled an all-nighter at the theatre trying to get things ready for our first preview tomorrow.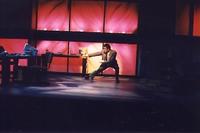 The lights have been giving us problems–fuses have been blowing. We've managed to get some new ones, but what was supposed to be a tech rehearsal yesterday ended up being just another dry run-through of the show because the electrical system isn't handling the load we're putting on it. Basically everything is in place except the lighting.
The funny thing is, I know it's not our fault. Our lighting designer is as good as they come, and he's worked as an electrician enough to know the equipment, the instruments, and the design. There should be no problem here.
The colors on the set didn't turn out as we expected. I'm caught in the middle between the director and the scenic designer. As if that wasn't enough, we have no ticket sales for this coming weekend. None. Can you believe it?
But the show is going to turn out great. Acting-wise we're in great shape, and the technical elements never seem to iron out until 30 seconds before the first performance anyway, so I guess in a lot of ways this is not unlike every other show I've ever done.
Are you getting sick of hearing about Pick Up Ax by now? Probably. But that's pretty much all that's going on in my life right now. Heck, it is my life. Maybe I'm crazy, but I've already got ideas about the next show, what it could be, where and why. But one thing is for sure. Between now and then I'm going to need a long break, one where my evenings are free from rehearsals.