I am surprised at all the e-mail I've received on the last entry I wrote. People have been relating some of their own memories about those years.
Instead of blathering on about it any more, I'll let a few photos tell the story.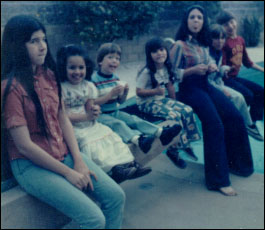 This is circa January 13, 1977; my fifth birthday. I'm the one in the middle holding a cup. Teresa is on the far left, and Erin is on the right sticking her tongue out at the camera. Her brother John is on the far right with the red sweatshirt.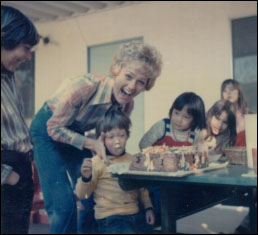 My mother loved a good laugh. This picture was taken right after she pushed my face into the cake. At the far left (partially out of the picture) is Allan Azran, who lived across the street.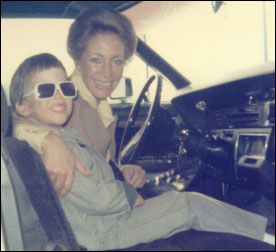 Circa 1976. Erin's step-mother, Monyeen, was the coolest next door neighbor you could ask for. A second family. I used to go over and hang out in their kitchen for no particular reason at all. Just think Family Ties.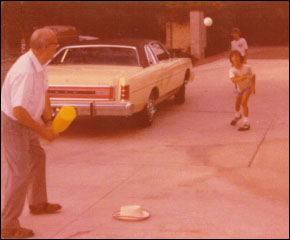 My dad played a mean game of whiffle ball. He was almost 60 years old when I was born, but I never minded. He was more active than most people half his age. This picture was taken in front of our house. We used to play ball at the park, too. We went to Dodger games several times a week. He'd take me to Griffith Park to visit the Observatory or ride on the miniature trains. Swim on the weekends. And often we'd play cards in the evening (Gin was my favorite).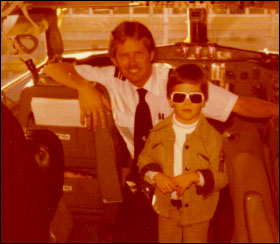 My first flying lesson! Boy, you wanna talk about the "good old days"! This was the mid-late 70's, when they used to let you go up into the cockpit and talk to the pilots while the plane was airborne. This was taken on the flight deck of a Boeing 727, and was one of my first positive experiences with aviation. The pilot gave me a pair of plastic flight wings, and I thought, "They pay people to do this? I'd do this for free!"