I've been writing about general aviation for… well, let's not count the years, shall we? It would be a bit distressing, and age is just a number anyway.
(I wish.)
For the most part, my output has been Web-based. That's a bit of a double-edged sword, as anyone who's tried to run a blog will tell you. The internet has no beginning and no end; much like a book of infinite length, it's a publication which is never "finished". Sure, a Web-based writer may have created some excellent content last week/month/year, but what about this day, this week, this month? Readership depends on a regular stream of new material, and while blogs are often sole proprietorships, they're rarely a primary source of income.
Nevertheless, I continue to write, mainly because I enjoy it. These days there's an element of mentorship which fills the gap created when my primary flying job supplanted much of my ability to instruct in what I lovingly call "real airplanes". And if the site statistics are any indication, a surprising number of readers and subscribers are out there.
Anyway, I've been fortunate to see my writing appear in a number of different aviation publications over the years: Sport Aviation, Sport Aerobatics, the AOPA Opinion Leaders blog, General Aviation News, JetGala Magazine, and more. But a couple of months ago I received an email from Tom Horne, editor-at-large of AOPA's flagship publication, AOPA Pilot, inquiring about my interest in contributing to the Turbine Edition of the magazine.
It was quite an honor to be asked. The total reach of AOPA Pilot is 469,000, which is not exactly chicken scratch. According to FAA statistics, there are about 609,000 active pilots in the United States, so whatever appears in that magazine is capable of reaching the majority of them.
To be fair, the Turbine Edition — a version of the magazine which includes content specifically geared toward owners and operators of turbine-powered aircraft — has a reach of about 109,000 people, but articles are frequently posted on AOPA's web site as well.
I've been receiving AOPA Pilot Turbine Edition since it first debuted about six years ago. It's the same magazine everyone else receives, with the additional turbine content encapsulated in a special section and a different cover. Even if you're not flying a turbine-powered aircraft, I think the included content would be of interest, especially given that you're not shortchanged by the elimination of anything else.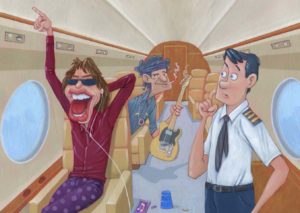 My first contribution to the magazine was in this month's issue. If you'd like to read it, I extracted the article from the magazine and received permission to post it here now that the publication date is well past. It's available in PDF form, or on the AOPA web site. Check it out, if for no other reason than the illustrator, John Sauer, did an amazing job with the artwork. He even gave me hair! If you'd like to see more of his work, I recommend his illustration gallery. The work he does for AOPA has a whimsical style which makes a marvelous fit for the written content.
I had to be a little careful with this article, because one of the hallmarks of business aviation is discretion. I selected a few stories which took place a long time ago and did not reflect badly on any person, company, employee, or other entity. I was hesitant to even mention names, but in the case of the Rolling Stones, they were class acts. If anything, I was the one who fell short, as you'll read in the article.
I've got one other piece in the pipeline at the moment, and a few more on the drawing board. I've enjoyed experiencing the different ways topic selection, writing, editing, and publication are handled when compared to a purely Web-based medium. And that's one of the neat things about it: a traditional magazine article can appear on both paper and the internet, but it's unlikely the reverse would prove true.
I've also been keeping PDF copies of the "Captain Speaking" columns I write for JetGala and hope to share those in the future. They do lovely things with the layout, as you'd expect from a glossy publication angled toward the highest end of the luxury and bespoke lifestyle markets.