"Don't make 'em like they used to…"
I'm not sure if it was a question or a statement, but the docent who sidled up to my son and I recently at the Museum of Flight was right as rain. We stood silently for a few moments, gazing at the long lines of the warbird fuselage in front of us.
I'd already read Airscape Magazine's two-part series on the developmental history of the Supermarine Spitfire (nerd alert!), so perhaps it was a father-like-son moment which prompted my two year old to make a bee-line for the Spitfire Mk.IX when we entered the museum's Personal Courage Wing.
The plane itself received a once-over. But what really caught my kid's attention was the Rolls Royce Merlin engine parked nearby. It was accompanied by an informational display and panel with a single button. I dunno if the kid is going to be a pilot when he grows up, but if one of the signs is a love of pressing buttons, the odds are looking good. This one played a throaty recording of a Merlin starting up, followed by the sound of a high-speed fly-by of a Merlin-powered Spitfire.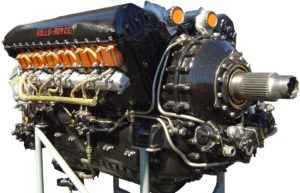 He must have pressed that button a hundred times. There's something universally captivating about the sound of a large-displacement inline engine and propeller going by at hundreds of miles per hour. Even a two year old gets it.
Although some Spitfire variants were propelled by Griffon engines, the majority of the 20,000+ fleet rolled off the production line with the slightly smaller Merlin powerplant.
Now, I'm a big Rolls-Royce fan. Not because of their automobiles, which is what most Americans probably associate them with — to be honest, I probably wouldn't know one of their cars if it parked in my driveway and I was handed the keys. No, it's because the planes I fly at work are powered by Rolls-Royce engines.
In fact, every true Gulfstream aircraft thus far has been paired with a Rolls-Royce engine. The original Gulfstream turboprop utilized a Dart 529. The G-II and G-III were paired with Spey turbofans. My G-IV has Tay 611s. The G-V/550 is powered by the BR-700 series. The flagship G650 travels with one of the latest Rolls-Royce engines, the BR-725.
This line of turbofans is famous for a long history of power and reliability. I think of it as the jet equivalent of Pratt & Whitney's PT6A turboprop engine. It just goes and goes. Interestingly, Gulfstream recently broke with tradition and selected Pratt's PurePower PW800 series for the upcoming G500 and G600 aircraft, so the long romance between Savannah and Britain may be coming to an end. If so, the pairing will still go down in history as one of the most successful in aviation history.
Anyway, those Merlin/Griffon reciprocating engines were a huge success for Rolls, and even today they remain among the most iconic elements of classic warbird aviation. Of course, the war only lasted a few years, and it seems piston technology was barely mature before everyone was racing to cast it all aside in favor of turbojets.
Rolls-Royce started working on a replacement for their aviation recips even before World War II ended, and this jet engine aspiration became the known as the Avon. This moniker might bring to mind the billion-dollar direct sale cosmetics company; thankfully, there's no relation whatsoever. Like many of Roll's engines, the Avon was named after a British river. Although I'm not sure which one. "Avon" is derived from Celtic word for "river", and at least five waterways in the United Kingdom share that name.
The Avon turbojet engine was first run in 1946, and and the last one was produced… well, that's the kicker: they never stopped making them. Though they're not produced in large numbers, as far as I know you can still get a new one today.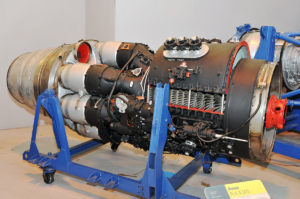 Conventional wisdom would suggest avoiding the first product of any new technology. Lord knows the first "laptop" computer, automatic transmission, or cellular phone was no prize. Yet here's one which has been powering aircraft, ships, factories, drilling rigs, and just about anything else for nearly two-thirds of a century. To be sure, Rolls has made improvements and upgrades to the line, but still, what an impressive record.
And speaking of records, according to a Wikipedia page on the Avon, in 1982 one of these engines ran for 53,000 hours before requiring a major overhaul; in '94 one operated continuously for 476 days. To put that into perspective, the Tay 611 engine on my Gulfstream IV-SP — which is about four decades newer than the Avon — is opened up for a hot section inspection every 4,000 hours and is totally disassembled for a major overhaul every 8,000 hours.
That's not to say a Tay couldn't do everything an Avon does. I'm sure it could. Industrial uses are nowhere near as critical as aviation applications — that's why the overhaul and inspection intervals for aircraft engines are so much shorter than the astronomical numbers posted by the older design. Still, it's a unique testament to British aviation in general, and Rolls-Royce in particular, that an engine can remain in profitable production for so long.
Will any of the designs on today's drawing boards still be in production 70 years from now? Probably not. A fellow pilot recently mentioned that his employer is in the process of trading their existing G450 for one of upcoming fly-by-wire G600s. Their question to the CEO of Gulfstream was aircraft longevity and how long they plan on supporting their aircraft. The answer was surprising. While they do support everything out there, all the way back to the original turboprop-powered Gulfstream I, they plan a ten year cycle on their current aircraft.