There are many big names in the general aviation world: King, Collins, Klapmeier, Poberezny, and so on. But Arnold Palmer was something unique, even among the giants in our industry. I think his achievements in the air may have matched anything he accomplished on the golf course.
Think that's crazy? Let's look at the evidence.
Everyone knows the highlights of Palmer's sports career, but how many aviators do you know who soloed in six hours? That's not a typo. I'm fairly certain I was still trying to figure out how to start the engine properly at the six hour mark (some might argue that I'm still working on it 8,000 hours later… but that's a topic for another time). If my CFI had tried to cut me loose at that point – not that there was any danger of this actually happening, mind you — I would have been the one pulling on his shirt tail as I hauled him back into the cockpit. What's the old saying? "A man's got to know his limitations".
Palmer was a quick study in many aspects of life beyond sports and business. But it's clear he also had a major passion for flying airplanes. How many aviators have set world speed records circumnavigating the Earth? Or flown actively for more than 56 continuous years?
I believe the average non-professional pilot logs about 30-40 hours annually. But Arnie? Well, I'm wracking my brain to think of another aviator – one who never worked professionally in the aviation field – who could lay claim to nearly 20,000 hours of flight time. That kind of figure is normally reserved for airline pilots. It's an average of more than 350 hours a year. How many of us fly that much – AND manage to sustain it for over half a century?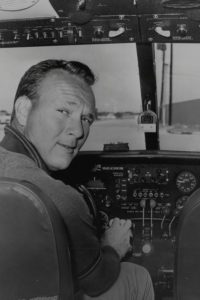 What I love most about this statistic is that it tells a love story. Arnold Palmer didn't need to fly the airplane in order to reap the benefits – at least, not after the business aviation field got established. If he'd simply wanted to get from place to place, he could've easily occupied a seat in the back of the plane and had someone else do the flying. That's what most high net worth individuals do.
As most of you know, flying an aircraft – even if you love it – can be a tiring activity. When he got to wherever it was he was going, Arnie didn't go to the hotel room and call it a day. He got to work playing golf, designing courses, making deals, and doing whatever business was before him. The depth of experience in his logbook indicates someone who had a passion for flight which went far beyond the financial and business benefits it engendered. How can you not love a guy like that?
But Palmer earned my highest respect after the 2008 financial crisis. He loudly defended GA in general, and business aviation in particular, with his voice and bank account in its darkest hour. From where I sit, business aviation has always been easy to support. The facts are simply on our side: companies which operate aircraft in furtherance of their business do better. But that wasn't a popular position for a public figure to take in 2008.
Remember what an odd time that was? Some folks, primarily those in elected positions, were excoriating users of business aircraft at the very same time that they themselves were using them! Among those who could've spoken up, most people kept their mouths shut, or – as executives from the Big Three automakers did – groveled an apology for using business aviation as though it was a crime against humanity.
Arnold Palmer was proof of that business aviation pays dividends. While this may be self-evident to anyone who takes an honest look at it today, he was using aviation to further his business in the mid-late 1950's. It was almost unheard of back then. The business aviation industry didn't really exist yet. The first Learjet flew in 1963. Even Grumman's famous Gulfstream turboprop, one of the first serious purpose-built business aircraft, didn't begin deliveries until about 1960.
Palmer was on the leading edge of aviation every bit as much as with his golf career. It's almost as if he saw the future. You'll see that same look in his eye in the many famous photos of him on the golf course, that easy smile which says he knows the answer and is fully confident in the direction he's heading.
He'll be missed by people who've never even played golf and wouldn't know how to use a nine iron if their life depended on it. I know because I'm one of 'em.
Thanks for everything, Arnie…