Every pilot learns about and is tested on weight & balance. By the time a checkride is scheduled, a student can not only compute the numbers but also expound on the pros and cons of forward and aft center-of-gravity locations, as well as the effect of exceeding the limits in either direction.
But while they "know" weight & balance, do they really know it? Since training flights typically occur with the same payload located at the same stations, few pilots experience anything beyond a single profile: a student and instructor seated next to each other, empty rear seats (assuming the aircraft has them, of course), and a fairly consistent fuel load.
Tailwheel pilots might be an exception, as many of these airplanes feature tandem seating, and removing the instructor from the ship can result in a noticeable shift in C.G. — especially if the airplane is soloed from the front. In addition, two-seaters tend to be lighter, and the lower gross weight means a larger percentage change in the airplane's gross weight when the CFI is not on board. For example, a J-3 Cub at max gross weighs about 1,200 pounds. When it comes time for the student to solo, the airplane is suddenly 17% lighter. If you're flying a C-172R, that same instructor represents only 8% of the airplane's maximum gross weight.
Even when I flew turboprops, we always operated with the same weight and C.G. profile. We were dropping sterilized fruit flies from ancient U-21As over southern California, and the payload and fuel were operationally identical every day.
So it can come as a bit of a surprise when you move up to a larger, more powerful airplane and realize that it's actually two airplanes in one. The Gulfstream IV is like that. Not because there's anything special about it, mind you — it's just a consequence of how the airplane is used. Unlike airliners, which rarely fly without a full load, business jets fly a wider variety of operations. Extremely short legs (I regularly flew one that was about 4 nautical miles) to very long ones (~4,000 nm). Sometimes the plane was jam-packed with people and "stuff", while on other days it was literally empty aft of the cockpit. We'll fly into a 4,500 foot strip (Watsonville, CA) or a 16,000 foot one in Denver. You just never know where you'll be going next.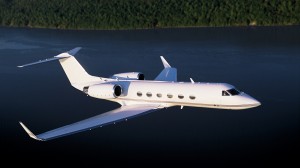 I distinctly recall being surprised by the performance differential between light and heavy weights, because everyone had crowed about how the jet has such a forgiving C.G. range. It's darn near impossible to load the G-IV outside of it's allowable center-of-gravity range, no matter where you place passengers or cargo. As a result, I had interpolated that ease of operation onto the whole subject of weight-and-balance.
Some aircraft are easily thrown out of limits. The Pitts S-2B comes to mind. Pretty much any two adults will put you neatly outside of the approved CG envelope. The first time I ran a weight-and-balance for the Pitts, I drove myself batty analyzing the numbers, convinced there must be something wrong with my computations. Was it possible that the world's most historic and beloved two seat aerobatic airplane couldn't legally fly aerobatics with two people on board? Yep.
Anyway, back to the Gulfstream. The difference in performance between hot/heavy and light/cool conditions is dramatic. A 74,600 lb max gross takeoff from Toluca, Mexico (elevation: 8,500 feet) on a 90 degree day might yield an initial cruise climb rate of 2,000 fpm. That doesn't sound bad, but Toluca sits in a valley and is surrounded by an impressive array of tall mountains.
On the opposite side of the spectrum, a 48,000 lb takeoff from San Francisco on a 50 degree morning could produce 6,000 fpm. I've launched out of there on re-positioning flights to Los Angeles and been well into the flight levels by the time I crossed the coastline on a downwind leg off runway 28R.
Aside from the visceral differences, the high/hot performance issue tends to get a pilot's attention because we are always planning for the worst case scenario: an engine failure close to or right after takeoff. High-altitude airports tend to be located near high terrain, and unfortunately that's when single-engine climb performance suffers most. Using the Toluca example, the rate-of-climb on a single engine might be well under 1,000 feet per minute.
For those of you who fly single engine airplanes, you're probably thinking "yeah, cry me a river". That's understandable. But keep in mind you can land a small, light airplane just about anywhere. Oh, you might bend some metal, but you'll probably also walk away. The significantly higher weight and speed of larger aircraft means they don't have that luxury. You either clear the obstacles along your flight path or end up memorialized in at NTSB report.