"What's in a name?" If it weren't for the fact that Shakespeare asked the question more than four centuries ago, one might be tempted to think he was a pilot asking for clarification on an obscure FAA rule.
Take simulators, for example. Though we often refer to them by that name — an entirely reasonable act when you consider that they, you know, simulate flight — only the most high-end, multi-million dollar boxes meet the Fed's definition of a true "full flight simulator".
Unless you're training to fly a high-end turboprop or jet, the infernal machine that's making you sweat is probably not a bona fide simulator. More likely it fits into the FAA definition of either a "flight training device" or an "aviation training device".
Confused yet?
FAA-certified simulators come in four levels, A through D, with D representing the most high-fidelity experience available. Most Level D sims cost as much, if not more, than the jet they're simulating.
One thing all FAA-approved simulators have in common is that they are "full-size replicas of a specific type or make, model, and series airplane cockpit, including the assemblage of equipment and computer programs necessary to represent the airplane in ground and flight operations, a visual system providing an out-of-the-cockpit view, and a force cueing system which provides cues at least equivalent to that of a three degrees-of-freedom motion system."
If you want the full scoop on certified simulators, Advisory Circular 120-40B has enough detail keep even the nerdiest among us busy.
The next step down is a Flight Training Device. Detailed in AC 120-45A, there are seven levels of FTDs, based on capability and equipment. These are the FAA-approved devices you'll see used by general aviation training outfits. Below that are the Basic and Advanced Aviation Training Devices (see AC 61-136A). Though this is the lowest rung on the ladder, you'll find some amazingly capable equipment in this category. The Redbird MCX, a motion-base product in the $100,000 range, is certified as an AATD.
I bring this up because for the past few months, the FAA has been trying to raise the number of approved aviation training device (ATD) hours that can be credited toward an instrument rating. The current rules allow for ten hours and the FAA is attempting to double that. The Feds published a Notice of Proposed Rulemaking, but had to withdraw it when a single negative comment was received.
The final rule would have become law, but under the FAA's rulemaking process a single adverse comment negates a direct final rule; the agency did receive one such comment. In the adverse comment, the author claimed that pilots need correlation of all senses and use of sounds and feel to recognize unusual attitudes. The FAA pointed out that pilots need to disregard sensory perceptions and rely on instruments. "The FAA believes that training in ATDs and FSTDs, when used in conjunction with training in an aircraft, teaches an instrument student to trust the appropriate sense, vision, to successfully operate an aircraft in low visibility conditions."
Aside from the absurdity of a single adverse comment derailing the entire process, I found myself wondering who was right, the commenter or the FAA?
I believe the answer is "both". The Feds are correct in stating that instrument flight is based upon the notion that humans cannot keep an airplane upright in non-visual conditions using kinesthetic senses, therefore one of the most important things an instrument student must learn is to trust the instruments over his or her own feelings and senses. Simulators are very effective at that task.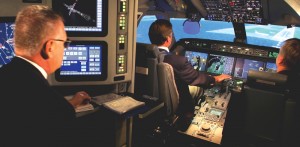 The commenter is also right, though. Even the best Level D simulators do not fully replicate the feeling of flying a real aircraft. There's something vaguely artificial about the way the box moves. I'm perfectly comfortable in actual instrument conditions, but there are times when the motion of the G-IVSP simulator almost gives me vertigo, even when the sim's visuals are on and I'm flying in clear skies. For that reason, I understand the commenter's protest. Pilots need the experience of being in the real world environment, and every hour allowed in a training device like the Redbird is one less hour a student might have exposure to actual flying.
AOPA and other GA advocacy organizations are keen to see the 20 hour rule adopted because it will lower the cost of learning to fly, and they know what I've been saying for years is true: the biggest hurdle to growing aviation is the cost. Fix that and everything else will fall into line.
At the end of the day, none of this should matter because every instrument rating candidate must perform to the minimum testing standards in order to pass the checkride. In reality, things are driven by money, and while I'm all for reducing the cost of training, I've found there are benefits both tangible and intangible to be gained by flying in a real airplane that you don't get in even the best Level D simulators. The crowded frequencies, controller idiosyncrasies, marginal vectors, sensory overload, heat, vibration, and yes, even the unique motion of flying through actual air if not actual IMC.
When you consider that a newly minted instrument pilot's first time in actual conditions might be (and often is) when they're alone, it's important that we tread carefully when it comes to changing the balance between simulated and actual flight.