"Do you think it's possible to fly aerobatics without knowing it?"
I frequently query students about this. I enjoy asking the question of flight review candidates almost more than aerobatic students, because it seems so out of left field. But as you'll see in a moment, it's quite relevant to the straight-and-level pilot.
Since I've bothered to ask the question, most of them suspect the answer is "yes" even though they don't know why. I get that. It sounds preposterous! When one thinks of aerobatics, it involves an envelope so far removed from "normal" flying that it seems impossible a pilot could engage in such an activity without any awareness of the fact.
When pressed for an explanation of their answer, almost all of my students admit that they don't understand how the answer could be yes. Some even protest that they're not aerobatic pilots and wouldn't know anything about it.
To explain the importance of the question, let's look at two short videos. Choose the one you feel is aerobatic:
First, an RV-7 making a low pass at Feldkirchen Airport in southern Austria:
Next, a clip of Francesco Fornabaio flying a classic mid-wing Extra 300 at a European airshow in 2013:
If the second video looks like aerobatics while the first one is more like something you've done or seen other pilots do, then congratulations: you might be an Unintentional Aerobat!
The hitch in this giddyup is the definition of "aerobatics". To the general public, it conjures up images of all-attitude flying accompanied by smoke and music, typically at an organized airshow. Pilots, on the other hand, often believe the term applies to maneuvers which exceeds 30 degrees of pitch and/or 60 degrees of bank relative to the horizon. Unfortunately, as far as the FAA is concerned, both those definitions are incorrect.
14 CFR 91.303 is the relevant law, and after listing the six places where aerobatic flight is prohibited, it goes on to provide a definition which is brilliantly short, sweet, and as clear as mud:
For the purposes of this section, aerobatic flight means an intentional maneuver involving an abrupt change in an aircraft's attitude, an abnormal attitude, or abnormal acceleration, not necessary for normal flight.
Look again at that first video. Was that ~45 degree pitch angle and the accompanying acceleration during the pull "necessary for normal flight"? Even if you said yes — perhaps due to the aircraft's speed and the surrounding terrain — it doesn't matter, because the final arbiter of the question is the Federal Aviation Administration, and much like the prohibition on "careless and reckless" operation of aircraft in 14 CFR 91.13, the judgement about whether or not the shoe fits is made by them — not you.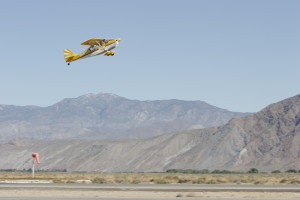 Every pilot likes to have fun — myself included — but hopefully we can all agree that nothing spoils the party quite like a letter of investigation from the local FSDO. Considering the fact that video cameras are cheap and plentiful, a wise aviator will assume everything he or she is doing aloft is being recorded by someone in the plane, on the ground, via radar, or in the computerized avionics inherent in 21st century flying. Two years ago I wrote a post about this issue (see: Big Brother is Watching, January 2013). The only logical conclusion is that we are being monitored at virtually all times.
The question, then, is how one makes a wise decision about how far a maneuver can be taken before running the risk of legal trouble with the Feds. I'd recommend you consider two things:
1. Am I doing something which is likely to attract the attention of others? If so, you can be sure eyes and cameras will be trained on you and your aircraft. Of the two, human eyeballs are usually more incriminating and less accurate than video, especially against a featureless sky. To an uninformed civilian, that 50′ low pass and pull up to 45 degrees undoubtedly looked like you mowed the grass with your propeller and then went "straight up". Why do you care what people think? Because everyone carries a phone, and it's a piece of cake to contact the FAA. Which brings us to item number two:
2. If an FAA inspector was watching me right now, would I be able to successfully defend my actions as "necessary for normal flight"? Use caution not to attach specific numbers (speed, altitude, pitch/bank, etc) to this. The determination depends entirely on what you're flying. If I'm in a stock J-3 Cub, a 45 degree pitch up on takeoff is most certainly not normal. In my Pitts S-2B, however, with the 3-blade MTV-9 series prop and the ported/polished engine, the Vx climb attitude at solo weight is just about 45 degrees. Since Vx is a normal climbout speed for single-engine airplanes in urban areas, I think it's quite defensible as necessary for both safety and environmental (read: noise) reasons.
I've seen everything from Skyhawks to Gulfstreams to R44s operated in a manner the pilot would be utterly unable to defend as "necessary for normal flight". You probably have as well. Most of the time, nothing is said and nobody is the wiser. The pilot might not even realize he was engaging in what the FAA considers to be aerobatic flight. Ignorance of the law won't get you very far when called on the carpet, though. The certificate and ratings you spent years earning can be lost very quickly if action precedes careful consideration.
Don't be "that guy".