Well, my educated guesses weren't too far off the mark.
So what shiny new baubles did the aerodynamic elves at Gulfstream unwrap for all us airplane geeks today? In short, two smaller versions of the G650. They're being called the "G500" and "G600", and they've got the wider cabin, higher speed, and fuel efficiency of their big brother, but at a lower price point for those who don't need 7,500 nautical miles of range. In some ways — the cockpit avionics, for example — they even surpass the 650. Of course, if there's a place you'd expect a new model to outshine one designed a half-decade earlier, it would be the panel.
My first impression is that Gulfstream is being very smart. For one thing, production of the legacy models will continue. If the market wants them, why not give buyers the option? (In fact, quite a few of the orders announced today were for those "old" airplanes.) Leaving them in production is also the conservative choice, something a commenter on yesterday's post suggested GAC's board of directors might have been quite interested in.
Everyone is referring to this as a "clean sheet design", but I'm not sure that's entirely accurate. The G650 was a true clean sheet, but these airplanes appear to take significant technology and design elements from that predecessor, including the airfoil design and 36-degree sweep. AIN reported that the new aircraft are expected to have a "high degree of systems commonality with the G650". As a pilot, I'm hoping that includes the type rating.
This must take quite a bit of wind out of the sails at Bombardier and Dassault. GAC is using the same strategy Douglas employed against Boeing at the start of the jet age: let the competitor introduce their product first, then improve upon their specifications. They're even using Bombardier's model nomenclature, where the aircraft's designation provides an approximation of its range. From the Falcon they've taken the side stick and improved upon it.
Gulfstream calls their iteration an Active Control Sidestick, or ACS. I was glad to hear it will provide physical feedback from control inputs made from the other side of the cockpit. Seems to combine the best of what you get with a traditional control column while still providing the legroom and other benefits of a side stick. I'd be curious to know if they had tactile feedback in mind prior to the Air France 447 crash. Airbus has used side sticks for a long time, but a common complaint from detractors is the lack of feedback to the other pilot on what his cohort is doing with the flight controls.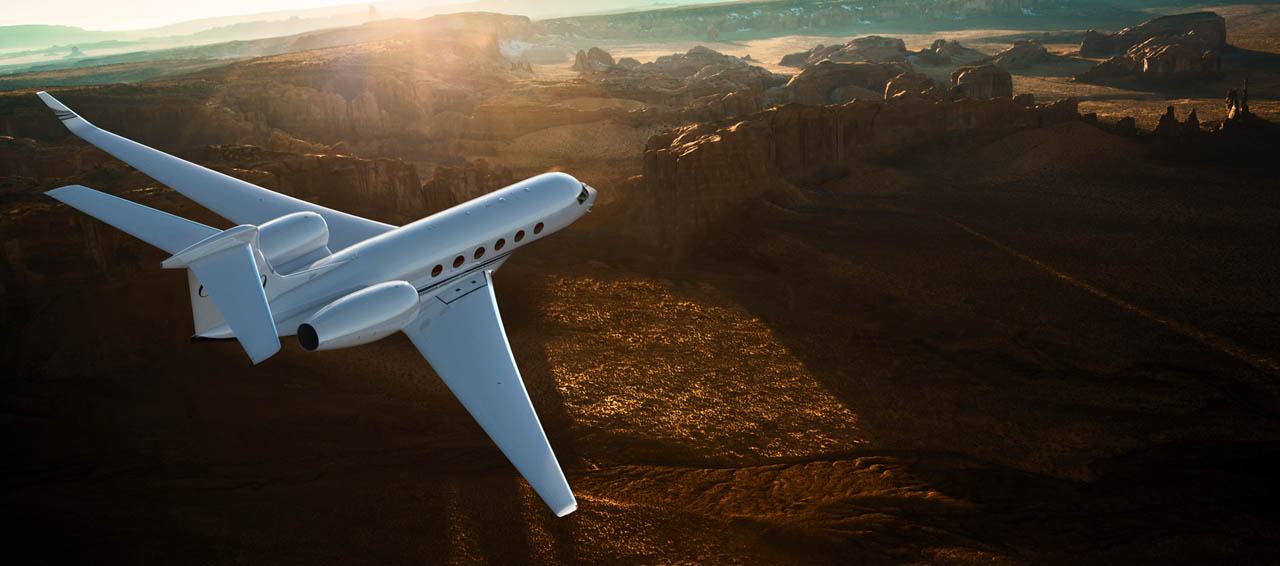 Gulfstream may also to be ahead of the Falcon 5X and other competitors in terms of timeline. What appeared to be a completed G500 taxied up to the ceremony under its own power. Normally, a new aircraft is announced long before a flyable copy is built, and even longer before a painted, finished-looking example shows up with engines running. That's one of Gulfstream's strengths: they have a good reputation for not only supporting their products better than anyone else, but also not making promises or commitments without delivering on them. If anything, they under-promise and over-deliver — something as rare in the aerospace world as it is in the software industry.
In a move that bucks recent trends in aircraft manufacturing, GAC is taking production of many major assemblies in-house rather than sub-contracting to companies like Spirit AeroSystems. Companies like Boeing have been doing the exact opposite, creating intricate and extensive subcontractor networks. Of course, the travails they've had with the 787 argues against following suit. Moving in-house should also reduce production time, logistical hassles, and allow more direct control over quality. For example, you can see a certain waviness to the fuselage skin of early G-IVs. While it never presented any performance penalty or safety issues, that sort of fit & finish issue wouldn't be acceptable in today's more competitive market.
One of most significant changes concerns the powerplant. For half a century, everything they designed in Savannah featured a Rolls-Royce engine, but the G500/G600 will be propelled by the new Pratt & Whitney PurePower PW800 series geared turbofan. Primary features are low operating cost and the elimination of mid-life inspections. While fuel efficiency isn't much better than the BR725 engines on the G650, lower noise signature and emissions are also important for global acceptance these days. Noise in particular will continue to be a limiting factor at many of the places Gulfstream owners want to take their airplanes.
It's curious that they decided to re-use the G500 designation. Until today, G500 was the name given to a G550 variant. Of course, it did about as well as the G300/400, which is to say most buyers stepped up to the newer and more full-featured version of the aircraft.
From what I've seen so far, these two aircraft look like winners. They'll undoubtedly steal everyone's thunder at the upcoming NBAA convention. If you want to read more on the G500/G600, I recommend AIN's coverage, this AviationWeek article, and of course Gulfstream's dedicated site.