To the uninitiated it's just another cheaply-bound ledger, unremarkable, a bookkeeping tool no different than those ones dumped haphazardly into the dollar bin at every generic office supply store in the world. It wouldn't attract a second look.
But to a pilot? No matter how dog-eared and scuffed it may get, an aviator's logbook is invariably one of his or her most prized possessions, the decimal-based journal of a life lived in the clouds. I love logbooks. The weighty, aging pages, the archival scent of a long-stored document, every little stain on the parchment. Even the way a pilot scribbles on the paper, the penmanship, contributing flavor to the tale. For those with an imagination, it can whisk you away to adventures in the sky just as surely as any air craft.
Who wouldn't kill for a peek into the most immediate and personal flying notations of Chuck Yeager, Jimmy Doolittle, Bob Hoover, or Scott Crossfield? More than the chronicle of a pilot's career, they document the history of aviation itself.
One wonders what will become of these relics when decimal is overwhelmed by binary. Like an aviation Guttenburg Bible, physical logbooks are already becoming a rare commodity, their raw data now residing, in truly ironic/hipster fashion, within the "Cloud". No random pen marks generated out of excitement from that incredible flight, no fading from exposure to the sun, no aging whatsoever. Just perfect, uninspiring, character-free characters.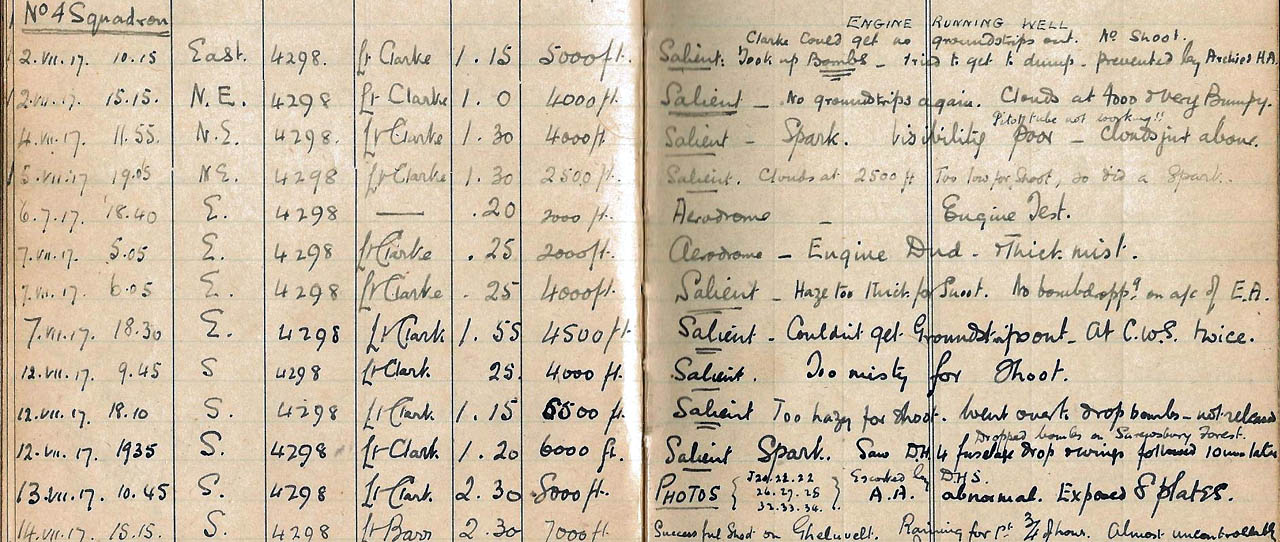 I've got an electronic logbook. Oh so convenient for the incessant flood of insurance renewal requests and time-in-type queries posited to a professional who flits from this airplane to that one. The ease of transmittal, the freedom from data loss! It's neat, expedient, a mathematically flawless miracle. A pilot like myself, raised on computers, one who takes to them with the greatest of ease in the cockpit, ought to love it.
I don't.
That's why I keep one on paper as well. And though it displays few of the characteristics that make great logbooks worth venerating, it has the unique virtue of being mine. Every page brings back a memory: a bumpy day under the LAX localizer keeping the world safe for democracy from the Medfly, success in the aerobatic box, or an open-door sunset flight down the California coastline with my wife in an 80-year-old friend.
Yet in this venerated document, there exists one quirky column which lacks appreciation and respect even among pilots: the one marked "solo". Every logbook on the market has a space for this data, yet virtually no one uses it. Reserved exclusively for flights when no other person is aboard the aircraft, a tally of solo flying hours is not legally required for anything beyond primary training. Once the requisite solo hours are achieved, no other pilot, employer, insurance agent, FAA inspector, NTSB investigator, friend or foe will ever inquire about it again. It might as well not even exist. "How much solo time have you got?" It sounds preposterous to even say it.
But I've kept track of my solo time since day one. Flying alone is magical, in many ways the purest form of aviating. Every pilot gets that feeling the moment their sensai departs the aircraft for the very first time, but I love it for the same reason I enjoy scuba diving: you're in your own world, ensconced in a place where no one can bother you. There's nobody to teach, soothe, impress, or transport. No questions to answer, no one to be responsible for. Toss in VFR and you're a cowboy riding that trusty steed off into the sunset like the pioneers of old. Want to go somewhere? Then go! Your destiny is open, no limits beyond a little airspace and the occasional need to refuel.
Sixteen years on in my flying career and it's still like that every time I'm alone in an aircraft. Flying the Gulfstream is always a two-pilot affair, so I relish every available opportunity to go aloft on my own. It's one of the reasons having an airplane is important to me: I can take wing whenever I want. As they saying goes, it's cheaper than a therapist (although to be honest, whoever said that probably never added up the total cost of ownership).
Last week I was asked to ferry an Extra 300L from Reno/Stead to John Wayne Airport for the new owner. Solo flying?  I'm in!  I had airlined up to the Biggest Little City in the World the previous day and was racing a cold front off the California coast which was forecast to bring rain and snow to the Sierras in the afternoon.
An interesting side story: knowing the weather was going to turn, I'd booked a ticket to come up the previous morning and fly the airplane back that same day. The skies were forecast to be clear. Unfortunately, that 6:30 a.m. departure turned out to be a 6:30 p.m. ticket, and booking through a third-party travel site leaves you with few options for fixing these sorts of errors.  Thanks for nothing, Orbitz…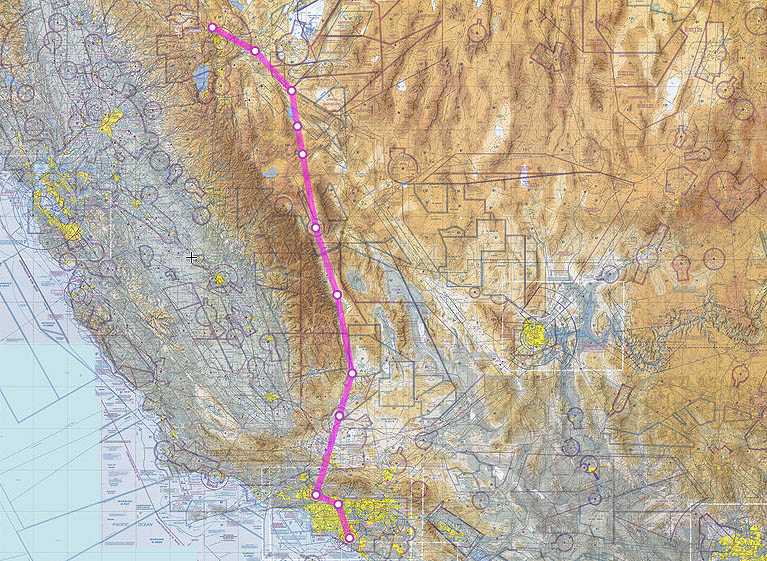 With weather blowing in from the west, the low-altitude route through California's Central Valley wasn't going to be available the next day, so this trip was what we call a Sierra Special: down the high terrain east of the Sierras and through the Owens Valley. The scenery is beautiful, but this area demands respect. More that one pilot has entered the valley and not left it one piece. Owens is one of those places that reminds you Mother Nature can overpower any man-made conveyance, even one with the incredible strength of an Extra.
Upon arriving at Stead, I learned that the aircraft's oil pan had been replaced recently, but since the plane had been sold, it hadn't been test flown. Liability, you know.  Well there was no way I'd take a single-engine airplane over some of the country's most rugged terrain without a thorough test flight and leak check, so what better excuse for a few high powered laps around the patch?  Stead is home to the world-famous Reno Air Races.  The field was deserted this weekday morning, but I imagined the Unlimited warbirds zooming around the pylons at 500 mph.  I can see how it could become addictive.
By the time a local mechanic pronounced the Extra leak-free it was eleven o'clock and the winds were already kicking up, so I topped off the fuel, carefully secured my miniscule travel bag and a second parachute in the front seat, and blasted off for a solo adventure.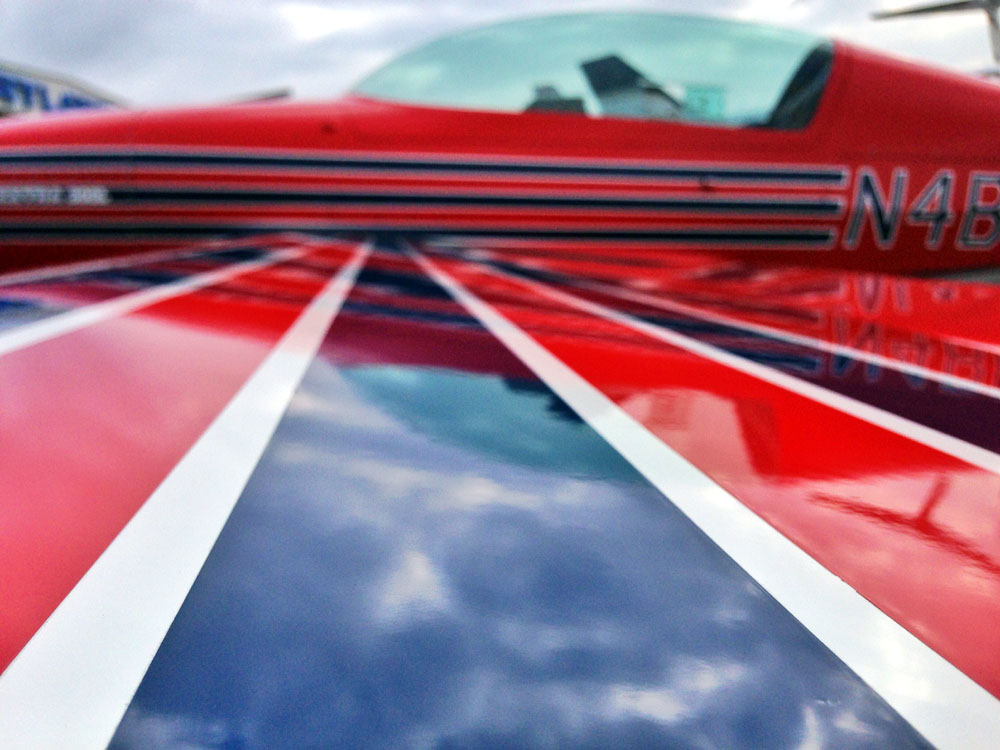 And what an escapade it was!  The airplane was flawless, but weather threw a few curves my way.  Turbulence? Oh yeah. Plenty of that. The G-meter hit +4.5, and that wasn't from aerobatics. It was cold, too — about -11 degrees Celsius at 11,500 feet, from which altitude I was still looking up at the mountains. I couldn't have been more than 30 minutes out of Stead when it became clear my haute couture was inadequate for the frigid temperatures.  Not enough to present a serious safety-of-flight issue, but certainly uncomfortable.
I kept looking for opportunities to fly lower, but much of the journey was marked by significant up- and downdrafts, ones even the Extra couldn't outclimb. Cold or not, the smart choice is to fly high. Just past Mt. Whitney, the wind flowing over the mountains pushed me down to 7,000 feet MSL (3,000 AGL) while bumping the plane around so much that I whacked my noggin on the canopy several times.  When an Extra 300 pilot feels compelled to slow the aircraft to maneuvering speed, you know the turbulence is bad.
Nevertheless, the trip was fun. Those 360 degree views of the snow-capped Sierras inspired a few barrel rolls once I was south of Bishop and clear of V381, and the weather providing several opportunities for crosswind landings and a bit of reasonable scud-running (2,000′) through an L.A. basin covered with thick stratus.  The adventure was another worthy memory for my paper logbook, and one I took particular pleasure in adding to the "solo" column.
Here are a few photos from the trip: