We live in an age of the disposable. Cameras, smartphones, computers — those are the items one typically thinks of because most people go through at least one of those items every year. When you consider the fact that there are three hundred million people living in the U.S. alone… well, there are billions of these devices in landfills, to the point that it's becoming a serious environmental hazard.
Kind of sad, isn't it? But it doesn't stop there. In a city like Las Vegas, companies think nothing of bulldozing a billion-dollar resort in order to clear the way for something larger, newer, or more exotic if it improves business. I lived there for a number of years and saw this axiom played out time after time. There is no history in that town beyond that which is captured on film or in the memory of those who see it with their own eyes.
Even people are expendable in today's world. Reach a certain age and it's extraordinarily difficult to find a job — or keep the one you already have. Airline pilots are done the day they turn sixty-five (happy birthday!). Until recently it was sixty. Even in the charter business, you can feel the door swinging toward your posterior by the time you reach that age because the international nature of our travels means we are at the mercy of the most restrictive rules in the worldwide pantheon of aviation authorities.
When it comes to aircraft, you'd think a classic, finely-engineered and impeccably maintained business jet with a proven history of safe flight, a plane capable of reaching stratospheric heights and cruising near the speed of sound, might be an exception. Not only is this nearly same capability you'd get out of a new aircraft costing a fifty times as much, but these flying works of art are also relatively rare. There are perhaps ten thousand airworthy equivalents in existence. Compare that with the 200,000 or so automobiles that are manufactured each and every day worldwide.
Unfortunately, the reality is that even if you want to keep flying that aircraft, you can't. They won't let you. It's too loud, burns too much fuel. By 2016, airplanes like that will either be relegated to Africa and other places without stringent noise bans, or become the world's heaviest paperweights.
Enter today's subject, a beautiful 1966 Grumman G-1159 — better known as a Gulfstream II. This aircraft is serial number 1, the first business jet turned out by the famous Grumman Iron Works at their Bethpage, NY facility. This airplane has a fascinating history. Beyond being the first in a half-century-long line of Gulfstream turbojets, N55RG has the unusual distinction of being both a prototype and a production aircraft. It was refurbished after the test program ended in 1968 and sold to Motorola CEO Robert Galvin, who owned the airplane continuously for the next 44 years.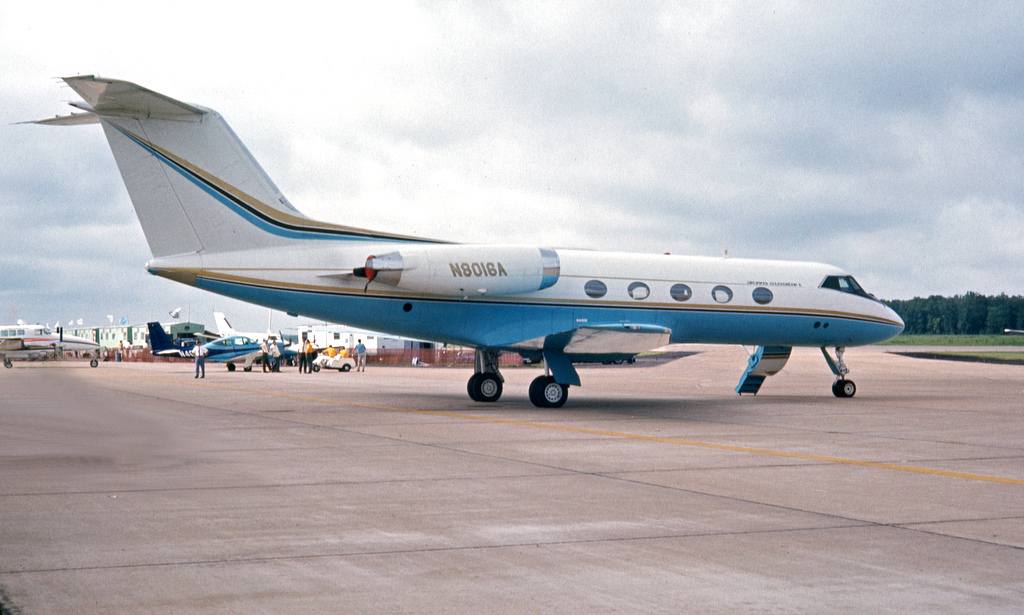 If you know anything about aviation, you're probably aware that virtually nobody owns an airplane for 44 years. Not governments, not companies, not airlines, not even individuals. It's not like a classic Mustang or similar collectable car that you can afford to leave in the garage. Gulfstreams and others of it's ilk change hands frequently because the cost of simply owning one is so high that even for those who can afford them, it's just not feasible unless you're actively using it.
A G-II can be purchased for a few hundred thousand dollars in today's market. And ironically, the phase-out of Stage II jets has dramatically dropped the cost of maintenance on the Rolls-Royce Spey-powered Gulfstream IIs and IIIs. That's the exact opposite of what usually happens as aircraft enter their dotage and parts supplies start to dry up.
Because of scrapping, says Ben Brown, vice president of hush kit maker QTA, most parts for the GIII "cost less than half what they cost five years ago."

Vann White, CEO of GIII operator Nonstop Aviation in Boca Raton, Fla., says that his overhaul costs have dropped significantly in the last few years. In December 2010, White sent out a single Spey for a 10-year, 4,000-hour mid-life inspection costing $692,000. Today, he says, he can do two engines with that same vendor for less than $800,000.
I can't help but think that without the Stage II ban, there would be a significant market for these capable and proven airframes at these price points. They're so stoutly built that they'd make fantastic candidates for the emerging general aviation rebuilt & retrofit market that I've talked about in the past.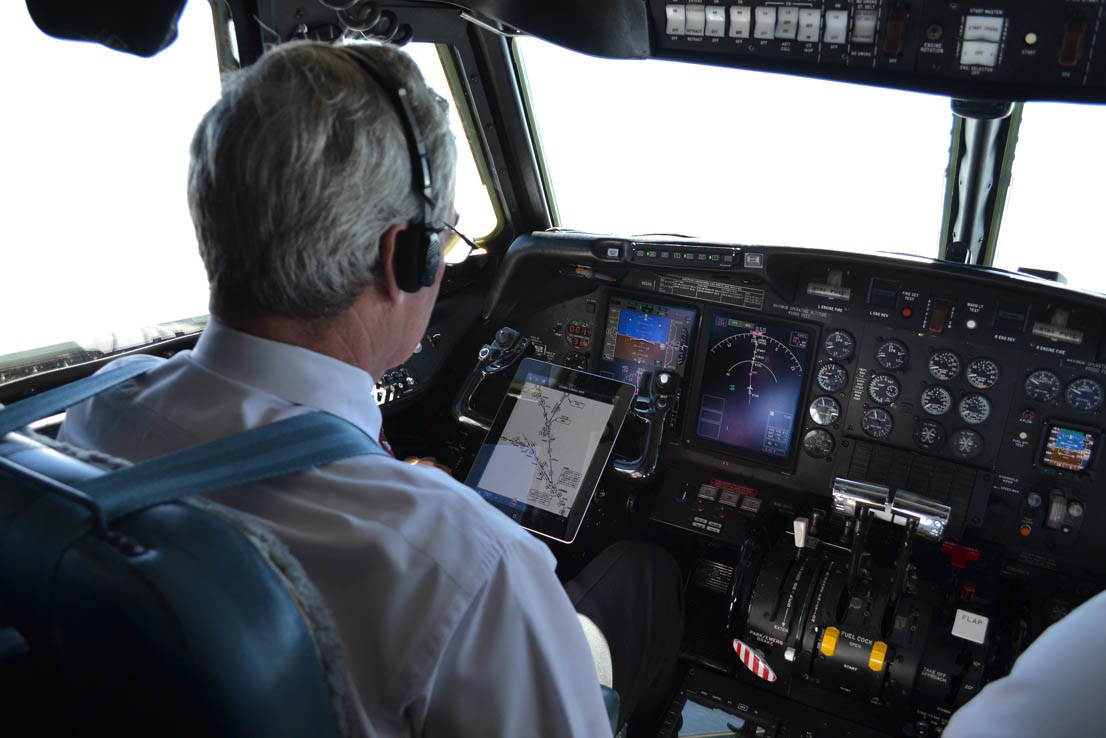 Galvin obviously loved his Gulfstream. Not only is the airplane in fine mechanical shape, but significant upgrades have been made over the years in upgraded powerplants, SP winglets, hushkits, and avionics. Even the total time on the aircraft — 9,500 hours — tells a story: it received regular, but not harsh, usage. I've flown Gulfstreams less than a decade old that have more time on them than that. A forty year-old airliner would undoubtedly sport more than 100,000 hours, if they even operated them that long.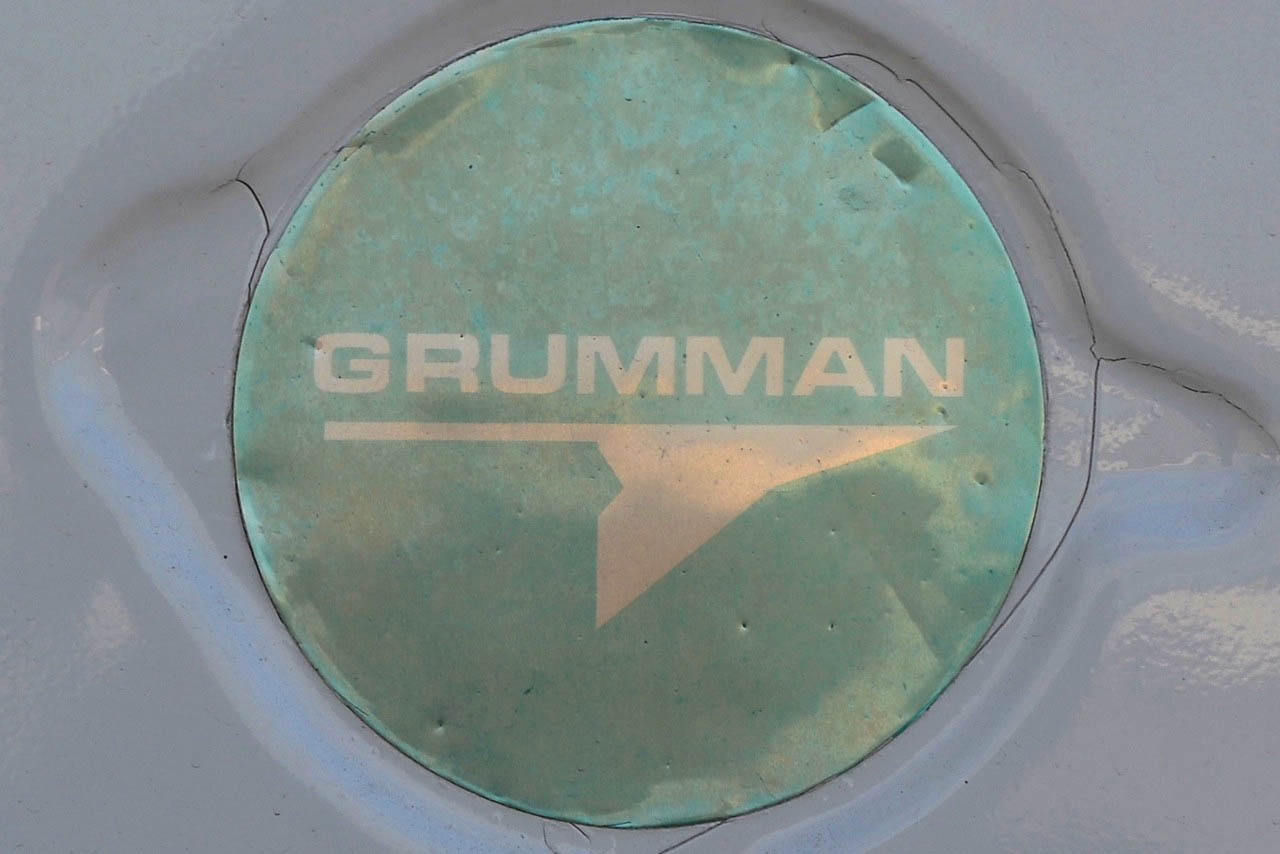 It seems fitting that the original Gulfstream should have enjoyed such a long life in the skies. Alas, all good things must come to an end. Mr. Galvin passed away in 2011, and in keeping with his wishes that N55RG evade the scrap heap, his family donated the aircraft to the Carolinas Aviation Museum a year later. CAM is best known as the final resting place of the world's most famously inadvertent seaplane, a US Airways Airbus A320 which was successfully ditched on the Hudson River in 2009.
In September of 2012, Matt Birch, a photographer and air traffic controller in London (UK), was invited along for N55RG's final flight and documented the journey in photos. He later wrote an article for Gulfstream's "Waypoint" magazine as well.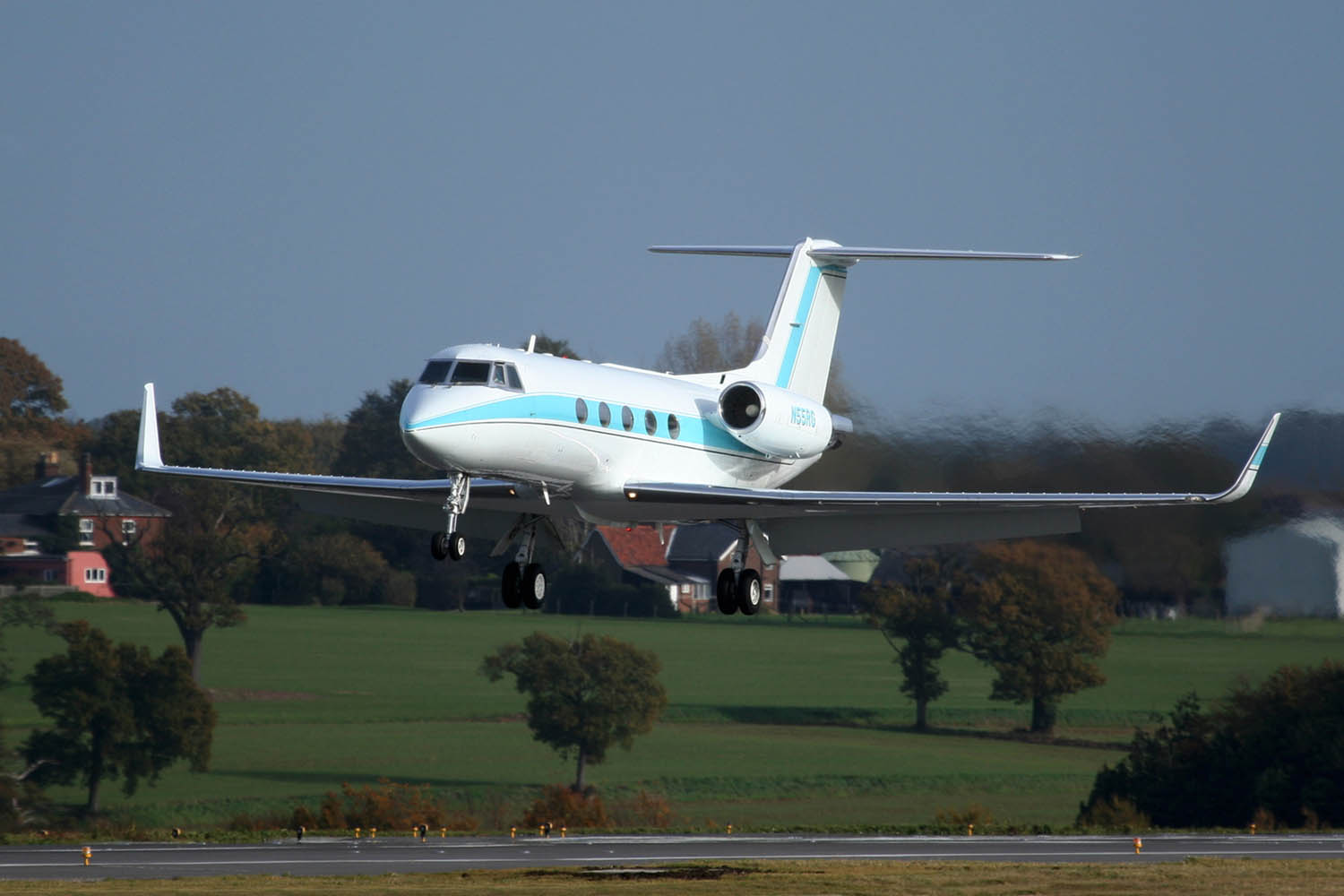 According to pilot Joe Miller, the airplane wasn't simply dropped off at the museum like a forlorn Goodwill donation. Instead, several parties banded together to lovingly prepare N55RG for her post-flying career:
Before the aircraft was donated to the museum in Charlotte, we converted her back to the original configuration. Gulfstream put the original engines back on, and they did it for free. Norm Hill from California had the exact original cockpit from a G-II being scrapping, so he replaced the glass with original equipment. Mrs. Galvin wanted me to take all the original dishes — very old china & real silver flatware — and put it all back on N55RG. Everything that was done from museum to engines to cockpit, I was given free reign to get accomplished. It made my job easy not having to get approvals, and I only answered to Mrs. Galvin. Only after everything had been completed was N55RG donated.
Captain Miller also related his experience flying the airplane, noting that "wherever we would go, people would take pictures and ask to see the inside of the aircraft." They had special hats made, and they would "get us everything at the FBOs. Being twenty-ninth on the list at Vail meant nothing. We went straight into the hangar every time."
At the moment, the jet remains in storage at an FBO near the museum. One can only assume they'll put her on display in the not-too-distant future. I hope when they do select a place to show off this historic machine, it will be a protected, indoor location and not an open-air spot on the ramp. No matter how tough they build 'em, Mother Nature can disassemble an airplane in short fashion when they're left outside to rot.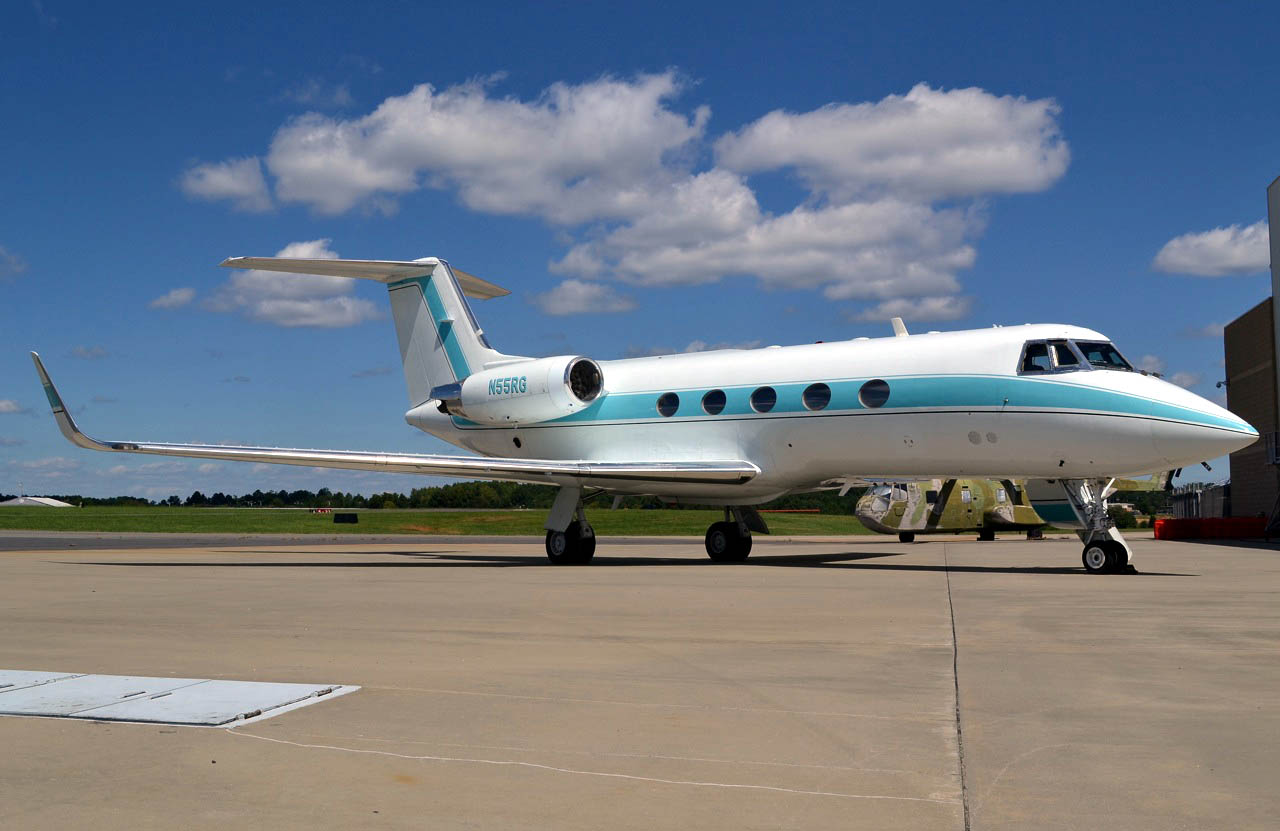 The Gulfstream line really is a marvel. Consider: not only did Grumman invent the large-cabin business jet, but they pioneered a plethora of design features in serial number 1 which are still being put into the jets that Gulfstream Aerospace builds today. The internal baggage compartment, the large oval windows, the cockpit layout, the bullet-shaped nose, and of course a perfectly smooth wing bereft of any leading-edge devices, external flap tracks, or other protuberances. Even the clean-sheet G650 retains those features.
While I wouldn't go so far as to say they're "everywhere", business jets of this class are certainly a more common sight today than in decades past. It makes me wonder, when people walk past this aircraft in the museum, will they fully appreciate the significance of what they're looking at?
I certainly hope so.
---
[ Note: this post was somehow deleted from the site after it's original publication date in October of 2013. I have no idea how or when that happened, but I rebuilt it from notes and am reposting it as of December 1, 2014. The one thing I could not recover were the comments. My apologies to those of you who took the time to contribute to the original entry! As I recall, there were more than 50 comments, many of them from people who had flown the airplane, known the owner, or been connected with the Gulfstream II in some fashion. Please feel free to chime in again if you are so inclined. ]