Perhaps it's just my background in theatre and music talking, but wouldn't you agree that one of the most compelling aspects of aviation is the opportunity for artistic expression through one's flying? I'll be the first to admit it's a romantic notion, straight out of the swashbuckling, barnstorming 1930's, scarf and all. But so what?
Whether it's perfectly coordinated operation of the aircraft, maximum efficiency during a flight, a smooth centerline "kiss" of the runway with the tires, or barrel roll so flawless that it appears the earth is rotating around a stationary aircraft, there's a higher level of consciousness — a zen, if you will — to be realized in achieving it.
There are other ways to express one's artistic side, of course. One such example is this video by Brent Owens, who mounted a video camera under the perfectly polished wing of his RV-8.
The resultant video reminds me of the opening scene from L.A. Opera's Das Rheingold. The three maidens were suspended above the stage while supernumeraries in identical costumes were positioned upside down underneath them to represent a reflection in the waters of the Rhine. In the same way, scenery underneath Brent's airplane is bounced off the lower wing like a film noir sequence beaming onto a screen at a timeworn drive-in theater.
I love it.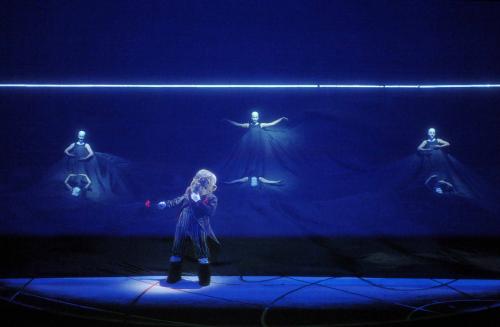 Artistic flying can take many forms. For me, it's best represented by precision and accuracy when I'm behind the controls. For others… well, they take the road less traveled. Sometimes it gets downright wacky! For example, an Dutch artist whose cat was run over by a car decided to convert the feline corpus into a remote-controlled helicopter.
Yes, you read that right. It's got to be a bit morbid to see the permanent wide-eyed expression of a former companion perpetually staring back at you, but it's certainly a one-of-a-kind tribute to a beloved pet and avocation.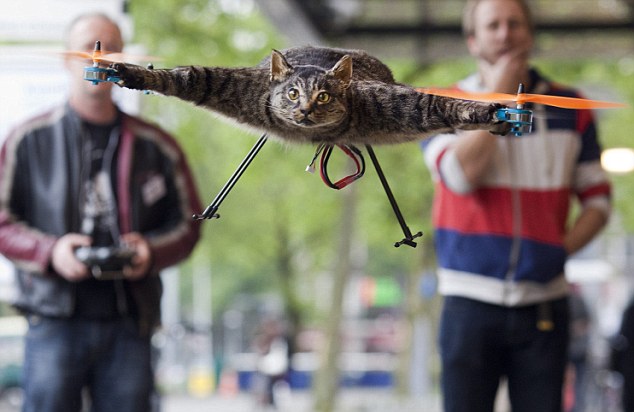 Kristi and I have two cats, but I'll refrain from any suggestion of furball formation flying…