I've noticed that most people not directly involved with the aviation industry assume that anyone who is (or aspires to be) a professional aviator wants to fly for a major airline. Even military pilots are believed to desire an airline career.
The logic behind this assumption has always escaped me. There are certainly many pilots for whom an airline job is the proverbial brass ring, and I say more power to them. Someone has got to fly those things. If it's what you love, do it. For me, however, when I consider the seniority system, financial instability, surly passengers, tough working conditions, low pay, terminal & gate congestion, unions, strikes, and poor management of most scheduled airlines, it doesn't hold much appeal.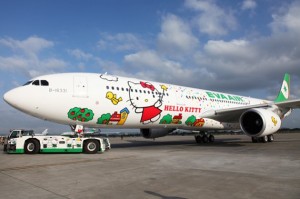 Nevertheless, all of that pales in comparison to the ultimate reason to avoid Part 121: the Hello Kitty jet. In the words of Cosmo Kramer, it's burning my rods and cones.
Unusual livery on an airliner is not new. From Sea World's Shamu and Disney's Tinkerbell to professional basketball, it's been part of the airline scene for thirty years. Travel much and you'll find Snoopy, salmon, Simpsons, safari, Starcraft, and sex as special livery themes on airliners. There's even a fleet of Pokemon jets out there. But Hello Kitty really takes the cake when it comes to detail and cuteness.
At Taipei's Taoyuan International Airport, they receive Hello Kitty boarding passes and baggage tags. A Hello Kitty song plays as passengers board the plane, which is plastered on the exterior with a Hello Kitty decal made by 3M. All-female cabin crew members swap their usual EVA Airways-issued green uniforms for pink aprons and scarves. All seats (252 to 309, depending on whether it's an Airbus A330-200 or A330-300), are covered with Hello Kitty headrest covers. Even the meals, ice cream, snacks, cups, utensils, milk bottles, soap, hand lotion, and tissues are designed in the image of Hello Kitty.

Hello Kitty-themed goose liver pâté.
I'm more than happy to carry my wife's purse, buy her feminine products at the grocery store, and shop for clothes with her. But I draw the line at entering a Sanrio store, which are reminiscent of the sugary cereals of my youth that frequently made me ill. From a marketing standpoint, however, I have to admit the branding seems to be paying off.
The airway's adorable marketing strategy has attracted some avid travelers from carriers that fly the same routes, says Nieh. The load factor on Hello Kitty flights averages 80 percent to 90 percent, about 5 percent to 10 percent higher than EVA's average on those routes before the Hello Kitty jets were introduced. Duty-free, in-flight sales of 13 kinds of Hello Kitty products generate some revenue, too.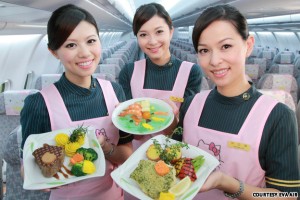 On a serious note, a 5-10% bump in revenue is huge for an airline flight. These companies operate with profit margins around 1%, so any measurable increase in passenger load is going to help the bottom line. One wonders how much Sanrio is making off this deal with EVA Air. In an era of slowing economic activity and brutal competition, I'd expect to see more marketing of this kind in the future.
Frankly I'm surprised it hasn't happened sooner. Ever larger airliners are essentially gigantic traveling billboards. Oh, there might be something to be said for preserving an airline's dignity — can you imagine this sort of thing on a Pan Am jet during it's heyday? The idea would have been rejected outright by Juan Trippe, I'm sure. Alas, mere survival is the order of the day for most airlines.
The technology necessary for this kind of branding has advanced significantly, too. It's relatively quick and easy these days since actual paint isn't even part of the equation. Modern adhesives are strong enough to withstand the 500+ mph air flow over the airframe, so the "repainting" only involves placing custom-made decals on an all-white aircraft. General aviation airplanes are using the same technique.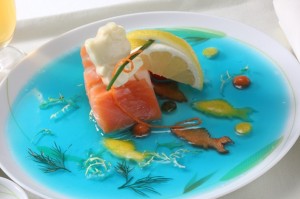 My favorite quote from the article: "Hello Kitty is not just for kids either, if lingerie and vibrators are any indication."
But that's not half as disturbing as the fact that they have five aircraft painted that way, and "believe there is a market for Hello Kitty jet service outside of Asia". That'll keep me looking over my shoulder for quite a while! It pains me to think I might have to set eyes on that thing in person.
I know it's wrong to deface an aircraft, but I might have to buy some spray paint and keep it in my flight bag, just in case…