Regardless of how much the subject agrees with you, sitting in a classroom day after day for up to eight hours tends to get old. I don't think the human body was meant to sit more or less motionless under artificial light in a windowless room for that long. We have 10 minute breaks every two to three hours, but even so, by the end of the day our capacity for useful work has fully evaporated… much like the 24 volt, 40 amp-hour ni-cad main batteries in the G-IV after they've been powering the Essential AC and Essential DC buses for 20 minutes.
Today was a welcome break from the full-day classroom schedule, as we were able to get into not only the avionics trainer room, but also the Level D simulator for a few hours. It was somewhat crowded with six of us in there, but it was well worth it to get a look at what we'll be dealing with once the official sim sessions start. I just got my schedule for next week and my first simulator session is next Sunday afternoon. If what I saw today was any indication, a tremendous amount of work remains if I hope to be prepared for that first hop.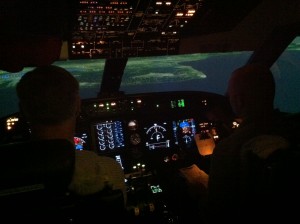 My first impression after spending a few hours in "the box" is that it's a miracle the airplane ever flies at all, because Gulfstream's checklists are comically long. Even the Falcon 50 pilots in the class were amazed at how long it took to go through all the cockpit checks. Every airplane has checklists of some sort, and I expected a longer list for a more complex airplane that the one I'm coming from, but this is extreme even by transport category jet standards. The preflight inspection has 131 steps. The "Before Starting Engines" checklist has 86. It takes 24 steps to start the engines. And many of these items have extensive sub-sequences of their own which are not covered directly by the checklist.
I'm sure this will all start flying by (no pun intended) eventually, but for now it's a painfully slow process to read something off the checklist, then start wandering around the overhead or center console trying to find the right switch, knob, or button. This is definitely the "making sausage" part of the schooling. The final product will be fine, but it's tough to slog through parts of the process.
Don't get me wrong, I'm not frustrated by it; rather, I'm impressed by the substantial work to be done just to find a switch, even when you were just working with it a minute ago. I'm not having any harder of a time with it than the pilots who are transitioning from the Falcon, though, so I don't think it's a lack of turbojet experience. The G-IV is just a lot of airplane to learn in a short time period. It's ironic that the airplane is highly automated, and yet there are so many steps to be completed. Even the instructor commented on this, saying that Gulfstreams are "over-checked".
The guy I've been paired up with for the sim is the only one in the class with any Gulfstream experience. As you might recall from my previous post, he flew a G-IV a couple of years ago before moving into the Gulfstream V and is now returning to the IV. I'm a bit concerned that I might hold him back or that he might move too quickly in the cockpit for me since we're so disparate in our experience level on the airplane, but we'll see how it goes.
Two of the guys in the class are ex-Marines, and one of our instructors is ex-Army, so as you might imagine there's a lot of gentle (and not-so-gentle) ribbing going on. I like it. It adds some levity when we need it, and I get to learn a lot of jokes.
Q: "What do you get when you mate a Marine and an ape?"
A: "A retarded ape"
Q: "What does ARMY stand for?"
A: "Ain't Ready for the Marines Yet"
I noticed that the days seem to fly by at an incredible rate. I've been out of class by 5:00 p.m. yet not able to get to bed before midnight, and sometimes as late as 2:00 a.m. There's just a lot to be done once class ends. Get dinner, study for a couple of hours, return emails and calls, talk to the wife, hit the hotel gym for a bit, shower, then off to bed. If I can last until tomorrow, however, I'll be fine; the schedule calls for us to have Monday off before starting the second week of ground school. When we return on Tuesday, the focus will shift to what they call "abnormals" — basically malfunctions, failures, and how to deal with them.
Speaking of problems on the airplane, Gulfstream seems to be good about disseminating information about issues that crop up on their aircraft. They publish a weekly document called "Breakfast Minutes" which detail the latest notes and tips about operating G-brand airplanes. The Simuflite library has all of them, decades worth. They're filed chronologically rather than by aircraft type, but I'm going to try and make time to look through the collection and see what sorts of problems are common on the airplane. I know they publish a "top 20" list every year of the most frequently replaced non-scheduled items on the jet based on data they get from mechanics. Converters, converter fans, and display units seem to be near the top of the list on the IV.