I once read that the most powerful supercomputers in the world are used to predict weather. Not cure disease. Not search for aliens. Not out-smart Wall Street. Predict weather.
And despite all that computing power, they really don't do a very good job. I'm not sure if it's a case of "junk in, junk out", the so-called butterfly effect, poor algorithms, or what, but even short term forecasts for things like the marine layer are often completely wrong.
Right now it's raining outside, but the weather is nothing like what was predicted. The forecasts were so dire that the National Weather Service issued a Special Weather Statement:
…UNSEASONABLY STRONG SEPTEMBER STORM TODAY THROUGH SATURDAY…

A STRONG PACIFIC STORM FOR SEPTEMBER IS EXPECTED TO MOVE THROUGH SOUTHERN CALIFORNIA LATE TODAY THROUGH EARLY SATURDAY. THIS STORM HAS THE POTENTIAL TO PRODUCE WEATHER RARELY SEEN IN SOUTHERN CALIFORNIA IN SEPTEMBER. SHOWERS AND ISOLATED THUNDERSTORMS WILL OCCUR OVER THE REGION…MAINLY TONIGHT AND EARLY SATURDAY. LOCAL SNOWFALL IS EVEN POSSIBLE ABOVE 7000 FEET…MAINLY TONIGHT. WATERSPOUTS WILL BE POSSIBLE WITH THUNDERSTORMS OVER THE COASTAL WATERS THROUGH SATURDAY.

HEAVIEST RAINFALL WILL BE OVER THE SOUTH SLOPES OF THE MOUNTAINS IN SOUTHWESTERN SAN BERNARDINO COUNTY WHERE UP TO ONE AND A HALF INCHES COULD FALL.
They've since changed their story to something that gave me a chuckle:
SHORT TERM (TONIGHT THROUGH MONDAY)…
EXTREMELY ANNOYING UPPER LOW STILL SPINNING NEARLY STATIONARY SOUTH SOUTHWEST OF POINT CONCEPTION. A COUPLE BANDS OF SHOWERS MOVED ACROSS THE AREA EARLIER THIS MORNING…BUT GENERALLY PRODUCED LESS THAN ONE TENTH OF AN INCH OF RAIN. THANKS TO THE UPPER LOW…SKIES ARE MUCH SUNNIER THAN PREVIOUSLY THOUGHT…SO TEMPS ARE MUCH WARMER THAN EXPECTED THIS AFTERNOON.
I wasn't laughing about it this afternoon, though. My work is highly weather dependent, and plans were made, cancelled, un-cancelled, re-cancelled, changed, and then changed again, all because of this "extremely annoying upper low".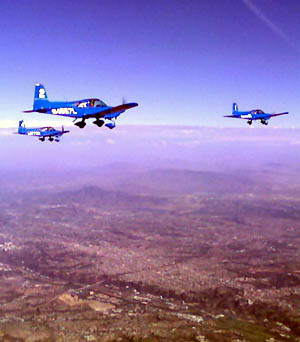 While flying with Skytypers over the Red Bull Air Race in San Diego this afternoon, it was easy to see Mr. Annoying Low sitting off the coast. It was really moving fast, only the movement was northward rather than on shore. As a result we had high winds aloft, but no other significant weather to deal with.
So much for the supercomputers.
Speaking of the Red Bull Air Race, I don't know how they got permission to do hard core low-level aerobatics right next to the primary Class B airport in San Diego, but it sure was causing the controllers a lot of headaches. Departures out of Lindbergh had been altered, leaving everyone stressed and confused.
I was monitoring Socal and heard two different airspace busts in the time I was flying over the Air Race. A civilian aircraft busted the Class B and was given a number to call. Ten bucks says that guy ends up on the bench for two months. The other was a military aircraft. He wasn't given a number to call — the controller just asked him to leave the Bravo airspace.
We'll be flying over the RBAR again on Saturday, weather permitting, of course.