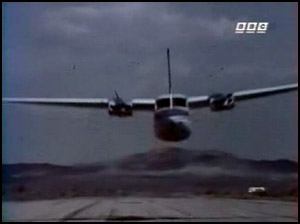 A CPA member found a video I saw years ago and haven't been able to find since.  It's a great clip from a BBC television program about Robert "Bob" Hoover, one of the world's all time greatest pilots.
Click on the photo at the right to view the video.  It shows Hoover shutting down both engines and then performing an aileron rol while pouring a glass of iced tea.  Naturally, he doesn't spill a drop.
Don't be fooled by the genteel look of a kindly older man.  Hoover was a World War II figher pilot who went on to be Chuck Yeager's backup on the X-1 project.  He had a long career as a test pilot, racing champion, and airshow performer.  In fact, Yeager himself called Bob Hoover the greatest pilot he ever knew.
For me, it's a close call between Hoover and Jimmy Doolittle for the title of all time greatest.  Doolittle engineered the launch of B-25 bombers off of an aircraft carrier, set many speed records and won numerous air races, and carried out the world's first instrument flight, so he's always had my vote.  But I suppose it's worth nothing that Doolittle also called Hoover the greatest stick and rudder pilot who ever lived.
Anyway, in this clip, Bob Hoover talks about his energy management routine.  Keep in mind the airplane he's flying is not designed for aerobatics — it's a business aircraft not designed to withstand the rigors of such activity, so there was little margin for error in his routine.