It's the most wonderful time of the year!   Or…. perhaps not if you live in the Anaheim Hills area. 
ANAHEIM – A wildfire pushed by Santa Ana winds quickly spread over 800 acres of the Cleveland National Forest a few miles east of Orange County suburbs on Monday.

No homes were immediately involved but State Route 241 was closed in the area of the blaze, dubbed the Sierra Fire after a peak where it began.

More than 200 federal, state and county firefighters battled the fire, said forest spokeswoman Joan Wynn.

The blaze began about 4:30 a.m., and its cause remained under investigation, Wynn said.

Winds were blowing at 35 mph, and smoke stained skies brown across the Los Angeles metropolitan region.
SR241 is a major connector between Riverside and Orange Counties, a tollroad that (somewhat) alleviates a nighmarishly miserable drive for commuters who've been pushed further and further from their jobs by high real estate prices. I don't even want to think about how badly this will snarl traffic on the highways.
And in the air, come to think of it. This TFR will probably leave some people wishing they had checked NOTAMs a little more carefully before takeoff: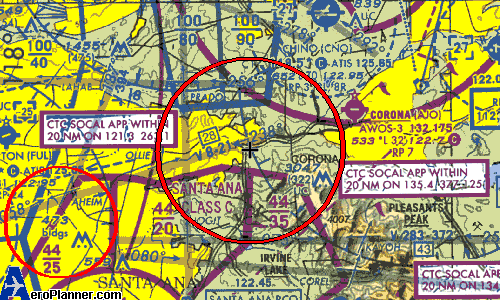 The thing I'm curious about is how aircraft will get into Orange County's John Wayne Airport.  The ILS approach cuts right through the TFR area, and my reading of the TFR text does not indicate any possibility of waivers for planes flying under ATC control.  I wonder how jets flying the KAYOH4 arrival are being handled.
It appears that Corona Airport juuuuust clears the east side of the TFR.  On the sectional excerpt, you can see the junction of the 91 Freeway and Highway 71, which is inside the TFR.  So I suppose as long as aircraft departing runway 25 didn't extend upwind much beyond the airport boundary, they'd be ok.
On the other hand, the FAA's TFR site does print the following disclaimer at the bottom of every page:
Depicted TFR data may not be a complete listing. Pilots should not use the information on this website for flight planning purposes.
Sort of begs the question of who you should turn to for an accurate graphical depiction of the TFR boundaries.  If you can't rely on the FAA for accurate aviation information…
Yes, these are the things I think about on my day off.