It's been a few weeks since the Jet Blue 292 excitement at LAX. Now that the hoopla's died down, I can't help but scratch my head over the way the pilot was regaled as a hero for landing the aircraft successfully with the nosegear turned 90 degrees off center.
A hero? That word is bandied about so much these days that it's nearly lost all meaning. It reminds me of what happens when you take a word and repeat it over and over. Eventually it stops sounding like a word at all. It devolves into this meaningless collection of sounds, the grammatical equivalent of butter melting in a hot pan.
I don't know what a hero is, but it wasn't the guy flying that Airbus. Don't get me wrong, he did a great job and is to be commended. But a hero? No, sorry. He's simply a guy who did his job, the one he's trained and paid to do. No more, no less. You see, these guys don't spend years training for the day when things go well. They spend all that time preparing for the day they don't, and when that day arrives it's only proper to expect that they'll react properly.
I could teach anyone to fly an airplane. It would take about two minutes. In a week, you could teach anyone to fly even the most sophisticated airliner. That's the easy part. That's not why airline pilots (should) make the big money. They get the bucks because when things go to hell up there, you want a guy in the left seat who knows the systems, procedures, and methods for properly diagnosing the problem. He's trained to triage the aircraft, maintain control, keep it flying, troubleshoot, consult with the maintenance people if necessary, and take the appropriate action. And that's all our intrepid Jet Blue captain did.
Was it easy? Probably not. I'd imagine there was some stress involved, but he had the full attention and cooperation of a multi-billion dollar air traffic control system, major airline maintenance department, and a professional crew to back him up. In fact, it's a safe bet that any pilot flying for Jet Blue — or any other airline, for that matter — would have done just as good a job.
In fact, they did do just as good a job. AVweb has photos of the rather minimal damage to Flight 292, and I've got some of another Jet Blue aircraft which encountered the same nose gear failure mode at Kennedy International back in 2002: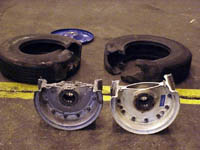 I'm not attempting to denigrate the performance of Flight 292's captain. As I said, he did a good job. I watched the landing on CNN and it appeard that the landing was as gentle and accurate as anyone could have asked for. But a hero? If you want to see my idea of an airline pilot hero, try Al Haynes. Even in his case, I'd have to say he put as much effort into landing that DC-10 as pilots whose fate was far uglier.
Some situations are salvageable, some are not. In ever case, though, the pilots put down their coffee and go to work applying all the knowledge and experience they've gained over the years to effect the best outcome possible. So if any one of them is a hero, then they all are.