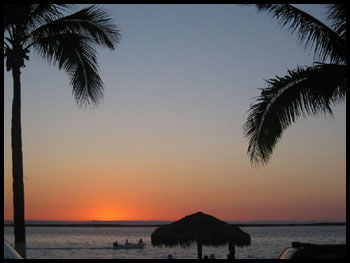 It's that time of year again. The annual dive trip to Mexico!
Most of the guys are driving down to San Carlos this time. Personally, I think it's crazy to spend 16 hours driving across the featureless desert when America West offers daily (though spotty) service to nearby Guaymas. And right out of John Wayne, too! No getting up at 3 am. No fighting the congestion at LAX. No overloaded flights.
I don't even have to lug my dive gear around. The guys were kind enough to stop by on their way out of town and schlep it down there with them, just as a precaution. None of us has forgotten how America West lost all our dive gear a couple of years ago.
Despite the hassles of air travel, I'm glad to be going this way. It figures that the only two people to insist on flying just happen to be pilots. Arnie and I are going to meet up in Phoenix and plan our Mexican mayhem on the flight down to Guaymas. Hopefully he'll keep the max depth to less than 200 feet this time. Note to self: next time, get the DAN membership.
Anyway, I'm outta here! See ya next week…