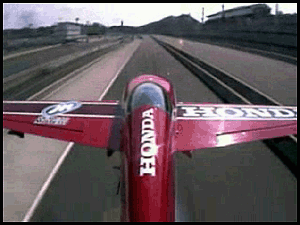 'Haute Voltige' is a French phrase that roughly translates as 'High Performance Aerobatics'.
I'd never heard of this organization before today, but apparently Haute Voltige was founded by a retired French military pilot who wanted to develop "a niche for sports, technique, art and culture in the world of aviation".
They sponsor unconventional aerobatic competitions, promote flight simulation, and most interestingly, stage a unique combination of theatre and airshow called Haute Voltige Air Musicals. The HV web site describes these air musicals as "a different air show concept where aircraft are considered as tools for artists, an outdoor Air Theatre where a story is acted out by pilots flying their aircraft to originally composed music, a new Performing Art for the 21st Century".
As someone who spends a great deal of time in the theatre and in the air, I think it's a great combination.
You won't want to miss this video clip (.rm format) from the 2002 World Grand Prix in the Czech Republic. If you follow the international aerobatics scene, you'll see some familiar faces.
Even if you don't know one end of an airplane from the other, the video is still worth watching — the cinematography is as impressive as the flying. Check it out.
Update 04/06/05 – a reader clued me in to the fact that the event took place at the Twin Ring Motegi race track in Japan, not in the Czech Republic. The Japanese people in the video might have tipped me off…
Update 05/23/05 – Lionel Charlet emailed to let me know that he's the one who created the Motegi video for Haute Voltige. Be sure to check out the other aviation videos Lionel has on his site.