Yesterday everything was fine. A little rain, but nothing looked abnormal out there.
Today? Well, today the Corona Airport looks a little different.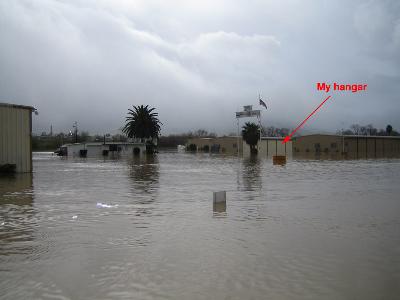 I spent the whole day helping people pack up everything in their hangars and carry it to "dry" ground. There were hundreds of people out there working as fast as they could, trying to beat the rising water. Others had given up, their hangars already well under water.
Flew a Stearman in IFR conditions to Chino Airport. THAT was interesting. Open cockpit + torrential rain + 100 mph wind in your face = can't see shit. And of course Chino tower decides that this is the perfect time to say "remain clear of Class D airspace". Closest I've been to uttering the "e" word…
I was too busy to take a picture of the other end of the airport, which has airplanes packed in so densely that you can't even squeeze by them on foot. Unfortunately most of them are not tied down, so if the wind blows and they jump the chocks, it could get very expensive when airplanes start slamming into each other. I think the transient parking area is designed for about 60 airplanes, and there are maybe 400 there now. Even Rose — the DC-3 — bailed out. Although I think that was more out of courtesty to the rest of us. The space Rose consumes on the ramp could hold ten smaller airplanes. Jim Pappas, who owns Rose, was kind enough to donate an engine cover which was modified for use on the Stearman.
My hangar currently has about four to five feet of water in it. I've started calling it "the aquarium". Thankfully the guys I'm subletting my hangar to were able to get their Arrow out in time.
The picture was taken pretty early this morning. The water level is much higher now. I had a nice rolling toolbox in the hangar with all my tools in it, plus my stereo, bicycle, a table, chairs, and other now-submerged items. They estimate that the water may reach the five foot level at mid-field. I think that's a bit pessimistic, but if the warm weather continues and the snow in the mountains keeps melting… well, who knows. From what I saw when flying over Prado Dam, the river is full, the reservoir is full, and the water is just about at the top of the dam.
There's a Cessna 320 Skyknight (a big twin engine plane) floating in the water on the west end. I guess whoever owns it wasn't able to get it out in time. Para Aviation, a maintenance shop on the west end near my hangar, got wiped out. Robert Butt, the owner, said some customer aircraft logs got washed away (without the logs, an airplane's resale value could drop by up to 1/3), along with expensive service manuals and other tasty bits. He was out there with an inflatable raft trying to get back to his shop and save whatever he could.
The paint shop, interior shop, and helicopter operation got hit, too.
The good news is that everyone has been pitching in. If a hangar tenant couldn't be reached by phone, someone would break into their hangar to save their aircraft. It's the first time I can recall seeing a complete stranger breaking into someone's hangar and giving them a pat on the back for it. In this post-9/11 world, it seems odd somehow.
A guy with a Robinson R44 helicopter — I don't know where he's based — spent the day ferrying pilots back and forth between Chino and Corona. We'd evacuate a plane to Chino, then he'd fly us back to Corona to get another one. Ah, the kindness of strangers…
Hopefully the weather will improve. I've got tomorrow off, so I might be back out at the airport. There's always something one can do to help. Unfortunately, if the water rises much more, there won't be enough usable runway for anyone to takeoff, and all the airplanes massed on the east end of the field will be facing submersion.
"General aviation: it's an adventure."