Put a fork in me. I'm done!
Today's checkride went very well. I was up at 5:30 and at the airport by 7:00 a.m. By 10 a.m. I had the new temporary airman certificate in my pocket and had said my goodbyes to the ATP staff as I headed out the door.
So much work. And all for a little piece of paper! I really don't feel that much smarter or more knowledgeable than I was two weeks ago, yet now I'm legally able to provide training as an FAA authorized instructor. But as I was explaining things to my non-flying friends this evening, I realized that hey, I really do know a lot. It's just that you learn one piece at a time, bit by bit over a period of years. There are very few "ah-ha" moments.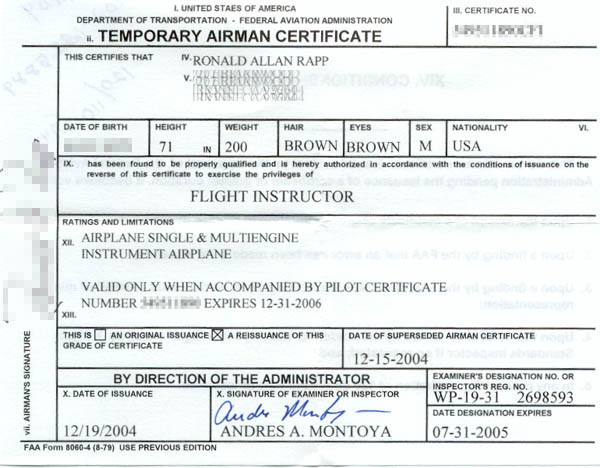 Now that I'm done with the ATP program, I can render a judgement on it. And my opinion is this: as I said previously, the program is not appropriate for everyone. Accelerated training is serious business. It can work wonders, but not if you just show up and expect to be magically transformed into a serious instructor. There is no magic.
On the contrary, you have to do an incredible amount of footwork before hand. And when you arrive, you must take charge of your own learning and be an honest advocate for yourself. By honest, I mean if you need time in the sim, go get it. No one is going to babysit you. And for God's sake, if you're not ready, don't sign up for a program like this until you are. Get some real world experience. Fill the holes in your training. Believe me, you'll thank yourself later.
Anyway, enough about the program. The drive home was pleasant and quick — only three and a half hours from door to door. Quite a pleasant surprise for a Sunday afternoon.
I've already started contacting a few people about a job. I'm looking seriously at Sunrise Aviation, where I did my primary, instrument, commercial, and aerobatic training. I've been giving this a lot of thought, and Sunrise has a great combination of aerobatic airplanes (Extra 300, Pitts S2B, Decathlons, etc) and advanced composite birds (SR20, SR22, DA40, DA20).
This is attractive because I'd like to hit both extremes in the general aviation world: master the latest in all-glass IFR panels like the Garmin 1000 and Avidyne, while also teaching aerobatics in total VFR airplanes. Nosewheel and tailwheel. Smooth IFR flying and hard core acro. I feel that this is the best way to master general aviation flying and become the most highly skilled and capable pilot I can be.
Another key is continuing education. Change is constant in aviation, and there's always more to learn. So once I get settle in as an instructor I'll have to figure out what comes next. Cirrus Standardized Instructor? RV-6 flying? Rotorcraft training? Aerobatic competition?
The ATP Total CFI program has been quite an adventure. Despite the official two week duration of the program, it has consumed my attention, time, money, and effort for several months. Now I'm ready to move on to the next step and make the transition from student to teacher.
So who's gonna be my first vict—er, I mean, student? Any takers?
Anyone?