The verdict is in: I'm a genius. My election prediction came true. I correctly called both Florida and Ohio for President Bush, predicting those two would push him to victory. And so they did.
I was a bit off on the popular vote, thinking Kerry would do better. My rationale was that the hard core blue states of New York and California — which have a combined 56 million residents, nearly 1/5 of the total U.S. population — would land strongly in Senator Kerry's column and thereby impact the national popular vote total. However, the President did comparatively well in both states.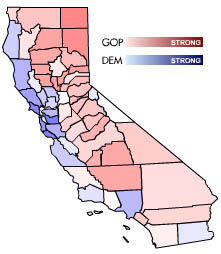 In California, Bush received 4.3 million votes, a 44% share. Kerry came away with 55% and 5.3 million votes. I was expecting the split to be more along the lines of 70/30 in Kerry's favor. But in looking at CNN's county-by-county breakdown, the Republican party is strong in most parts of the state. It's the coastal areas, specifically San Francisco and the Los Angeles basin, that hold they keys to Democratic strength in the state. Most of the rest of California goes Republican. The eastern two thirds of the state are pure red.
New York is about the same. Any way you slice it, President Bush did pretty well.
There were a few surprises. For example, my former home state of Alaska has re-elected Lisa Murkowski to the Senate in a race I expected challenger Tony Knowles to win. Her appointment to the Senate by her father — while no worse than Jean Carnahan taking over Mel Carnahan's seat after his death — was widely expected to result in a backlash from voters in the 49th state.
As of now, it looks like the GOP managed to:
retain the presidency
gain four seats in the Senate
gain at least four seats in the House
gain one governorship (Washington)
defeat the highest ranking Democrat in the Senate
Not bad for a day's work. Well ok, it was more like a couple of years worth of work. But it represents the largest shift away from the Democratic party since 1980.
The defeat of South Dakota's Sen. Tom Daschle was especially significant, because it represents the first time a Senate party leader has lost re-election in 52 years. It's easy to understand why. A powerful senator can route tremendous Federal resources to his state, and an electorate is loathe to exchange that for a freshman who'll be lucky to land on a fisheries subcommittee. I'm a bit sad to see old Tom go, because he's an avid pilot and strong supporter of general aviation. He's opposed user fees, ATC privatization, and other cockamamie things.
Though it has been a big night for the GOP, it's not all flowers and sunshine. This election will consolidate power, making the GOP a larger (and more legitmate) target for both the opposition and the voters in '06 if Republicans don't deliver the goods. Of course, this would only happen on a case by case basis. My impression of Congressional elections is that the electorate never looks at them as national referendums. Those races are won or lost on local issues. Few people vote for a representative based on how he or she will affect the partisan balance of the House.
I'm glad the presidential popular vote margin was large. Whoever won, I was hoping it would be by a sizeable margin. Bush won by more than 3.5 million votes, which means the lawyers have less opportunity to stage an encore of their Y2K performance in court.
As the 2004 election's loose ends are tied up, it's time to turn our attention toward healing, coming together, and moving forward. The problem is, I'm not sure how we do that. Is the GOP suppsed to abandon the platform it ran on in order to accomodate those whose candidates were rejected by the voters?
It's been sad to see the way some Democrats are stuck on the "what's wrong with 50% of the country?" mantra. There is nothing wrong with 50% of the country. If you really think 150 million Americans are crazy, then perhaps moving to Canada is not such a bad idea.
When the GOP wins election after election and claims ever larger majorities in House, Senate, and governorship seats, perhaps the proper question to ask would be, "Why don't more voters pick our candidates?". The country hasn't changed, it's the Democratic party that's different. Maybe Zell Miller, Ron Silver, Ed Koch are on to something. Perhaps Sen. Richard Shelby, Sen. Ben Campbell, Sen. Bob Smith, and others who switched to the Republican party did so for a valid reason.
The President and the GOP are far from perfect. But until the Democrats reinvent themselves and the way they play the game, this red state trend will not change. I'm hopeful this election will inspire the Dems to do that soul searching, because a well balanced two party system keeps everyone on the up and up.