I don't know where it happened. Maybe it was a gradual thing. But somewhere along the way I came to terms with my inability to turn out a tasty meal.
When you try to be precise about preparation and cooking times, go for the high quality ingredients, and things still turn out blah… well, what other conclusion can you reach? Sure, my cookware is not something you'll find on Iron Chef or in the cupboards of kitchen artisans like Lesley. But still.
So obviously the problem had to be me. The only other concievable culprit would have to be the actual oven. And who blames their oven when food doesn't turn out right?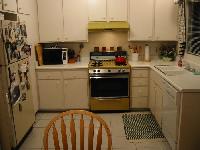 In retrospect, maybe I should have. All the signs were there. Hell, the last thing I tried to broil in that god-awful yellow/gold colored Tappan oven ended up causing a fire that nearly burned down my entire kitchen. In fact, that was the moment a bell went off in my head. Or maybe it was the partial asphixiation from breathing in all that smoke. Whatever the cause, I decided then and there to get a new stove.
Out with the old, in with the new. I wish I could adequately describe what was underneath that Tappen stove when we pulled it out. 'Disgusting' would be far too complimentary a word. Hairballs (I don't have a cat). A 'grease' pencil (it started life as a No. 2). Sand (I'm nowhere near the beach). Charred bits of food I'd swear under oath I've never cooked.
Hungry yet?
Don't fail to notice the 70's era range hood, the 20 year old refrigerator, and the ten dollar mini-blinds. Quite a combination, don't you think? When I bought the place back in the day it wasn't nearly so bad. The cabinets were brown, the dishwasher was grey, and somehow a yellow stove didn't stick out the way it did in later years. Now, everything in the kitchen is white.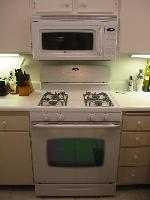 The new oven is self-cleaning and has sealed burners, so there's no risk of sauces spilling down into the nether regions where only Maytag repairmen deign to venture. And the broiler is inside the main oven compartment instead of in a seperate drawer down below. I defrosted a New York steak this morning in anticipation of breaking this puppy in, and I have to tell you it was the most delicious one I've ever had. What did I do differently?
Not a thing. It's all because of the oven. The fact that the broiler didn't set the food on fire was enough for me, but I guess my standards have been lowered slightly over the years.
Along with the oven, I got a new 1500 watt, 2 cubic foot microwave with more features than I'll ever be able to take advantage of. So not only are the appliances better, but I've recovered a lot of counter space now that I've disposed of the old microwave. My wallet's $1100 lighter–more than I wanted to spend, but I just don't care. That old stuff had to go.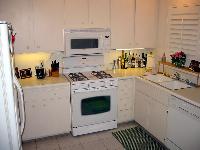 Since that old photo of the kitchen was taken, I've added new plantation shutters, countertop lighting, a new side-by-side refrigerator, and a new dishwasher with a stainless steel interior and it's own self-contained garbage disposal. Here's what it looks like today. The only things I still want to do are replace the countertops with granite, install cherry hardwood floors, and paint the walls.