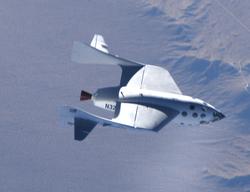 One of the RV6 pilots on the Socal RV list was out at Mojave today and witnessed the lastest Scaled Composites rocket powered test flight. Scaled is likely to be the first to make a run at the $10 million X-Prize. The U.S. government has already issued Scaled a spaceflight permit — the first of its kind ever issued.
Seems silly to require government permission to go into space. And it is. The permission they need is to go shooting through all the high altitude controlled airspace used by military and commercial airplanes. Once the spaceship is above 60,000 feet, it's above all the controlled airspace in the United States. It's the area between 18,000 and 60,000 that can put others at risk.

I can't wait to see how this turns out. I'm about as sure as you can be that Scaled will succeed. Burt Rutan never fails. The word "genius" doesn't do this guy justice. From experimental GA aircraft to F-4s to missiles to exotic round-the-world airplanes, he just has the magic touch when it comes to things that fly. Future generations will back on him as the Mozart of aviation.
According to the Socal RV List guys, today's flight was a 40 second burn that pushed SpaceShipOne up to 105,000 feet. That's about 1/3 of the altitude needed to capture the Prize.
The real beauty of the X-Prize is that it is getting humans into space for 99% less money than the government has ever spent. And that will give rise to all sorts of amazing things: space tourism, civilian research, new technologies. They key to it all is reducing the cost of getting into space, and that's what the X-Prize is all about.
This is not meant as a criticism of the U.S. manned space program. On the contrary, our fleet of shuttles puts more weight into a higher orbit than anything an X-Prize competitor will achieve. In addition, NASA has been putting people into space for nearly half a century, so there's a knowledgebase about spaceflight helping the X-Prize competitors that was gained at taxpayer expense. But NASA spends about $500 million on each space shuttle launch, and that doesn't include the $2.1 billion cost of building each orbiter in the first place.
Two billion dollars doesn't sound like much when you consider a subsonic B-2 Stealth bomber costs well over a billion. But there's no way the power of the private sector can be harnessed when the only avenue into space is so expensive and mired in bureaucratic largess.
Paul Allen, co-founder of Microsoft, is bankrolling the Scaled Composites effort to be the first civilian team to put a man in space. There's been no word on just how much this has cost, but even if it's $30 million, that's an unthinkably small sum. An ordinary business jet can cost significantly more than that.
The only thing this project is missing is an official theme song. I'll cast my vote for Sinatra's rendition of "Fly Me to the Moon". At the rate these guys are going, we might actually be able to do it.